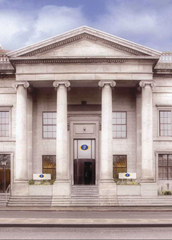 A series analysing the work of government departments.
Alan Shatter's role as Minister for Justice, Equality and Defence is essentially a dual remit, covering two departments which remain separate organisations.
Equality policy had been taken out of the Department of Justice, Equality and Law Reform's hands last March and granted to the short-lived Department of Community, Equality and Gaeltacht Affairs. The headquarters of the reformed department (of Justice and Equality) is at 94 St Stephen's Green.
Law and order and its enforcement are intertwined with Irish history. Brehon law was gradually supplanted by the rule of the Crown after the Norman invasion. The early 20th century saw rebels against the law become those who made and enforced it, in both jurisdictions of Ireland. Michael Collins was Dáil Éireann's first Minister for Home Affairs.
The department's main strategic priorities, currently under review, are:
• supporting An Garda Síochána and tackling crime;
• developing justice services;
• the provision of immigration and related services;
• the promotion of a secure and peaceful society; and
• law reform
Its main related public bodies are An Garda Síochána, the Courts Service, the Equality Authority, the Irish Prison Service, the Irish Youth Justice Service, the National Disability Authority, the Private Security Authority, the Probation Service, the Property Registration Authority and the Reception and Integration Agency.
In Budget 2011, the justice group received a net allocation of €2,163.9 million, which includes an €80 million capital budget. The majority of justice spending goes to An Garda Síochána (€1,412 million in 2011), followed by the Irish Prison Service (€329.2 million), the department itself (€327.8 million) and the Courts Service (€59.7 million).
Outside the formal justice system, the department's responsibilities include civil and family law, immigration and asylum, the regulation of explosives and private security companies, film classification, prohibiting obscene publications, gambling, property law, and the setting of summer and winter time.
The Garda Commissioner reports directly to the Minister while the Courts Service board is chaired by the Chief Justice and includes three ministerial nominees. The service must present its strategic plan to the Minister and "have regard" to government policy.
Minister Shatter, a family law solicitor and advocate, is assisted by Labour Minister of State Kathleen Lynch; her disability, equality and mental health remit also covers the Department of Health. Fianna Fáil's spokesman is Dara Calleary while Sinn Féin's spokesman is new TD Jonathan O'Brien.
While defence is separate, it complements justice by aiding "the civil power" e.g. guard duties, bomb disposal and escorts and air cover for cash-in-transit deliveries.
Website: www.justice.ie
Tags: Departmental dossier