In any election that uses the Single Transferable Voting mechanism, vote transfers can reveal details of voters' mindsets and their preference for a party or candidate but just how important are vote transfers in most elections?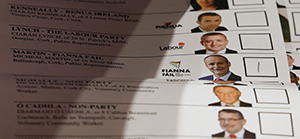 In the run-up to the general election many candidates and parties predicted that vote transfers would prove decisive in deciding the make-up of Ireland's next government.
Ireland uses the single transferable voting system to achieve a proportional representation through ranked voting in multi-seat constituencies. In this system a voter has a single vote that is initially allocated to their most preferred candidate and, as the count proceeds and candidates are either elected or eliminated the vote is transferred to other candidates according to the voter's stated preferences.
There is a long tradition going back almost half a century of transfers between Fine Gael and Labour. Despite amassing 46 per cent of the vote in 1973 Fianna Fáil lost power after a continuous 16 years in office thanks to a transfer pact between the two parties.
Many commentators feel that Sinn Féin's lack of progress over the past decade has been a result of the party's inability to pick up vote transfers. Believing that strong transfers between opposition parties and groups would be the key to removing the Fine Gael and Labour coalition from power, Sinn Féin attempted to promote an election transfer pact with other anti-water campaigners last October.
However, in the increasingly fragmented landscape of Irish politics, it is important not to overstate the importance of vote transfers. In 2016 the overwhelming majority of seats were decided by first preference votes. Less than 10 per cent of TDs now sitting in Leinster House won their seat because of transfers. The most dramatic example of vote transfers securing a seat was the case of Independent TD Maureen O'Sullivan in Dublin Central. O'Sullivan polled poorly on first preference votes, gaining just 1,990 votes, some 3,932 votes less than the required quota of 5,992. She was in sixth place and was resigned to defeat.
She and her team had already left the count centre when over the course of Saturday night she received an incredible amount of transfers from both party candidates and other Independents. These transfers were enough to see her win the last of the three seats.
The Green Party's deputy leader, Catherine Martin also has the transfer system to thank for her seat as the Green Party started to bounce back from a disastrous campaign in 2011. Martin received transfers from both Fianna Fáil and Independent candidates to overtake Senator Mary White and former minister Alan Shatter in Dublin Rathdown.
Internal transfers
The transfer of votes between party candidates often plays an important part in getting candidates elected. In this election the transfer rate between Fine Gael candidates was considerably better than between Fianna Fáil candidates. In 2011 this transfer rate brought Fine Gael an important seat bonus and this time with a reduced vote share the bonus was even stronger.
The party with the best transfer discipline at this election was Sinn Féin. In 2011 the party's transfer rate was 58 per cent but in 2016, Sinn Féin managed to push up that internal transfer rate to 76 per cent. However, despite this impressive transfer rate, the party mismanaged its vote transfer strategy in Donegal running three candidates in the five seater constituency which resulted in Pádraig Mac Lochlainn missing out.
Also of interest is the transfer between parties when a candidate with no running mate is elected or eliminated. In this election transfers from Labour to Fine Gael undoubtedly helped the party return to Dáil with 50 seats. When a Labour candidate was eliminated, 54 per cent of Labour votes nationwide went to the Fine Gael candidate. There has always been a strong tradition of transfers between the two parties but because there were so many Labour eliminations the impact increased substantially.
Independent success
This election will be remembered in part for the success of numerous Independent candidates. However, the voting data suggests that vote transfers had little to do with their rise. Only 30 per cent of Independent candidates vote transfers went to other Independents. These candidates also managed to pick up 17 per cent of transfers from Fianna Fáil, 14 per cent from Fine Gael and 13 per cent from Labour. These transfers harmed the respective parties' chances more than they boosted successful Independents who did so well on the first count.
Despite polling successes for individual Independents, the low level of vote transfers between the candidates explains why Independents are unlikely to ever get a seat share equivalent to their vote share.
The best transfer rate between two Independent candidates was between the two Healy-Rea brothers, Michael and Danny. The pair managed to secure two seats in the Kerry constituency and 3,835 of Michael's surplus of 7,165 votes were transferred to his brother Danny. However, despite the wealth of transfers Danny did not need them to secure his seat.
The two brothers adopted an astute strategy of dividing up the constituency for supporters. They asked voters in specific parishes to make one brother their first preference and the other brother their second and to reverse the pattern in other areas. The quota for the constituency was 13,213 but Michael managed to capture 20,378 first preference votes. Danny, who received 3,835 of Michael's transfers had already amassed 9,991 first preference votes.
Ultimately, while transfers will remain fascinating to those with an interest in political science and elections, their practical benefits are limited. There are examples where transfers have dramatically helped candidates gain a seat but these incidents are rare. Rather than focusing on picking up a large number of transfers, candidates should aim to ensure they poll strongly in the first instance.