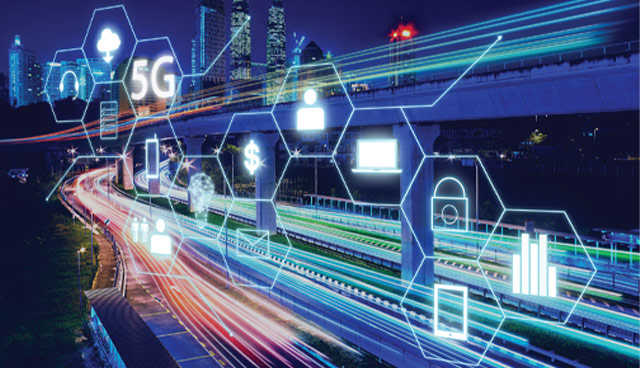 As councils across Ireland continue to drive the evolution of smart cities and communities, eolas talks to Cork native Kieran O'Hea about local government's role in delivering the UK's most
people-powered smart city, Leicester.
As Head of Smart Cities in Leicester City Council, O'Hea is leading the implementation of a smart city strategy with people at its centre. Formerly the Chief Digital Officer of Brisbane, O'Hea has been involved in digital strategies for over 20 years and recognises the importance of a focus on the user, as well as the technology, when driving digital change.
With Leicester set to publish its smart city strategy in January, O'Hea discusses the development of a strategy, recognising that the experience in Leicester may be of benefit to those councils in Ireland considering or progressing a smart journey.
Offering context, O'Hea points out that Leicester is an evolving city. Traditionally industrial, Leicester is diversifying both economically and in terms of population. The city has a population of over 350,000 people from 50 countries across the globe and it has been recognised as the UK's top city for the increase of digital business births. Uniquely, Leicester has a link to space technology. The city lays claim to a Leicester-built instrument operating in space every year since 1967.
O'Hea believes that these are factors that lent themselves to a vision of a smart city and specifically, a people-powered smart city by 2025.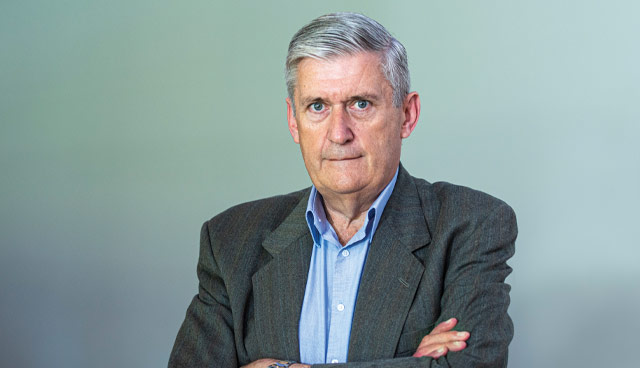 "We've opted for this direction recognising that very few other smart cities in the UK have a strong people focus. Smart cities by definition tend to be technology focused but we want to change that course. So, rather than launch into partnerships with technology providers, we've been asking people what they want and expect from their smart city," he says.
While the strategy has yet to be published, to some extent Leicester has already begun its smart city evolution, largely through the Council's pre-existing digital transformation strategy. Offering some examples, O'Hea points to improvements in connectivity infrastructure; WiFi and digital support hubs; digital citizen engagement; and data sharing, as existing work.
"Our ambition is to advance these and build on that existing base. Our focus for the city is to see citizens empowered by technology and so the smart city strategy will be much broader than digital transformation."
The Council has recognised the potential value in transitioning to a fully smart city. By 2050 the number of the world's population living in an urban area is set to increase from 55 per cent to 68 per cent and it's estimated that the global smart cities market will exceed $237 billion by 2025.
The vision for Leicester's strategy is to combine built, digital, natural and social environments to deliver an inclusive and sustainable city, in which all its people may prosper through culture, learning, wellbeing and work.
Outlining the approach to reach this ambition, O'Hea highlights the recognition of a city needs-led and demand driven strategy, providing sustained solutions to identified need and involving citizens in the plans being established.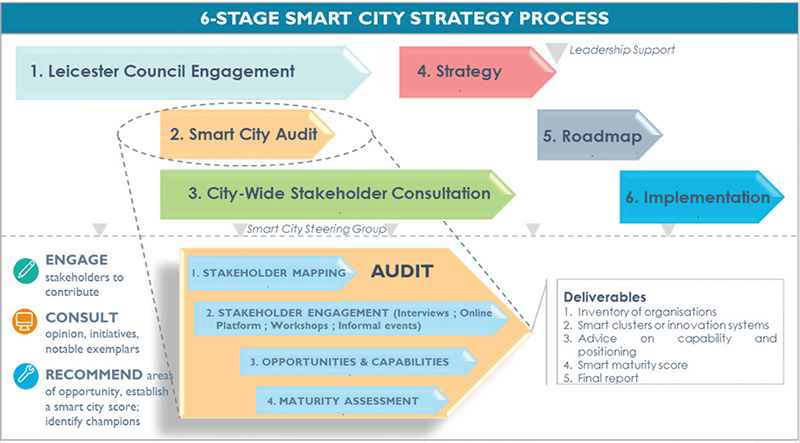 In creating a roadmap to a smart city approach, O'Hea outlines a number of key steps taken by the Council including:
the creation of a dedicated smart cities team;
audit of the city's current smart landscape;
stakeholder engagement identifying desired outcomes;
identification of scalable and sustainable projects; and
collaboration with other cities.
A smart audit, stakeholder engagement and city benchmarking led to the creation of key themes to be endorsed by a future strategy, which aims to tackle identifiable challenges within the Council such as social inequality and exclusion; the climate crisis, the wellbeing of an ageing population and traffic congestion.
O'Hea says that therefore, priorities identified for the smart city strategy include health and wellbeing, especially independent living and isolation; mobility, air quality improvement; and sustainable energy, carbon reduction and fuel poverty reduction.
The Smart Leicester strategy provides the foundations for a programme of actions to deliver people-focused projects that will make the city greener, healthier and more inclusive. To date around 40 projects, have been identified based on the criteria of viability, capability and impact and the Council are evaluating which projects to bring forward in 2020.
O'Hea concludes: "Looking to 2025 our ambition is to achieve the most people-powered smart city in Britain with next generation mobile, full-fibre broadband, universal gigabit connections and more effective use of artificial intelligence (AI) and data.
"The outcomes of our approach will hopefully bring about greater levels of digital literacy, a more prosperous, innovative economy and smart transport infrastructure to ease congestion with fewer, cleaner cars, so that the air will be better to breathe."