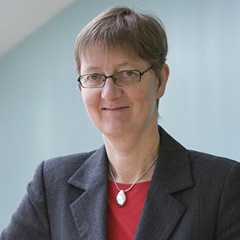 As Director-General, Mary Kelly tracks the culture shift in the Environmental Protection Agency (EPA) as she discusses the wider range of issues that come under the agency's remit from climate change to environmental enforcement with Owen McQuade.
If there is one thing that Mary Kelly is particularly proud of in the EPA's work under her leadership, it is the culture shift from reporting environmental information to regulating and enforcing how the environment is used.
A focus on 'outcomes' for the environment has become increasingly important for the organisation.
"Up to a number of years ago, we were perhaps content to issue licenses, issue reports saying various things but over the last number of years, we have dedicated ourselves to achieving outcomes," she remarks.
The emphasis is on seeing results. Taking some examples from water quality – a major priority area – the agency wants to achieve clean drinking water as well as eliminating the "most severe pollution" in river water quality and then moving on to tackle less severe incidents. Likewise, on urban waste water treatment, she adds that "we won't be satisfied just to issue licences, we won't be satisfied until they're enforced" which will then improve the quality of the water into which that waste is emitted.
"We really want to see the results in the environment as opposed to just in the office."
It is no surprise that climate change is by far the most pressing issue on the EPA agenda, as indicated in 'Ireland's Environment 2008', the agency's most recent stock take. "Limiting and adapting to climate change" is stated as the highest priority challenge to meet.
She distils tackling climate change into three elements: adaptation, for the change which is going to happen anyway; mitigation, to stop faster or 'runaway' climate change; and understanding what is happening in an Irish context. The third point feeds back to the first two as that research will inform how Ireland can adapt and possibly mitigate.
The UN climate change summit in Copenhagen, running from 7-18 December, looms large and it is clear that she sees that as a crucial potential turning point.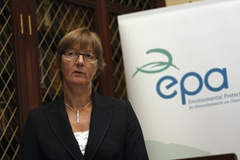 "What we really need to see out of that are agreements by both the developed world and the developing world on how we're going to stabilise first and then begin to reduce the amount of carbon dioxide in the atmosphere," Kelly explains.
"We absolutely have to do that. The science is unequivocal on this. If we allow carbon dioxide to increase further, we will be in catastrophic climate change. We really have to stabilise it at 450 parts per million at a minimum and preferably reduce it beyond that."
Ireland will also have to reduce its greenhouse gas emissions, which means "moving away as far as we can from fossil fuels", in transport, heating and electricity production. And on the latter issue, while she sees "very positive" signs from the energy sector in terms of wind and renewable sources penetration onto the grid and the discussions on electric vehicles are also going well – there is now a need to "move past the planning stage and into an implementation stage on all of those things."
Given our large rural economy, agriculture is significant contributor to Irish carbon emissions. Provisional figures for 2007 indicate that it made the largest single contribution – 26.8 per cent of all emissions – followed by energy at 21.5 per cent and transport at 20.8 per cent. This is a higher proportion than is found in most developed countries, although New Zealand with its large number of farms is in a similar situation.
"We have to look very carefully at how the agricultural sector is treated," Kelly comments. There is a need to reduce the amount of emissions from all sectors but also to protect the agricultural industry as it is facing economic difficulties.
Downturn and environment
One consequence of the current downturn is that the environment is increasingly seen as part of the answer to those troubles in the economy as a whole. The Green New Deal also resonates with the agency's work.
"The good part of the economic downturn is that people are looking at it as an opportunity to really invest in the green economy and so far, at any rate, we see a fair bit of commentary around that whole green agenda," she notes.
"What we're saying in the EPA – and it's mirrored in what other people are saying – is that when we get out of the economic downturn, we want to be in a position where the recovery is a low carbon recovery and a green recovery, and where the economy is more based around green jobs and green technologies than it has been heretofore."
Green jobs as a concept does not necessarily always mean jobs for people working in the environmental area but it has a wider application. Kelly predicts that "the jobs that we'll have in the future will be jobs that consume less energy and lead towards a low-carbon economy altogether."
As Communications, Energy and Natural Resources Minister Eamon Ryan has said, this also includes jobs in ICT and life sciences that can utilise fewer resources and therefore are heading in a much greener direction.
Enforcement
"There's not much point in having environmental legislation if it's not enforced," she notes, referring to the perception in the past that Ireland was not taking this seriously.
The culture shift within EPA means that enforcement is now of greater importance. Shortly after Kelly was appointed in 2003, the Office of Environmental Enforcement was set up to provide a single focus for this part of its work.
This takes two forms. Firstly, enforcing the conditions of the licences that the EPA issues; this now accounts for over 20 prosecutions a year, of which some are now taking place in the higher courts. Secondly, the agency makes sure that local authorities carry out their environmental responsibilities. A number of prosecutions for poor water quality, for example, have been taken against councils.
"We're not happy with the quality of drinking water in Ireland," she states. Legacy problems, such as underinvestment, are one cause, another being inadequate management of drinking water plants. "Now that we have those powers, we will use them and we fully intend to get the drinking water up to an acceptable quality."
The agency has seen waste management improve in "leaps and bounds" over the last decade, reducing the number of landfill sites from over 100 to less than 30. Much of this change is due to the EPA's licensing work and it is now also seeing good progress on recycling. Packaging, electrical and electronic goods are particular success stories and the focus is now moving to batteries and tyres.
Lack of infrastructure, however, remains a challenge. The focus here is on getting the right facilities to deal with waste which can decompose naturally.
"We still have a dearth of waste management infrastructure so, for example, when we attempt – as we will do – to meet the biodegradable diversion targets of the Landfill Directive, we will have a problem there," she points out.
"We have been reporting on this over a number of years and on the current basis, we don't see ourselves meeting those targets but we've taken action this year to reduce very severely with a view to a ban eventually of biodegradable waste going to landfill.
"And we're hoping to drive it out of landfill but the infrastructure that's required there like MBT [mechanical biological treatment] and other infrastructure for dealing with biodegradable waste, composting and all of those. And they will have to meet very high standards in a similar way to landfill had or recycling centres had."
To date, the agency has also licensed three municipal waste incinerators and while it is not responsible for planning how waste will be dealt with, it is satisfied that, if built, these facilities will not pollute the environment if their stringent licence requirements are met.
Most waste water treatment plants are run by local authorities although some are run by the private sector on their behalf. "In general we have found over the years a very unsatisfactory performance here but that is beginning to improve and as we bring them in for licensing and as those licences are issued, we expect to see that entire area cleaned up and operating according to plan and meeting the Urban Waste Water Directive standards."
New plants tend to meet the emission limits but local authorities are not doing enough sampling in some cases. She is, though, confident that water quality in rivers, lakes and bathing waters will improve further.
In the news
Asked how she has seen the media's attitude to the environment change since 2003, she points to two trends.
The media and the public are "much more interested" in the environment and it is "much higher on the agenda" than before. Journalists are more "more informed and more interested in what's happening and I think a lot of that has to do with climate change."
As people have realised the changes which are taking place and "grappled with the science of it", they have treated climate change as a higher priority.
For its part, the agency has also put more effort into "communicating with the media as the vehicle to get our message out to the public" e.g. by publishing a wide variety of reports through media launches and making people available to talk to the media.
Arguably, the agency's transparency in reporting the environment is also contributing to that culture shift as the public's appreciation of the world in which it lives continues to grow.
Profile: Mary Kelly
Mary Kelly studied organic chemistry to PhD level at Trinity College Dublin and worked in the pharmaceutical industry for a number of years after graduation. She completed an MBA at Dublin City University and took charge of environmental policy at IBEC, where her interest in the subject took off.
This job involved sitting on an advisory committee to the EPA and she was involved in helping industry understand integrated pollution control licensing during its initial stages. Mary joined the EPA as Director-General in 2002. She hails from Bodenstown, County Carlow, and enjoys reading, tennis, swimming and walking in her free time.
Tags: Environment