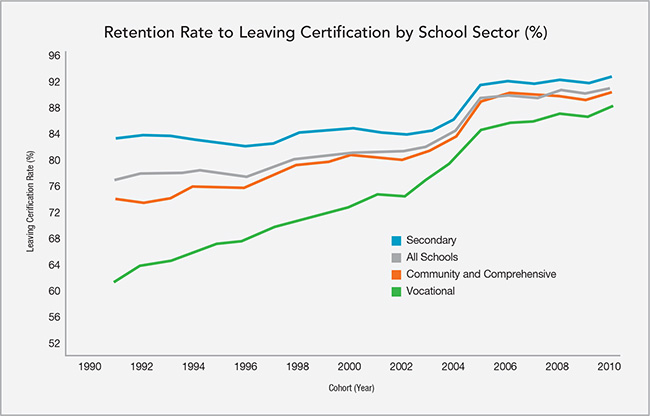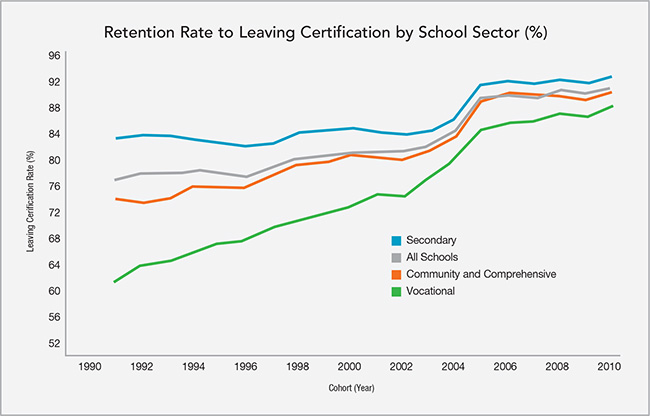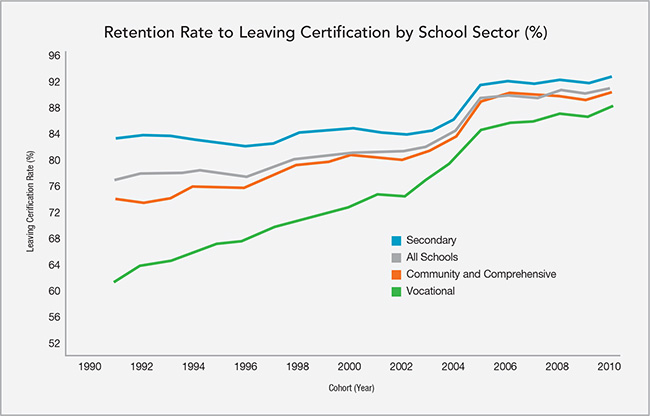 A recently published report by the Government suggests that progress is being made on closing the gap in retention rates from DEIS schools and non-DEIS schools.
Education Minister Richard Bruton says that the announcement that record numbers of students are now staying in school to complete their Leaving Cert is proof that policies aimed at breaking down cycles of disadvantage are working.
Bruton was speaking after the Retention Rates of Pupils in Second-Level Schools report highlighted a narrowing of the gap in retention rates to the Leaving Cert between DEIS and non-DEIS from 16.8 per cent for pupils who entered secondary education in 2001 to 8.5 per cent for those who entered in 2010.
Delivering Equality of Opportunity (DEIS), the action plan for educational inclusion, was first published in 2005 and aimed to tackle educational disadvantage. Earlier this year it was expanded following review.
Overall, Ireland's upper secondary education retention rate of 93.6 per cent is now the second highest in the EU, second only to Croatia and is well above the EU average rate of 83 per cent.
Retention rates of pupils on to Leaving Cert level has steadily increased over the last 14 years. The most recent figure, for the 2010 cohort is currently 91.2 per cent, compared to 82.3 per cent recorded for the 1996 cohort.
Both sexes recorded a slight increase in the retention rate from the year previous, although females are still more likely to sit their Leaving Cert (92.7 per cent compared to 89.7 per cent). For both, the majority of dropout occurs at second level between senior cycle years 1 and 2.
Voluntary schools continue to have the highest retention rate to Leaving Cert at 92.7 per cent. Community and Comprehensive schools (90,6 per cent) followed and vocational schools (88.3 per cent) had the lowest rate. Since 1991, vocation schools have improved by almost 30 per cent compared with a national improvement of around 14 per cent.
The Leaving Cert rate for DEIS schools is currently 84.4 per cent compared to 82.7 per cent from the previous year. While the non-DEIS has remained fairly consistent since 2005, the DEIS rate has improved 84.4 per cent over the same period.
In a statement, the Education Minister acknowledged the role that school teachers, teachers and parents have played in encouraging students to continue in secondary education.
"I am very encouraged by these results, particularly by those relating to DEIS schools. I have made breaking down cycles of disadvantage a key priority of mine as Minister as part of my overall ambition to make Ireland's education system the best in Europe within a decade. These results suggest our policies are working. The gap in retention rates to the Leaving Certificate between DEIS and non-DEIS continues to narrow, halving from 16.8 per cent for the 2001 cohort to 8.5 per cent for the 2010 cohort. We expanded the DEIS scheme earlier this year and will continue working towards eliminating this gap."