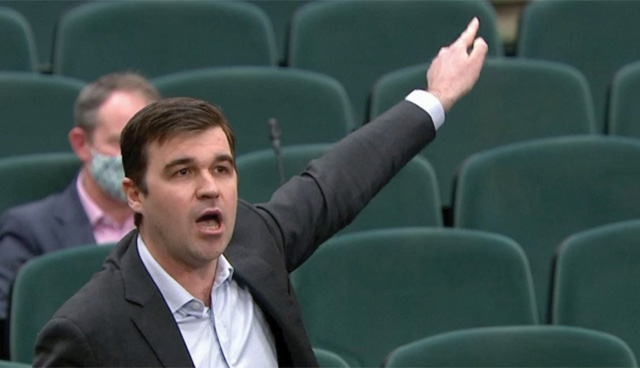 Elected to the Dáil in February 2020, Duncan Smith is a Labour Party TD for Dublin Fingal. Previously, Smith was a member of Fingal County Council from 2014 to 2020 and is currently party whip and spokesperson on climate action, communications networks and transport.
How did your political career begin?
In 2008, following the banking crash and the bleak outlook for the company I decided to become active in politics and I joined the Labour Party. I had always been a supporter of the Labour Party and the labour movement so it was the natural party for me to join. I began campaigning and activism with the party in my local area and in 2011, I volunteered as Brendan Ryan's director of elections for the general election. I then worked as Brendan's parliamentary assistant in the Oireachtas and continued to act as director of elections for presidential, European and byelection campaigns in Dublin Fingal. In 2014, I ran and was elected in the Swords ward of Fingal County Council and was re-elected at the 2019 local elections. In November 2019 I ran for the Labour Party in the Dublin Fingal byelection but was unsuccessful. However, the byelection was a very positive and energised campaign and it set me up for a successful run in the General Election in February 2020.
What are your most notable achievements to date?
Achievement feels like the wrong word considering my relatively short amount of time in the Dáil and the constraints placed by Covid. I did enjoy my work on the Covid Committee in the Summer of 2020. On that committee, I was a strong voice for the widespread provision and wearing of facemasks. It's difficult to remember now but there was contested views as to how helpful they would be in stopping the spread of the virus. Now they are part of our everyday life and a key tool in stopping the spread of the virus. I have also brought my first Bill to the Dáil, the National Standards Authority of Ireland (Carbon Footprint Labelling) Bill 2021. This Bill would confer on the NSAI the responsibility to come up with a trusted and clear carbon labelling scheme for products. This would place responsibility on corporates to meet a stringent state-led measures and tackle any potential greenwashing or weak self-certification method.
What is unique about representing Dublin Fingal?
Dublin Fingal is the youngest and one of the most diverse constituencies in the country. Fingal is almost a monoscope of the entire country. Unlike most constituencies in Dublin, we have a large rural constituency in Fingal. We also have a coastline with numerous seaside towns, as well as Dublin's county town, Swords, which is one of the fastest growing towns in the country. Fingal is also home to Ireland's aviation centre, Dublin Airport. The diversity across the demographics and geography of the constituency creates a broad wave of variety in local challenges and local issues. Uniquely for Dublin, Dublin Fingal shares many traits and challenges of many other counties.
What are your priorities going forward?
Workers and the environment. There are very many issues that I am passionate about but the priority for me is always workers and workers' rights. In almost every aspect of the Irish society and economy there is a lot of work to be done to improve the conditions and quality of employment for workers in Ireland. My main priority in politics is to see the quality and conditions improve and that Ireland becomes one of the best countries in the world to work. People's labour creates all value and keeps the wheels of the economy turning. Without workers the country would not function. It is the most valuable asset individuals have and a country has, and it must be valued and properly remunerated.
"There are very many issues that I am passionate about but the priority for me is always workers and workers' rights. In almost every aspect of the Irish society and economy there is a lot of work to be done to improve the conditions and quality of employment for workers in Ireland."
Simultaneously, climate action is one of the most pressing issues facing us. We need to radically change how we use and treat our planet. The next decade will be a vital period in the fight against climate change and we must be prepared to make seismic changes to our habits, and more importantly we must see business and industry doing their fair share in this fight. The larger polluters in our economy must be regulated to reduce their emissions and move to more sustainable practises. My main focus in this challenge is to ensure there is a just transition for workers in emissions heavy sectors but also the job creation opportunities available in moving to a sustainable economy.
How can the Labour Party maximise its impact in the lifetime of the 33rd Dáil?
In this Dáil the Labour Party has brought forward a significant amount of legislation and parliamentary motions in the areas of workers' rights, climate action and social injustice. The Labour Party's Harmful Communications and Harassment Bill brought forward by Brendan Howlin TD was passed into law with the support of the majority of the Dáil. This Bill will help make the internet a safer place and will help hold those who misuse or abuse online to account. Senator Marie Sherlock and Senator Annie Hoey have brought forward legislation on remote working and sick pay, alongside motions to ensure fair payment for student nurses. While government have kicked the can down the road with this legislation, it has not been blocked or voted down and if passed would provide improved conditions for workers in Ireland and put us on the path where we need to be. Senator Rebecca Moynihan has also introduced a Bill on period poverty to ensure access to sanitary products for all regardless of their income, this Bill will help to alleviate the financial burden on those struggling in our country. Through this kind or work ethic and focus I believe the party can punch above its weight in the Dáil and make a meaningful impact. As mentioned before, I have also introduced my Bill on carbon labelling.
We also need to articulate a vision to people as to what we stand for and what vision we have for Ireland. That is a bigger job but I believe if we continue to articulate our core belief that justice and a fair shake should exist for all, then I believe our impact in the Dáil will be backed by increased support in the polls.
What are your interests outside of the political sphere?
If I have time, I love to go fishing and be surrounded by the peace and tranquillity of nature. I haven't had the time in the last couple of years but it is a post-pandemic promise to myself that I try to make time for fishing. I have a young family and any spare time I have I want to spend with them.