Digital
Ireland's edge in data centre activity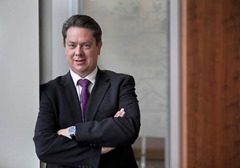 Ireland's location lends itself to data centre development but the island cannot be complacent as competition with other European countries rises. Jason O'Conaill, eircom's Head of Data Centres, sets out the reasons for Ireland's lead in the sector and how it can maintain this edge in an increasingly competitive market.
Last November's 451 Research report was good news indeed for companies in Ireland's growing data centre sector. The report, which looked at Ireland's digital assets, complements IDA Ireland's activity in attracting foreign direct investment and gives the overall picture of Ireland's advantage in data centre development. The advantages are significant, including factors like our skills base, our energy mix, our position in the euro zone, and sources of technology funding. Another key element, of course, is Ireland's connectivity: both our fibre links into Europe and our bridges to the USA.
Given these advantages, it's no wonder Ireland has managed to collect an enviable cluster of data centres from some of the world's biggest brands. While the cluster is positive in itself, it also has a multiplier effect, explains Jason O'Conaill, Head of Data Centres for eircom. "As with the pharma sectors, it's a matter of critical mass," says O'Conaill. He says that, wherever companies see a cluster emerge, that location appears to be a safe place to do business; this means the next wave of technology, cloud and data centre investments is more likely to look favourably on Ireland.
eircom, Ireland's largest infrastructure player and the key force in the country's data centre industry, is currently investing €1.5billion into its infrastructure, and is focusing its future data centre investments around the existing cluster. eircom is now seeking to develop a 30MW data centre at Clondalkin; the cluster around Microsoft and Google based along the M50 draws on the multiple fibre-optic grids.
In addition to the cluster effect and connectivity in Ireland, O'Conaill also points to the value for money Ireland can offer: including competitive energy, skills, world class solutions and access to the valuable European market, where 500 million European consumers have the highest disposal income in the world.
Investors look for an open and flexible economy, which Ireland offers, in addition to attractive tax incentives.
"Let's talk about our tax advantage. Investments by major brands recognised by consumers need to be highlighted alongside our close ties to Silicon Valley through the diaspora.
"As an island economy in a pivotal European location, we need to use everything to our advantage," adds O'Conaill.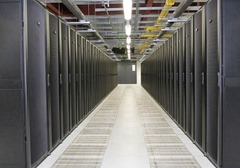 A leading role
eircom plays a pivotal role in Ireland's data centre success story, both because of its long heritage in the industry but also because of its skills base and its continued investment, including technical innovations to maximise the efficiency and sustainability of its own group of data centres.
As for any data centre provider, energy costs are a major overhead, and eircom is doing all it can to be efficient, with an operational team in each data centre tasked with reducing power usage effectiveness (PUE). Measures include using blanking panels in all spare spaces in the racks and running centres at a slightly higher heat level, but within the guidelines set down by ASHRAE, the global industry body for air conditioning and refrigeration.
"Our data centres are occupied by a mixture of Irish enterprises and ICT foreign direct investors who are here because of the availability of skills," O'Conaill says. "eircom is very much an enterprise and corporate supplier of solutions. Having been involved in the sector for 14 years, we were among the first builders of Irish data centres; the first purpose-built one was in Internet House in Crown Alley in the late 1990s.
"The second one, built at citywest in 2000, is still very active and hosts the largest online gaming infrastructure in Europe along with a broad slice of customers from Irish corporate life. With 6MW of power, it drives capacity on to the network."
eircom's Clonshaugh facility (20MW) is one of the largest commercial data centres in Ireland outside the "mega cloud players". Clonshaugh offers a mixture of cloud, enterprise, Software as a Service and telco facilities. The facility is carrier-neutral and clients include Hibernia Atlantic and Amazon Direct Connect; it is effectively an off-ramp for data into Europe through which terabytes of data are transferred on a daily basis to the main London markets and Amsterdam. It is now common to see flows of 10GB per country. Netflix, for example, passes through Ireland on the Amazon Web Services CDN through to exchanges around London.
eircom also feeds the larger data centres by putting in fibre and circuitry, and the T50 infrastructure also provides multiple carriers.
With a new direct flight to San Francisco, Ireland is just 10 hours away from the US West Coast, non-stop. Similarly, with bandwidth, the main issue is how to reduce the latency and the bandwidth into Europe. eircom maintains two high-capacity submarine cables between Britain and Ireland, and new fibre optic cables are making Ireland an even better location for shifting data to core markets such as London or Frankfurt.
But perhaps the single most important link eircom offers its enterprise data centre customers is its Amazon Web Services Direct Connect node. eircom is an AWS Advanced Consulting Partner and is also fortunate to have the only Direct Connect node in Dublin (at Clonshaugh) adjacent to Amazon's data centre – at the speed of 1 millisecond of latency time from the eircom data centre to the Amazon cloud.
In addition to connectivity, skills and technical innovation, O'Conaill points out that the data centre business is built on genuine relationships. Like other Irish businesses with significant business coming from the US, eircom stays close to its American contacts, with O'Conaill himself traveling far and frequently to maintain links.
"As for Ireland's edge in this field, attitude is very important", highlights O'Conaill. "Nothing can replace meeting a customer face-to-face and selling, promoting and showing the value directly. We also collaborate regularly with IDA Ireland and the Irish Technology Leadership Group in this regard."
Challenges ahead
For all its native strengths, Ireland's data centre sector is continually fighting off strong competition from other territories with their eyes on our attractive customer base.
Ireland is now competing with London, Amsterdam and Frankfurt as a location. "These locations are emerging as data centre locations and they all have their own strengths and weaknesses – and we have to play to our strengths," says O'Conaill.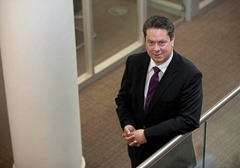 "Ireland needs to remember that it's operating in a very competitive globalised market. Britain, Finland and the Netherlands are all looking for our data centre business – and these national perspectives undoubtedly inform the research written about data centres. Property-orientated reports, for example, favour London and New York while the 451 Research report (favouring Ireland) went into the granularity of the technical detail."
One challenge that Ireland and every data centre location faces into the future is, of course, energy supply. Locations which can boast affordable, sustainable supply of energy will undoubtedly seize an advantage in the global data centre sector.
"It is clear that Ireland has unfinished business in attracting data centre investments, and energy will be the major challenge in unlocking that potential," O'Conaill highlights. "A new wave of data centre operators are looking at a European location and available, secure and sustainable energy is at the top of their list."
What's next?
With the growth in bandwidth speeds, the rise in online services, which demand massive cloud storage, and the continued vibrancy of the global technology start-up scene, the data centre sector looks set for continued growth into the future. But what trends can we expect to see emerging? O'Conaill points to a change in eircom's own data centre customer base as indicative of the future.
"We were signing up mega-cloud players – US companies who know that, with eircom, they are dealing with a player of scale who can really carry the risk and opportunity that Europe presents to them – but we're seeing that customer base broaden now," says O'Conaill. "Now we're signing up smaller FDI companies that can grow and are more concerned with usage-based contracts and scalable IT infrastructure."
Data centres tend to be very fixed in their infrastructure, he says, but that is now evolving into more dynamic hybrid-style infrastructure which is more applicable to the cyclical and seasonal nature of online businesses.
O'Conaill points to another key trend for larger, global scale cloud customers: the potential rise of distributed cloud infrastructure. Data centre facilities by their very nature can be distributed. For example, Google also has data centres in Belgium and Finland, Facebook in Sweden and Microsoft has a centre in the Netherlands. "Ultimately, we would assume that as cloud adoption grows, these major operators will also develop a distributed cloud infrastructure," observes O'Conaill.
"In Dublin, eircom has connected its core data centres into Amazon and we're seeing customers move more towards a distributed and hybrid-type environment. In this way, they are not putting 'all their eggs in one basket' either in their own data centre or a commercially available data centre provided by eircom," emphasises O'Conaill. Clients are now putting in some of the infrastructure that is less critical, more compute-intensive or more bandwidth-intensive into cloud.
By classifying their data and workloads, customers are looking at how they can get low latency between their own data centre infrastructure and the cloud infrastructure. Amazon Web Services is by far the leading cloud infrastructure player with the lion's share of enterprise and start-up markets, due to its reputation for innovation and cost competitiveness; and Dublin's Direct Connect node into AWS is set to remain a significant benefit for cloud customers in Ireland well into the future.
Looking ahead, O'Conaill says it's vital to remember the role of energy in ensuring the continued health of every data centre provider in Ireland.
"A robust and renewable energy infrastructure is needed e.g. biogas capacity to complement the natural gas network, rolled out on a scale that will make a difference to the grid," says O'Conaill. "Wind and wave technology also has to enter the grid at scale."
"The Commission for Energy Regulation needs to look at data as a major consumer of electricity, not just at the generation technologies for electricity," concludes O'Conaill. "All the stakeholders – including the Department of Communications, Energy and Natural Resources, and the Environmental Protection Agency – need to be around the table and recognise Ireland's niche as a distributor of digital content. The more sustainable the data centres are, the more competitive Ireland will be as an economy."
About eircom
eircom is Ireland's largest communications player and is investing €1.5 billion into its infrastructure. €400 million is being invested in its fibre network, the largest in Ireland with a footprint currently reaching over 750,000 homes and businesses, growing to 1.4 million by 2016. eircom is also investing €350 million into its mobile network for the rollout of improved 3G and 4G services, and is on track to provide 4G to 50 per cent of the population by June 2014.

eircom Business
1 Heuston South Quarter
St John's Road, Dublin 8
Tel: 1800 255 255
Web: www.eircom.ie/business