Digital
Ireland's eGovernment policy: Minister of State Ossian Smyth TD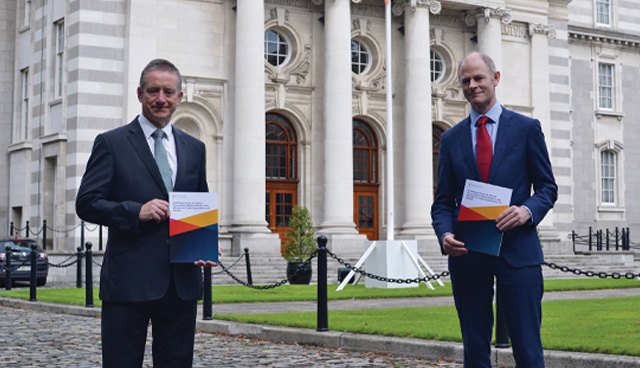 As the Government prepares the successor to the eGovernment Strategy 2017–2020, Ciarán Galway speaks with Minister of State with responsibility for Public Procurement and eGovernment, Ossian Smyth TD.
eGovernment, as defined by the OECD, is "the use of information and communications technologies, and particularly the internet, to achieve better government". In other words, eGovernment is less about the technology and more about making the delivery of public services more efficient, user-orientated and transparent.
"The public, at this stage, expect that the services that they receive from the Government will be as good and as convenient as the services that they obtain commercially," Minister Smyth says, adding: "This process has been accelerated by the pandemic and, by necessity, many people have been using online services who would otherwise not have done so."
These services are being developed to meet citizen expectations through the use of familiar controls and operations. For example, while motor tax renewal was available online via basic HTML, now this interface is moving towards video and webchat. "It is a more up-to-date and normalised way of providing a service that meets expectations. Similarly, the Covid Tracker App looks like any commercial app. It's intuitive and looks similar to and is as good as any commercial application," Smyth indicates.
Overall, the digital function of government is split across five departments:
the Digital Single Market is the responsibility of Minister of State for the Department of Enterprise, Trade and Employment with responsibility for Trade Promotion, Robert Troy TD;
cybersecurity and communications networks are the responsibility of Minister for the Environment, Climate and Communications, Eamon Ryan TD;
the regulation of social media is the responsibility of Minister for Tourism, Culture, Arts, Gaeltacht, Sport and Media, Catherine Martin TD;
a coordinating digital government function is the responsibility of the Department of the Taoiseach; and
eGovernment is the responsibility of Minister of State with responsibility for Public Procurement and eGovernment, Ossian Smyth TD, within the Department of Public Expenditure and Reform.
Appointed to his current portfolio in July 2020, Ossian Smyth is a computer science graduate and was first elected to the Dáil in February 2020. In his role as Minister of State, he is responsible for ICT policy and "ensuring that everything is in line to facilitate the delivery of digital services to the public".
"My specific area [of responsibility] is the online delivery of government services to the public, but also it is about ensuring that the public sector is doing everything online internally," he explains. Smyth is also responsible for open data. "The idea is clear now that the data feeds into the policy. You have that cyclic input and there is public demand for it."
MyGovID
Identifying the MyGovID e-ID system as the single most important component of his work, Smyth outlines: "It is very important that the Government can digitally authenticate the public. For example, if you consider healthcare and Covid management, it requires that you keep track of who has had a vaccine, which dose they have had, and that you can locate them for the second dose. This requires a common identity framework. Really, my focus is going to be on extending the e-ID system, making it stronger and offering more services online."
MyGovID is a joint initiative, undertaken by Department of Public Expenditure and Reform and the Department of Social Protection, the rationale of which is to provide Irish citizens with a safe and secure single site to access digital public services. It is intended to establish a more joined up approach to government with sharing between public bodies. In February 2021, the initiative reached a significant milestone of 1,000,000 verified MyGovID accounts and over 2,500,000 in total (including basic MyGovID accounts).
Asserting the importance of ensuring compliance with the EU's standard for interoperability of national ID systems, the Minister also recognises the requirement for MyGovID to be fully legal and ethically acceptable to the public. "It is absolutely critical that the public understands that what we are doing is right, proportionate and that we are delivering the services that they want. People want their privacy respected, but they also want convenience.
"The very basic proposition to people is, 'do you want to have to use a different username and password for every part of the Government when you go to access a service?' The clear message we have had from the public is no. People want to have one account which can be used to get a tax refund or apply for a welfare payment. I am working on that," he states.
Re-emphasising the catalytic impact of the Covid crisis, Smyth notes: "Many people went online during the pandemic. We doubled the number of people who have MyGovID accounts over the course of a year, which is a big deal, and we're going to go further still."
Limited digital services
However, the eGovernment Minister is conscious that while Ireland has a significant proportion of the population signed up to MyGovID accounts, it is lagging in the range of public services which are being delivered digitally.
"I will be ensuring that a much broader range of services is made available. I would say very clearly to anyone in the public sector who is developing a new service aimed at the public and requires the public log in that it should be using MyGovID as the authentication system. You should not be setting up a system for 500,000 Irish people that tells them to choose a new username and password when they already have one that works on our existing system. I want to see MyGovID by default," he insists.
Open Data
Open Data is a major component of the Public Service ICT Strategy and wider public service reform. As per the sixth EU Open Data Maturity Report published in December 2020, Ireland continues to be ranked among the Open Data 'trend setters'. Ranked fourth in Europe (behind Denmark, Spain and France), Ireland scored 94 per cent across the four metrics: policy; impact; portal; and quality.
Acknowledging this, the eGovernment Minister indicates that "there is more to do" and highlights the "strains and challenges were shown up during the pandemic". As an example, he points to the challenge of acquiring accurate data from the General Register Office, within the Department of Social Protection, relating to the number Covid-related deaths.
"In Ireland, a death can be registered within three months, which is not ideal when attempting to record how many people died last week," Smyth says, adding: "The policy question is: 'Are things getting worse or are they getting better? Did our policy change work?' If you're only getting data as vital and basic as whether someone is alive or not, three months after their death, you have clearly got a problem."
The Minister is cognisant of the fundamental importance of data-informed government policy decisions in securing public support. "From that perspective, one of the things that is changing is that when a government department is producing data, it should be open by default and the department should be considering how its dashboard should be presented to the public. If you produce open data that is available for people to understand, you can then get buy-in from the public for the policy decisions that are based on that data."
Public Service Data Catalogue
Discussing the impact of the Public Service Data Catalogue as a component of Public Service Data Strategy 2019-2023, the eGovernment Minister acknowledges the contribution of local government and describes its rationale as being to facilitate greater transparency for citizens in relation to public service data, as well as a more joined-up and efficient public service.
Launched in February 2021, the Public Service Data Catalogue provides descriptive information on over 1,100 datasets across close to 100 public bodies, including their purpose and whether they contain personal or sensitive data.
"One of the frequent criticisms of all governments is that they are not joined-up. This is apparent when two departments collaborate on a project; they often find that they are using a different set of identifiers for datasets which identify the same objects.
"Having the Public Sector Data Catalogue is vital and fits in with the requirements of the new EU Open Data Directive which provides that a collection of datasets must be published freely by every government in the EU."
Berlin Declaration
A successor to the 2017 Tallinn Declaration on eGovernment, the Berlin Declaration on Digital Society and Value-based Digital Government was signed by EU member states in December 2020. The Berlin Declaration is intended to increase digital participation and inclusion by ensuring that digital transformation in the public sector is informed by a series of agreed principles and associated policy actions.
These principles are:
validity and respect of fundamental rights and democratic values;
social participation and digital inclusion;
empowerment and digital literacy;
trust and security in digital government interactions;
digital sovereignty and interoperability;
human-centred systems and innovative technologies in the public sector; and
a resilient and sustainable digital society.
Upon signing the agreement, Smyth remarked: "It is important that we enable all of our people to engage digitally with public and other services and ensure that no one who wants to participate is left behind.
"During the pandemic, a lot of people were forced to try something for the first time, such as making a video call to an elderly relative or something similar. That option is available to a lot of people. However, we are never going to stop people from picking up their pension in a post office. You can provide someone with a bank card, but they may still prefer to pick it up in cash. There is no policy change on that. We have to be inclusive, and we have to ensure that people are not left behind."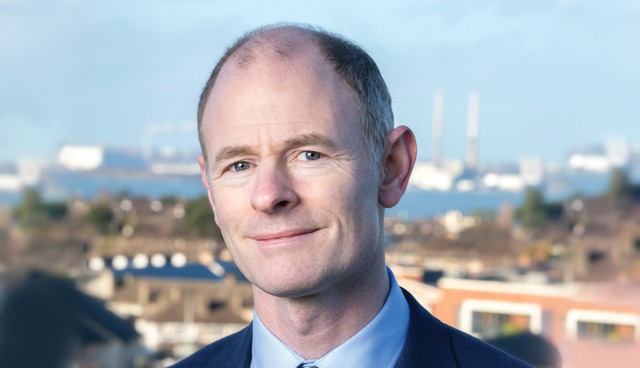 "Many people went online during the pandemic. We doubled the number of people who have MyGovID accounts over the course of a year, which is a big deal, and we're going to go further still."
Climate agenda
In particular, the eGovernment Minister and Green Party TD welcomed the Berlin Declaration's inclusion of the ambition that European digital transformation must closely align with the 2030 Agenda for Sustainable Development, the Paris Agreement and the European Green Deal.
The Declaration states: "The digital transformation in Europe needs to be closely aligned with the 2030 Agenda for Sustainable Development and the Paris Agreement as well as the goals of the European Green Deal. With reference to the current work on Council Conclusions on Digitalisation for the Benefit of the Environment, we need to ensure that a sustainable digital transformation serves our citizens and businesses on an individual level as well as our society as a whole, while at the same time safeguarding the preservation of our natural foundations of life."
Similarly, the EU's National Recovery and Resilience Plan contains three priority areas for development across the EU in the context of a massive investment led post-pandemic recovery. Those three areas are: green transition; digital transition; and retraining.
"There is a paradox with the green recovery because if you are building lots of windfarms and you are investing in transition to electric vehicles and retrofitted homes. That is a lot of economic activity and there are a lot of emissions associated with that.
"Many of the new technologies require training and much of that training will now take place online. That connects digitalisation and the green recovery. For example, as an engineer, you can log into a wind turbine to service it. Anything in the green sphere requires a lot of ICT, information dissemination, and monitoring and sensing technology," Smyth maintains.
Vision
Concluding, Minister Smyth outlines his ambition for eGovernment in Ireland, indicating that citizens should be enabled to "readily and rapidly access their government services with very little hassle". Highlighting the work undertaken by the Passport Service to deliver Passport Online as archetypal, the Minister re-emphasises the importance of public trust "when citizens supply information, that the Government is not using that information for purposes other than those intended".
Overall, he intends to deliver: "A trustworthy, reliable, convenient and broad system that is as good as any other country in Europe and that saves people time and money, while being efficient for the State to run. Simultaneously, providing that no one is left behind, whether culturally or physically incapable of obtaining their services online, there will always be a human option if they need it. That's the vision for the future."