Want to join 10,000 Irish decision-makers and receive the latest in-depth articles and analysis for your sector?
eolas magazine offers diverse content covering Ireland's key sectors. The magazine goes behind the headlines to produce focused analysis through specialised sectoral reports. Subscription is the easiest way to keep up to date with the latest editions of eolas delivered directly to you throughout the year.
Regular eolas reports include:
•    Public affairs
•    Round table discussions
•    Latest political developments
•    Europe
•    Business
•    Housing
•    Economy
•    ICT
•    Health
•    Energy
•    Infrastructure
•    Education
•    Banking and finance
•    Digital government
•    Transport
•    Reform
•    Environment
•    …. and much more!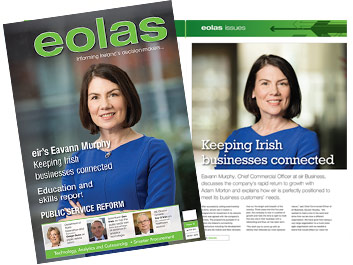 Taking out a subscription has never been easier, fill in your details to order here!
Annual Subscription = €15.00 + €5.00 Postage and Packaging (€20.00)
E: subscriptions@eolasmagazine.ie
T: 01 661 3755
Don't forget to follow @eolasmagazine on twitter and find us on facebook for the latest articles and exclusive content.