Digital
Public sector 20 per cent remote working target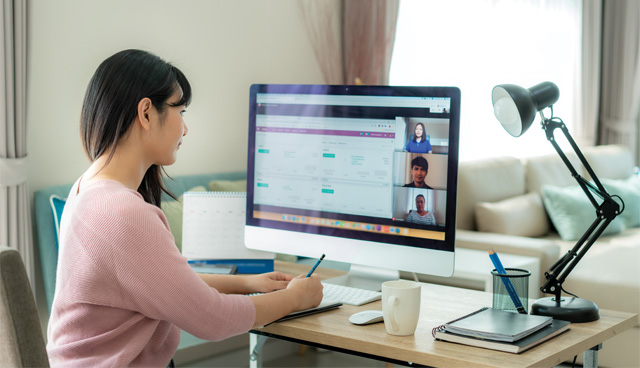 The Government has signalled its intention to ensure remote working is a permanent feature in the Irish workforce post-pandemic, including outlining plans to mandate for 20 per cent of public sector employment to work remotely.
In January 2021, the Tánaiste and Minister for Enterprise, Trade and Employment Leo Varadkar TD, published Ireland's first National Remote Work Strategy, with the aim of making remote working a permanent option for life after the pandemic.
The strategy acknowledges that the pandemic has accelerated a practice which "might have taken decades had it been planned" and points to economic, spatial, environmental, cultural, and societal change which could be brought about as a result of increased remote working.
The strategy acknowledges demand for remote work beyond that necessitated by the pandemic. NUI Galway research recorded an increase in the desire for remote working opportunities over the period of the pandemic and in October 2020 research found that 94 per cent of participants would like to work remotely post-pandemic.
One of the main actions of the strategy is to mandate for home and remote working to be the norm for 20 per cent of public sector employment. The action is one of many underpinning conditions within the Government's three pillar approach to increased remote working, namely: the creation of a conducive environment; developing and leveraging remote work infrastructure; and building a remote work policy and guidance framework.
Other key actions included in the strategy relate to:
reviewing the treatment of remote working for the purposes of tax and expenditure in the next budget;
mapping and investing in a network of remote working hubs across Ireland;
legislating for the right to request remote working;
developing a code of practice for the right to disconnect; and
accelerating the provision of high-speed broadband to all parts of Ireland.
The key actions are designed to not only harness the potential of increased remote working but also to mitigate against some of the recognised downsides that the practice could bring.
The 2016 census recorded an 11 per cent increase in the number of people commuting and a rise of 8 per cent in the number of people commuting by car. Research previously commissioned by the Department of Enterprise, Trade and Employment estimated that one individual's commute time to Dublin for work had an estimated economic cost of around 4,000. The strategy recognises the potential for increased remote working to aid the Government's ambitions to reduce transport carbon emissions.
Another potential advantage is increased labour market participation, included but not limited to workers with disabilities or older workers, while the strategy highlights benefits associated with improved work/life balance and childcare flexibility for parents.
One of the most recognised potential benefits is accommodation flexibility, relieving some of the pressures in cities, where demand has driven up rent and house prices. NUI Galway research indicates that 7 per cent of people it talked to had already relocated as a result of their experiences of remote working during the pandemic and a further 40 per cent indicated they would or may consider a move.
However, the strategy also recognises that an increase in remote working is not without its challenges. The potential for increased isolation, loneliness and stress is a significant concern in relation to remote workers, as is employer feedback that suggests remote working could lead to an innovation deficit due to less collaboration. There is a recognition that less commuting could have adverse impacts to businesses and local economies designed to complement traditional commuter patterns, while reduced visibility could have negative impacts on career progression ambitions and gender equality in the workplace.
Launching the strategy, Varadkar said: "The requirement to work from home where possible, for reasons of public health, has demonstrated how viable home, remote and blended working can be. Post-pandemic, I want remote working to be part of a whole new world of work and this new government strategy sets out how we will enable it."