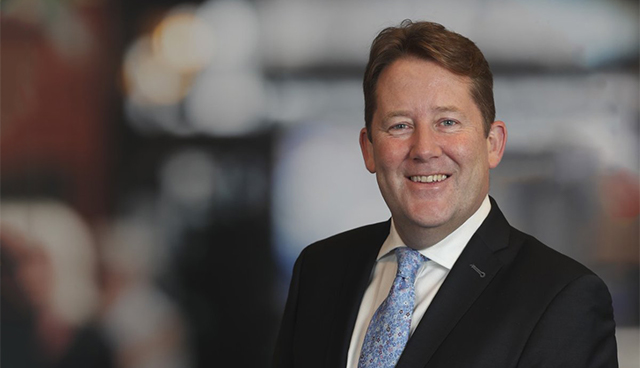 Resolving the housing and homelessness crises will be a mammoth task for the coalition Government, one that has already been made more difficult by the Covid-19 pandemic. Ciarán Galway speaks with Minister for Housing, Local Government and Heritage Darragh O'Brien TD about his most immediate priorities and ambitions for housing in Ireland.
The challenges facing O'Brien as Housing Minister are significant but not insurmountable. "I don't have to tell people that the housing crisis still pertains. We still have a big homelessness problem out there," he concedes.
Acknowledging the breadth of his portfolio, which also incorporates planning, local government, water infrastructure and heritage, the Minister indicates that his primary focus is housing. Indeed, O'Brien divides his immediate housing priorities into four corresponding spheres, namely: supply; affordability; planning; and infrastructure. "The main focus is housing supply; increasing housing supply and bringing affordability into the system," he says.
This aligns with the 'Housing for All' mission in the tri-party administration's Programme for Government which states: "Everybody should have access to good quality housing to purchase or rent at an affordable price, built to a high standard and located close to essential services offering a high-quality of life."
As such, the Housing Minister has created two new units within his Department. Meeting weekly, one focuses on homelessness, while the other concentrates on housing delivery. "There is an interconnection between them," he says, adding: "We want to make sure that we're doing everything we can to reduce homelessness and get families into permanent accommodation."
One challenge O'Brien identifies is ensuring the construction of suitable units to meet demand. In particular, he is keen to ensure the adequate supply of one- and two-bedroom units for the 70 per cent of individuals in the adult homeless community who are single.
Overall, there is a sense of frustration in the Minister's tone in discussing the ongoing homelessness crisis. "We shouldn't have a situation here where we have nearly 10,000 people homeless. We can't have a situation where we have nearly 4,000 children homeless," he maintains.
Local authorities
Simultaneously, the Minister emphasises a "big focus on public housing delivery" and efforts to enhance the power of local authorities. "What I've done already is upped the discretionary cap to €6 million to empower the local authorities to build more themselves and move away from the four-stage approval process that took 59 weeks, to a single-stage process. Up to now, anything over €2 million had to come into the Customs House. That came into effect on 1 September 2020. With that extra power comes extra responsibility for them to deliver," he insists.
Local authorities deliver most of the public housing in Ireland and O'Brien recognises that they are "a major part of the solution on social housing and indeed on affordable housing through the Serviced Sites Fund". To date, however, no affordable homes have been delivered through the Serviced Sites Fund.
"The Serviced Sites Fund is a good idea but very slow. I am going to improve that. We'll have two sites at Boherboy, County Cork and Dun Emer, Lusk where we'll deliver new homes in 2021, but only about 200. That's not nearly enough, so there are other things we can do.
"There is a big piece in relation to local government reform and political reform, looking at rebalancing the power between the executive and elected members. Peter Burke TD, the Minister of State for Local Government and Planning has already started that work," he states.
Affordability
Minister O'Brien identifies affordability as a significant challenge for "thousands of people out there who can't get on the housing ladder at all". As such, a major commitment within the Programme for Government is the promotion of home ownership through the implementation of a national affordable home purchase scheme.
"The scheme is predominantly focused on first time buyers; both single people and couples. I'm working on that as an absolute priority for the last number of weeks, with the Taoiseach, the Tánaiste, the Department of Finance and the Department of Public Expenditure and Reform. Work is advanced there. I think it will be very significant," he asserts.
Reflecting upon the centrality of home ownership within the Government's housing strategy, O'Brien indicates that it is the most desirable form of housing tenure, if it is affordable. Conversely, though, the rate of home ownership has fallen in Ireland. "We're below the European average of 67 per cent and the EU average of 69 per cent. The average age of people buying their first home has now risen to 35, whereas 15 years ago it was 26. It shows what's happening and it's dysfunctional," he states.
Asked to characterise the Government's understanding of 'affordability', the Minister responds that it is "working on a definition". In the absence of a universal definition, a generally accepted international description of what is affordable is between 30 and 35 per cent of a household's net income.
"Anything above that for either rent or mortgage would be deemed to be into an unaffordability level. In most of our cities, and not just exclusively our cities but some of our regional towns, some people are paying over 50 per cent of their net take home pay in rent. That is absolutely unaffordable and absolutely unsustainable," he adds.
"I will have, before the end of this year, published an affordable rental scheme and people will know what it will look like and how it will operate. We need to work with the sector on that."
As such, the Minister also recognises the requirement for a national affordable rental scheme, expanded far beyond Ireland's first cost rental housing scheme at Enniskerry Road. "We have our public housing rent, our Differential Rent Scheme, that's there for about 130,000 homes, but for anyone not on the social housing list, we have no other options," O'Brien explains.
The previous Fine Gael minority government had tasked an expert group to examine affordable rental and the current Housing Minister has subsequently asked this group to conclude its work before the end of 2020 and to produce options on a national affordable rental scheme.
"We need affordable rental options and we've spoken about affordable rental and cost rental since Alan Kelly TD, when he was Minister for Housing, announced an affordable rental pilot in 2015. The Enniskerry Road pilot has broken ground this year, but it's not completed. That shows you how far behind we are.
"My own belief is that the approved housing bodies will have a major role, as indeed will a reformed and renewed Land Development Agency, in delivering affordable rental. I will have, before the end of this year, published an affordable rental scheme and people will know what it will look like and how it will operate. We need to work with the sector on that," O'Brien promises.
Covid-19 pandemic
A significant obstacle inhibiting housing supply is the ongoing Covid-19 pandemic and its associated economic headwinds. "We've seen the impact that Covid-19 has had on delivery, particularly in the private housing side where we had a nearly four-month shutdown. We also had a shutdown in public house building. Hopefully we're not going to have that again. Everything is predicated on not having a second wave affecting productivity," the Minister reflects.
Indeed, at the beginning of 2020, it was projected that there would be around 25,000 housing completions in 2020. "We're way behind on a lot of it due to Covid-19. That went as low as 14,000 units when I took over [as Housing Minister]. The sector is telling me now that that has strengthened a bit up to between 16,000 and 16,800 units. A sizeable portion of that is the demand in the first-time buyer area," he states.
While conceding that he does not believe that it is a long-term solution, Minister O'Brien increased the first-time buyer grant, the Help to Buy scheme, from €20,000 to €30,000 in the July Jobs Stimulus package. "That has helped around 19,000 individuals and couples to get their deposit together for their house. I want to move toward an affordable purchase scheme there. Work is advancing on that," he adds.
Legislation
The Emergency Measures in the Public Interest (Covid-19) Act 2020 was introduced by the caretaker government and signed into law on 27 March 2020, heralding temporary legislation for the rental sector, including a ban on evictions and rent increases. The original emergency period (27 March to 27 June 2020) was extended twice, ultimately to 1 August 2020.
"What I needed to do then was try to have more sustainable protections for renters through the Residential Tenancies Amendment Act, which I was astonished that others objected to and opposed. Even with the public health emergency, if that had to be extended by order every month on and on again, it wasn't a sustainable way to do it," O'Brien affirms.
"Not to throw everything that Rebuilding Ireland did in the bin, but this is not a continuation of Rebuilding Ireland. This is a new Programme for Government. This is Housing for All."
The subsequent Residential Tenancies and Valuation Act 2020 came into effect on 1 August 2020 and prohibits those affected by Covid-19 from being subject to eviction or rent increases until 11 January 2021.
"Look at what other jurisdictions have done and haven't done. Here and now, anyone whose income has been affected by Covid-19 and signs a simple declaration will have full protections until at least next January; more significant than in the North where there is no effective ban on evictions.
"That was a significant piece of work that was done. Fundamentally though, we need to make sure that we're providing permanent housing solutions for people which are sustainable and robust. That's always going to be the risk and until we get that in place, there will always be a weakness in the system there," he insists.
Cost
A second major obstacle to the housing objectives of the Programme for Government as identified by the Minister is the cost of building units, especially apartments. "What I've been told is that particularly in Dublin, Cork and, to a lesser degree, Galway, it's nearly prohibitive to build apartments. That's an issue. How we can increase our density as well as keeping the cost at a level that helps? I do believe the State should be involved in the market in a positive way," he insists.
O'Brien's rationale for State intervention in the housing market is to provide a "whole cohort of people which is working, paying rent or living at home with their folks into their late 20s or 30s, a real chance and hope of actually getting a home".
"I've always believed that the State should be involved and that the State should lead by example. That's why some of the models I'm looking at relate to a shared equity arrangement. Looking at other models across Europe, and indeed the world, that work very well for people."
Housing for All
A major criticism of Housing for All, including one made by the chief Opposition housing spokesperson, Sinn Féin's Eoin Ó Broin, is a perceived continuity with the previous government's Rebuilding Ireland programme.
It is a contention that Minister O'Brien rejects. "It's not. I think you will see that not just in plans but in actions, particularly in the area of public housing on public land. If you look at what we've done in relation to the discretionary cap already, to let local authorities build that; something I spoke about in opposition and that was, to be honest, resisted by the previous government. That is being done now," he says.
Continuing to list actions contained within Housing for All that are being pursued, the Minister references the implementation of the Defective Concrete Block Grant Scheme and work undertaken on the affordable purchase and affordable rental schemes.
"Not to throw everything that Rebuilding Ireland did in the bin, but this is not a continuation of Rebuilding Ireland. This is a new Programme for Government. This is Housing for All. That's what we intend to do and that's the programme that I, as Housing Minister, will follow, while leading in terms of implementation," he notes.
Simultaneously, O'Brien suggests that there were "good elements" within Rebuilding Ireland. "On homelessness, while the State hasn't grappled with that as it should have done and we're going to put more into it, if you look at the Housing First approach in relation to the Department of Health and the Department of Housing working together, that has been a very good initiative of the last government and anyone who says anything different is being a bit disingenuous."
Land Development Agency
Meanwhile, at a glance, the Land Development Agency (LDA) model as envisaged within the Programme for Government appears to be substantially different from that as proposed in the General Scheme of the Land Development Agency Bill 2019. Whether this materialises in a new bill remains to be seen.
"I was involved in the pre-legislative scrutiny of the original Heads of Bill published in 2019. There were four very detailed hearings on that," O'Brien outlines, adding: "It was probably published too soon in the sense that there were a lot of questions and gaps in it. Do we need a Land Management Agency? Absolutely we do. Do we need the State to be able to utilise its land better? Yes, because one of the things I want to do on affordable housing is to deliver affordable purchase and rental on public land too.
"I've always believed that the State should be involved and that the State should lead by example. That's why some of the models I'm looking at relate to a shared equity arrangement."
"If you look at what's defined in the Programme for Government, there's a sizeable section set aside to the Land Development Agency and the predominance of it is public housing on public land. That in itself was a big shift from the previously published proposals that spoke about 60 per cent of housing being private housing on land developed by the LDA."
Currently, the coalition Government is working collaboratively to draft a revised LDA Bill, as per the Programme for Government which has outlined in summary terms the role and functions of the new agency. The Housing Minister intends that this new Bill will be published "in this session, before Christmas".
"There are some very good people in the LDA, and a lot of good planning is being done. I know it has been doing very good work in relation to planning and master planning of the eight or nine sites that it has at the moment. It needs to be set up on a legislative footing. Up until now, it has only been operating on ministerial order. That's not a secure basis on which to move forward," O'Brien remarks.
'A referendum on housing'
The ambiguity of the Programme for Government's commitment to a "referendum on housing" has led the opposition members to conclude that the Government does not intend to hold a referendum specifically on the right to housing.
However, asked directly what a "referendum on housing" means, Minister O'Brien responds: "It means just that. We're going to work on a proposal for a referendum around housing; the right to housing and what that actually means. I had already nearly concluded a Bill about the legislative right to housing.
"How can this be done through the Commission for Housing, which I intend to establish as well, and to move forward in a very constructive way, towards looking at options for the referendum and strengthening the legislative provisions on rights to housing for people."
O'Brien is cognisant of simplistic or wilful misinterpretation of the right to housing concept and "those who will initially say 'well, that's crazy', as if everyone will have the right to keys to a house the following day. That's not it". Rather, he points to what other jurisdictions have done, including Scotland and Finland and the "really positive impact", particularly in the area of homelessness.
Pressed on why the language contained within the Programme for Government was not then more explicit, the Minister replies: "It's not an easy thing to negotiate a Programme for Government between three parties. So, it's a negotiated document. It's not just a document, it's a to-do list of things that need to be done."
Elaborating on his point, O'Brien advocates working "in a deliberate way". "We can't just throw out a comment and say, 'yeah, I'm going to support it and we'll do it'. In fact, [other parties] said they would [hold a referendum on the right to housing] within the first six months of government. Nonsense. They would never have done it.
"We want to do it, but we have to work in a collaborative way. It's clearly stated in the Programme for Government as a commitment that will be done. What I am going to do is bring all the stakeholders around the table and work on something that will pass. Straight away, there will be simplistic arguments about why this shouldn't happen, so we have to prepare for that and make sure that we have something robust enough to actually pass muster," he observes.
Vision
Minister O'Brien's vision for the future of housing in Ireland naturally aligns with that expressed in Housing for All. That is: a supply of good quality and affordable homes for citizens to buy and to rent, alongside a sustainable supply of public housing.
Specifically, within his term as Housing Minister, O'Brien reiterates his intention to implement an affordable scheme whereby people can own a home at an affordable price or rent a home at an affordable rate, thereby cutting the public housing waiting lists.
"It's very clear to people right now where governments have failed. But look back at Ireland in the past where we have got things right. I believe we can deliver an affordable housing scheme for people and we'll do that. I believe we can deliver an affordable rental scheme and we'll do that also. Alongside this, we will deliver good quality public housing, built on public land by our local authorities.
"Fundamentally, they are things which are actually very achievable and require a serious effort to get to it. I've got to turn a department around and focus it on the Programme for Government," he concludes.