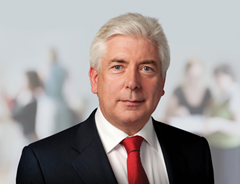 Finance, Public Expenditure and Reform Committee Chairman Alex White talks to Stephen Dineen about his committee's work programme and dealings with EU counterparts.
"If you produce a report you'll get attention," Alex White tells eolas of Oireachtas committee life. "If you debate and scrutinise and have hearings and take evidence and so on, people are interested, they may dip in and out of it. But if you produce a report, that's something on paper, so I think that does actually have an impact."
Because of the "sheer extent of the agenda", White and his committee have modularised their work. While European legislation and policy constitutes one section, it is also focused on debt, macro-economic policy, banking and reform.
The committee has held several hearings with expert witnesses about Irish debt. "We're just trying to get a sense for the public of how big is the debt. Bluntly put: how much do we owe?" he explains. Whilst people "mainly talk about the national debt and the sovereign debt," the committee is also examining household debt, non-financial corporate debt and SME debt. It hopes to produce a report shortly.
On macro-economic policy, the 27-member committee plans to examine the Government's budgetary options in advance of December. "We think there's room for a lot more public debate on what areas of public expenditure do we think is desirable or possible even to cut back," he elaborates, "and also on the other side of the equation in terms of revenue."
The reform module involves scrutiny of the Croke Park Agreement and its implementation. "My own sense personally is that there is progress, considerable progress being made," says the Dublin South TD. The large number of public sector retirements at the end of February (approximately 7,400) could have "a negative effect potentially in some areas," and "serious attention has to be paid to ensuring that basic services are not affected in an adverse way."
EU policy
The Finance, Public Expenditure and Reform Committee will inevitably examine the Fiscal Compact Treaty. Indeed article 13 of the treaty provides for a conference of representatives, including "representatives of the relevant committees of national parliaments" to discuss budgetary policies and matters relating to the treaty.
White personally believes the argument for supporting the treaty is compelling. "I do not though come to the argument by saying that this treaty will of itself resolve the problems in the euro zone," he remarks, "or resolve the very profound economic problems that exist in Europe and in Ireland."
He adds: "Fiscal discipline is all very well but it's only one of at least three things that need to be done, and the other two are growth and dealing with the debt."
Under the fiscal compact's debt brake requirement (60 per cent of GDP), general government debt must be reduced by an average of one twentieth a year. When it is put to him that this stringency could inhibit Ireland's recovery, White says growth will be the key factor. If government debt was 100 per cent of GDP, he hypothesises, government would have to reduce national debt by two percentage points annually (one-twentieth of 40 per cent). If the economy grew, however, the debt reduction level would decline as the denomination (GDP) changes.
"If we get no growth, we're in trouble anyway," White states. "There's no way," he says, "on my view of things, that we're not going to need another programme of assistance if we don't get two per cent growth." While "we might get away with it this year," it is not possible "in the ensuing years."
White says the Government must "seek to bring the books into balance as soon as we can," in conjunction with "keeping the economy alive" and job creating policies.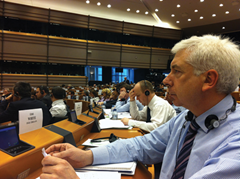 Europe
As committee chair, the Labour TD's work takes him to meetings with parliamentary committee members in other EU countries. In January he and a committee delegation visited the Bundestag. Memories of Irish budgetary documentation being publicised via the German budgetary committee last November were still fresh in many minds. While the leak was "embarrassing", he says the incident was more significant because of "the level of parliamentary involvement in budgetary matters" in Ireland. As Germany is part-funding Ireland's bailout, White doesn't have "a huge problem with the fact that they had the documents," but thinks "we [his committee] should have the documents at the same time, if not beforehand."
"I think that there is a massive role and necessity for state intervention," he states of discussions at EU meetings. "I don't mean to be the employer of people, because that's not really possible any more, but to incentivise and to invest for example in infrastructure, [therefore] labour activation measures," he explains.
The "almost universal response" towards Ireland, he finds, is "really very positive." They are impressed with its success in meeting the troika's targets.
Back at Leinster House, the committee is grappling with its large workload. "It's very difficult when you have a very large number of people," he admits, "but I find that it's certainly working in the sense that we're getting through the business."
"We tend to work it out reasonably well in the sense that there's lead spokespersons for each party," he says of the joint committee meetings, "it is settling down a bit better I think."
Profile: Alex White
A President of the students' union when in Trinity College (where he studied economic and social studies), White went on to study law and was called to the Bar in 1987. Before working as a barrister, he worked at RTÉ from 1984-1994 in radio as a current affairs producer.
He was a councillor in South Dublin County Council from 2004-2007 and a Senator from 2007-2011. In 2011 he was elected a Labour TD for Dublin South on his second attempt.
Married with two children, his spare time is spent with family, doing a bit of travel, cycling and reading "non-political and non-financial" material. Despite this preference, he is currently reading the first volume of Robert Caro's biography of Lyndon B Johnson.
"It's a hugely interesting book and a hugely interesting man," he says, "a colossus in American politics before he was ever President."