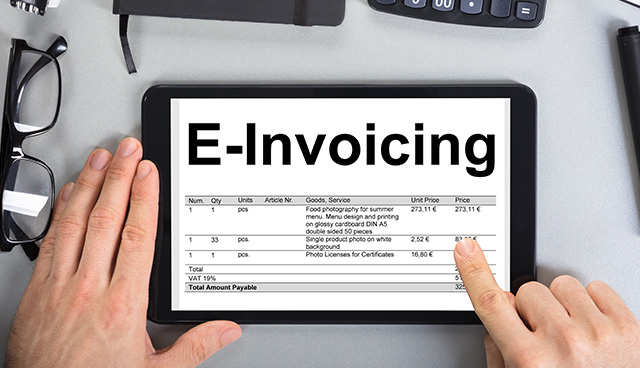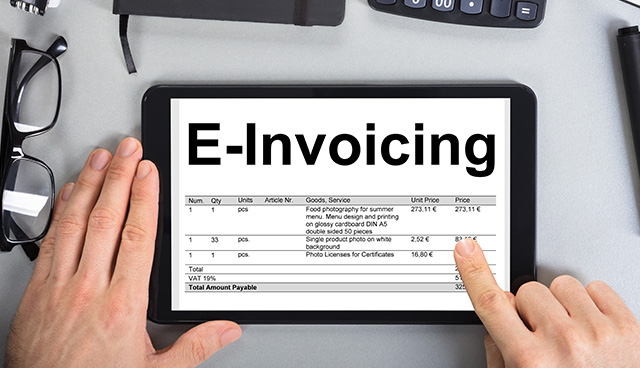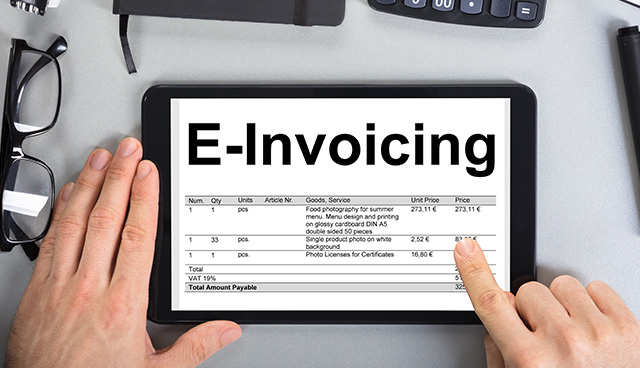 An insight in to the European Directive 2014/55/EU on eInvoicing and the Irish approach from eInvoicing Ireland, Office of Government Procurement.
With less than a year to go to the eInvoicing compliance deadline of April 2019, eInvoicing is on the agenda for public bodies. eInvoicing Ireland, a programme based in the Office of Government Procurement (OGP) to facilitate public bodies complying with the European eInvoicing Directive (2014), is dedicated to raising awareness and understanding, as well as developing an eInvoicing procurement framework.
Declan McCormack, eInvoicing Ireland programme manager explains: "The first point to understand is that the Directive obliges public bodies to receive and process electronic invoices in compliance with the European Standard by April 2019. eInvoicing will be a legal requirement for public bodies by April 2019. It is also important to note, that in Ireland there is no obligation on suppliers including SME's to send eInvoices, at this time."
In October 2017 the European Commission officially launched the European Standard for eInvoicing which started the clock ticking to the compliance deadline of April 2019. The eInvoicing team have been collaborating with their European counterparts, particularly those in countries that have a greater level of eInvoicing maturity, to build on their experiences and identify eInvoicing models that meet Ireland's requirements. eInvoicing in Ireland will allow businesses to 'connect once and connect to all' public sector entities both in Ireland and across Europe, where they are connected to the Pan European Public Procurement Online (PEPPOL) network.
In November, the Minister for Finance and Public Expenditure and Reform, Paschal Donohoe TD and the Minister for State, Patrick O'Donovan TD presented a Memo for Government on eInvoicing, as a point of information. eInvoicing is aligned with European and national eGovernment strategies, to move all member states closer to the Digital Single Market, a key to modernising public administrations across Europe and encouraging improved digital collaboration among all stakeholders.
The eInvoicing Ireland team is supporting public bodies across two main areas:
1) working with the sector partners and OGP Sourcing to develop a procurement eInvoicing framework; and
2) the delivery of a communication's campaign, highlighting awareness, promoting understanding and encouraging action among the relevant stakeholders.
The eInvoicing Ireland programme, similar in structure to the OGP Sector partnership model, works to a Steering Committee of representatives from Health, Education, Central Government, Local Government, OGP Policy and OGCIO, to establish governance and engage the public sector.
eInvoicing Ireland is also providing information materials and tools to support the public bodies in reaching compliance. In April eInvoicing Ireland held an information event on eInvoicing – 'eInvoicing is now the Norm – Get Ready', videos from the event along with the eInvoicing materials and updates including the availability of the procurement framework (scheduled to be accessible in quarter four 2018), are being made available at www.ogp.gov.ie/einvoicing.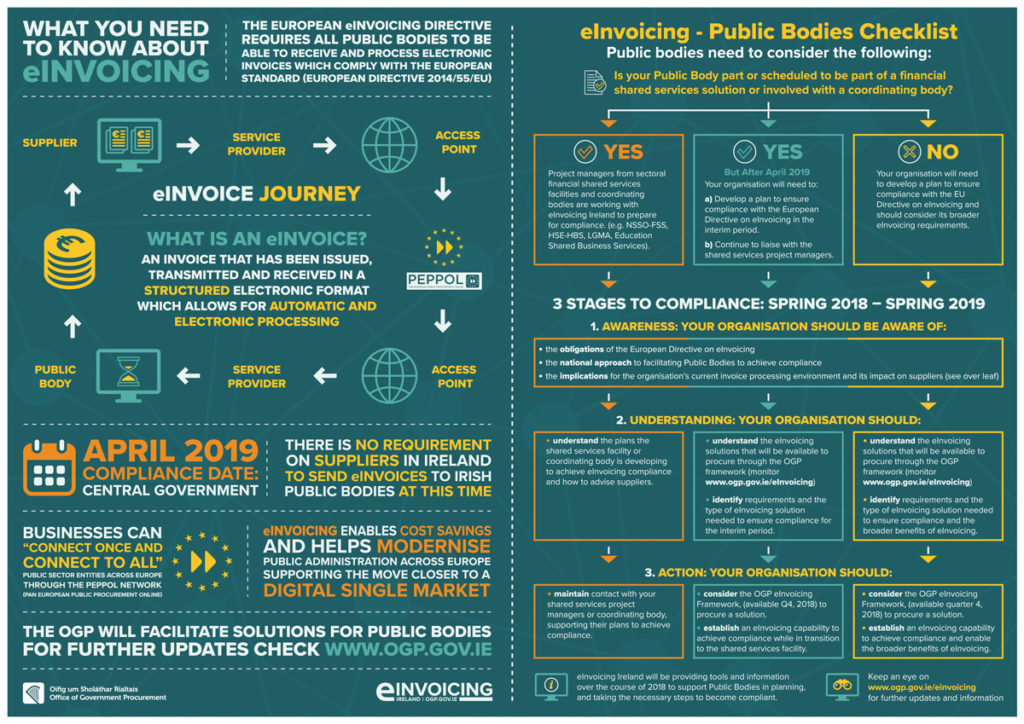 Benefits and obstacles to e-invoicing
Compared to paper invoices, e-invoices are easier to process, they reach the customer faster and can be stored centrally at very low cost. It's predicted that potential annual benefits could be up to €40 billion across Europe in the business-to-business field alone.
Some of the main benefits from e-invoicing include:
• faster retrieval of money from customers by reducing the time an invoice or payment is in the post;
• reduced printing and postage costs;
• quicker and cheaper processing as the information in electronic invoices can be fed directly into a company's payment and accounting systems;
• lower storage costs; and
• reduced training and system development costs.
At the same time however, e-invoicing faces obstacles such as:
• e-invoices are produced in a wide range of formats and according to many different standards. This hinders the smooth transfer of an e-invoice from one place to another, and prevents the realisation of the full benefits and cost savings of e-invoicing;
• variation in national rules which govern the validity and acceptability of e-invoices in legal, financial and administrative terms. This makes their use in cross-border transactions within the EU difficult; and
• many potential users have concerns about the security of e-invoicing systems and the potential for misrepresentation in fraud.
Source: EU Commission