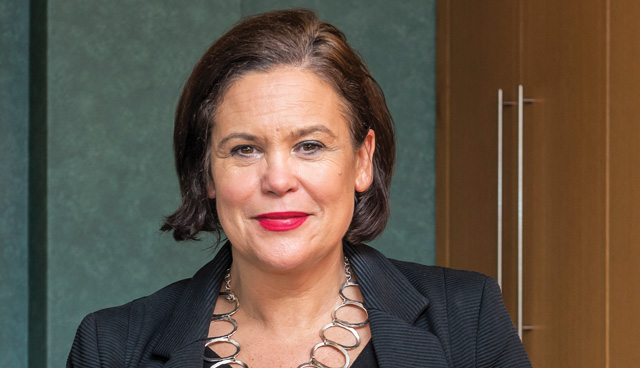 Elected unopposed at a special ard fheis in February, Mary Lou McDonald became the first woman to lead Sinn Féin in almost 70 years and only the second in the party's history. Ciarán Galway sits down with the new Uachtarán Shinn Féin to discuss her priorities and gauge a sense of direction for the party under her watch.
While initially regarded as somewhat of an anomalous figure within Sinn Féin – a Trinity-educated, southside Dubliner – Mary Lou McDonald points to the party's growth and diversity and asserts: "It was always a misnomer to suggest that I was uniquely the only person within the ranks of Sinn Féin who had a university education. That was clearly nonsense." However, she does concede: "My background wouldn't automatically lead you to conclude that I would be a member of Sinn Féin, much less an elected representative and perhaps much less again the leader of the party. But that's how it played out."
In Sinn Féin, McDonald, whose family were anti-Treaty republicans in the Civil War context, found "the perfect blend of politics", which she indicates has essentially two components. The first is social justice and diversity, while the other is an unambiguous anti-partitionism.
Resilience
Having suffered her fair share of electoral failure during the years in which the party's growth was virtually glacial in the Republic, including in the 2002 and 2007 general elections and the 2009 European Parliament election, McDonald is candid. "Losing elections is not easy, but it's part of political life and if you put yourself forward for election then it's a matter of one of two outcomes – you either win or you don't win."
However, she denies ever becoming disillusioned. "Any time that I've had setbacks like that, of course it's very challenging, not just for you but for the team of people around you as well. But I'm the type of person who will dust myself down and get on with it. Yes, there were moments that were tough and I've no doubt that there will be moments in the future that will be very challenging, but you don't cry and run away. You have to face adversity."
Personal ambition
On several occasions since the last general election, several political parties have faced accusations of bullying from disgruntled former members. As it has grown, Sinn Féin has been far from immune to such claims, however, the new leader rejects the suggestion that her party has a fundamental problem. "I suppose by tradition we have had a culture that was absolutely not about personal ambition and would have been quite suspicious of [it]. We're a much bigger organisation now. There have been some instances – and we are not unique in this by any stretch, and politics is not unique in this – where you have clashes, where you have personalities which do not click and get into controversies with each other."
Indicating that her first preference in such scenarios is that they be resolved one-to-one and in an amicable and adult fashion, she adds: "Where that doesn't prove possible, we have rules, regulations and very robust procedures which are applied.
"I have to concern myself with creating and fostering a positive and respectful climate. We have almost 14,000 members and I can assure you that, in talking to the membership, they would be absolutely astonished at the suggestion that there is systemic bullying. There isn't."
Challenges
Less than three months ago, McDonald inherited the reins which her predecessor, Gerry Adams, had retained for almost 35 years. Alluding to the challenges of assuming leadership as "quite considerable", McDonald pays tribute to Adams' legacy and insists: "They are big shoes but I am not trying to fill them. I am very conscious that I am a different person from a different generation and while we share some of the same challenges, I also face new challenges in leadership. I want to find my own tempo and way of moving things forward.
"From a management point of view, taking on this job is huge because we have a substantial membership, organised nationally – we're not regional like the other parties. I want to innovate in order to bring the party structures and practices in line with the fact that we're now a large party. Many of our processes are still tailored to a small party."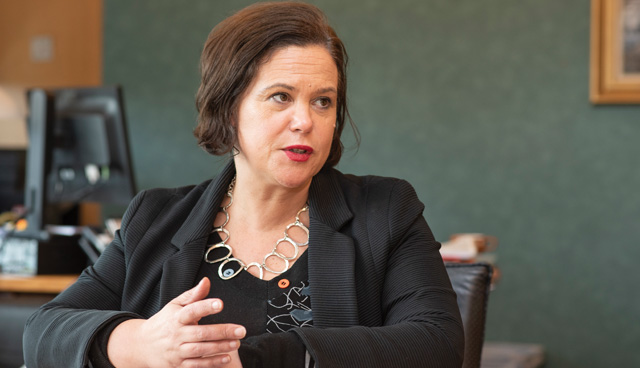 Describing her first 11 weeks in charge as "incredibly busy", McDonald outlines some of her priorities. "Issues around the North remain a key concern for me. I am very anxious to get the Assembly and the Executive back up and running. We actually had a deal or an accommodation in February. It wasn't perfect to the nationalist eye and I've said this to people very openly. It could be legitimately criticised, however, Michelle [O'Neill], the Sinn Féin leadership and I believed that it represented sufficient progress and a sufficient accommodation to enable us to get the institutions up and running. It's a matter of deep, deep regret that the DUP couldn't or wouldn't get that agreement over the line."
Brexit
Identifying Brexit as an omnipresent background noise, McDonald contends that it is "a mess and a disaster" from an Irish perspective. "It's absolutely incompatible with the GFA, it threatens our prosperity north and south, our social and political cohesion. [The British] say they don't want a hard border, they say they don't want any damage to the GFA and yet, they're not prepared to step forward and say, 'this is how we will make it happen'. By June, we need an answer to that question."
McDonald rejects the assertion that Sinn Féin has ever been Eurosceptic and as such wears its opposition to Brexit readily. "We are Eurocritical – and I'm not dancing on the head of a pin here – the distinction is important. I'm passionately a European. This is an ancient European land. We are Europeans. The issue that we have to question and critically analyse is the direction of travel of the European project and that's where we have our criticisms.
"A system of laws and rules which give primacy to the market and competition over everything else is wrong. The balance is entirely wrong. We're for a more social Europe. But we support things like cooperation on environmental issues, climate change and so many areas where it is self-evidently the case that we need to act collectively as Europeans.
"I square our identity as Europeans and criticism of the European project with incredible ease. I've never had a difficulty doing that. I think others do though and unfortunately in the political system here, if you raise an issue or became a critic of the travel of the European project, this then means that you are hostile. If Brexit teaches the European establishment any one thing, I think it should be that rather than shouting down or labelling critics, maybe it should listen because we have something to say and it's said with goodwill."
Shared prosperity
"When I heard the leader of Fine Gael speaking about Irish reunification, I looked to the Dublin skyline to see if there were little pigs flying."
More generally, McDonald wants her leadership to be defined by the creation of shared prosperity. "That is about investment, innovation and generating wealth and resources. Then it's about investing those resources wisely. It's about sharing prosperity fairly. It's about giving everyone a stake in society. I think that conceptually, this is the direction in which we need to travel, right across the island," she insists.
"I'm a united Irelander. I think we're on a journey that can lead us to a new and reconciled Ireland. That's really exciting. I know it's also very challenging but I think we're up for it and there's a sense in which – and I hate the term – 'grown-up' politics must begin to prevail. All of that is going on and more."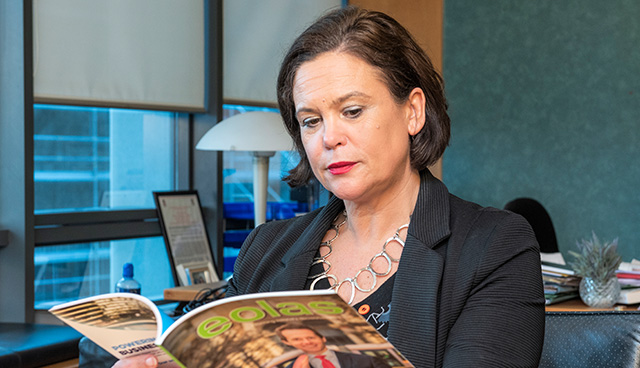 On the extent to which reunification is a priority, McDonald maintains: "That depends on who you talk to and when you talk to them. I think Brexit has raised the issue of the border out of necessity. I mean, I'll be honest with you, when I heard the leader of Fine Gael speaking about Irish reunification, I looked to the Dublin skyline to see if there were little pigs flying. You have the Tánaiste saying he believes that he will see it in his lifetime and I think he's right. Who would have thought?
"Anyone who thinks that this is something belonging to previous generations, and the 'fourth green field' romanticism of the past, is wrong. In fact, younger people are very animated, not because they are caught up in the past, but because they are fixed on the future and can see the potential.
"I'd just caution this: It's not for me, or for us in Sinn Féin, to come to everyone else and hand down a united Ireland on tablets of stone, that would be mad. This has to be a conversation, because lots of people right across the country are going to have a view, ideas, expectations and worries. We need to start putting flesh on the bones of things. I accept that."
Abortion
McDonald rejects any suggestion that Sinn Féin policy on abortion has been deliberately blurred in order to ride two horses at once. "We've had policy on the Eighth Amendment for as long as I can remember. Party policy has evolved. We have on the books, a long-standing position that a woman pregnant as a result of rape or incest, as in the X case, should not be coerced by the State to carry a pregnancy to term. We have had policy on threat to life and health. Then we got to the point where you say: 'Well, how do you legislate for that? How do you legislate for the rape grounds?'
"I'm not trying to ride two horses on anything at all. My sincere wish is that we get this right for women. We need the Eighth Amendment out of the Constitution."
"You can't wait for court procedures because that is very time-consuming. So, 12-weeks is a way of accommodating all of that and also accommodating the reality of the importation, on a huge scale, of abortion pills and the fact that girls and women are taking them with zero medical supervision. So, I'm not trying to ride two horses on anything at all. My sincere wish is that we get this right for women. We need the Eighth Amendment out of the Constitution and then we need a legislative framework that works and recognises those exceptional circumstances – such fatal foetal abnormality – as things that happen and we need a law that responds to it.
"It's not a massively permissive system. It's just not. Some of the rhetoric around late abortion and so on is just wrong. In fact, the legislative scheme specifically prohibits any proposition of late abortion, with criminal sanction."
With regards to bringing the party grassroots along with the leadership on the issue, the debate is ongoing and McDonald indicates her desire to see party policy move to its next phase after the June ard fheis. "I think the view of the party leadership is clear and now, as with every other issue – and this is a difficult one – we have to go in, make the argument and win our grassroots over. That's how we operate."
The economy
With the economy having dramatically steadied and the anti-austerity image cultivated by her party beginning to outlive its usefulness, McDonald's emphasis is on the concept of 'shared prosperity'. "If you look at the statistics in terms of the employment levels, yes there is a marked improvement and I welcome that. But when you unpack the figures, what you discover is a lot of precarious employment, zero-hour contracts and very low pay – now collectively referred to as the gig economy – and it's not just in hospitality or retail, it's much broader than that," she asserts.
"In wider society there are rents that people can't meet – it's crazy in this city. We now have a whole generation for which the prospect of owning their own home is considered a bit of a pipedream. The idea of a stable job and a pension are things that the welfare state generation won and had banked for us and now they are gone. We must get back to first principles and consider how we define prosperity. If it is purely statistical, and if it is purely based on healthy looking ratios then I think we are in trouble because some of this can be very superficial. The trick for testing how well your economy is really doing is to go down a couple of layers, and it's there that we're still in trouble.
"I want to say this as well: we've a lot of significant FDI on the east coast, particularly into Dublin, but where is the big indigenous innovation sector arising? Where is the big indigenous pay-off in terms of innovation here? We're turning out highly skilled and highly trained graduates and technicians, yet we have not cultivated the creative climate here to actually capitalise on that. There is a lot more required to make things sustainable so that you don't just have call centres in and call centres out. I think we can do better."
Vision
Concluding with her vision for the future, McDonald expresses ambitions of the party to grow, modernise and innovate. "I want us in government north and south. Those are two related but in some ways different challenges because there is a different dynamic in each. I want people in the party membership who have a view or ideas and are prepared to take a chance, while cherishing who we are and never forgetting that, to actually reach out and change our perspective slightly in terms of 'the other'. I think that's what's interesting now in our politics, the dynamic from here on in is about the politics of accommodation. Those that can accommodate are those that will prosper."