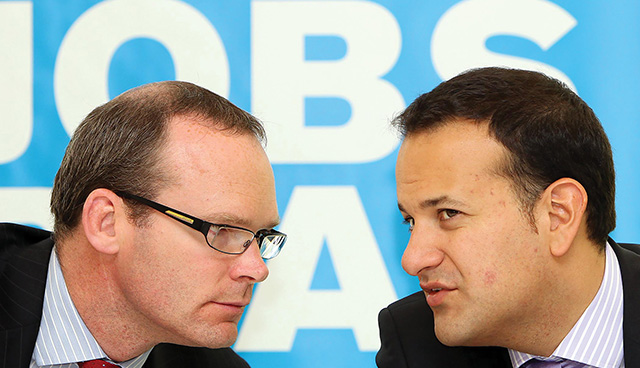 Opposition to Theresa May's proposed 'max fac' approach to the UK's exit from the EU has been met with serious opposition from within her own party and scepticism from the European Union. An altered customs arrangement, aligning the whole of the UK for at least a number of years, now appears the most likely outcome. However, the potential for UK alignment has been met with a cautious welcome in Ireland by both the Taoiseach Leo Varadkar and Tánaiste Simon Coveney. Both men have called for greater detail as the timeline for a withdrawal agreement shrinks.
Timeline
"Nobody is saying that everything has to be resolved by the end of June, but I think we certainly need to see a solution on the Irish border backstop issue taking shape by the end of June, whether that's new thinking around a shared customs territory, whether it's some other issues that are linked, not only to the border itself but also to maintaining the integrity of the Good Friday Agreement and the Peace Process."
Progress
"The deadline of course for the withdrawal agreement is October, but if we are not making real and substantial progress by June then we need to seriously question whether we're going to have a withdrawal agreement at all."
Theresa May meeting
"I said to the prime minister that any move that helped to align all of the EU and the UK in terms of customs into the future would be beneficial. It would help solve some of the problems related to the border but not all of them. It would certainly help us continue to trade between Britain and Ireland much as we do now."
Backstop
"There needs to be a backstop that deals comprehensively with the Irish border issue. That backstop needs to be in a withdrawal agreement. The British PM has agreed to that approach. So, we need to find a wording now that is legally acceptable to both sides, and which actually works to deliver the outcome, which has also been committed to by the British government, that there would be no border infrastructure of any kind, and that there would be no checks and controls on the island of Ireland."
Customs partnership
"We would like to see some new thinking come forward from the British side… 
It would make a lot of the other problems, that are difficult to solve right now, easier to solve. That can't happen unless the British government brings forward a position through negotiation that tries to achieve that outcome."
Protection
"We need to have that backstop because that gives us the assurance that there will be no hard border on our island. So, we stand by our position that there can be no withdrawal agreement without that backstop.
"If the UK wants to put forward alternatives … we're willing to examine that. But we need to see it written down in black and white and know that it's workable and legally operable. And we've yet to see anything that remotely approaches that."