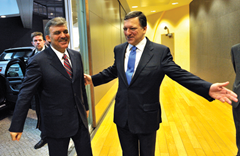 Peter Cheney reviews Ireland's possible new neighbours in the EU.
Enlarging the European Union was a major EU priority until the economic crisis come along but the debate over its costs or benefits is not one which will go away.
Controversy over enlargement tends to focus on Turkey, which lies in both Europe and Asia. As such, it is seen as 'bridge between civilisations' by supporters of Turkish membership. They also point to Turkey's membership of NATO since 1952. Its size would also act as a counter-weight to France and Germany.
Opponents doubt its European credentials and warn about its poor human rights record, potential security risks and the potential expense of membership. A long-running conflict between Turkish forces and Kurdish separatists has caused several thousand deaths and it borders the unstable Middle East. Accession negotiations started in October 2005 but are expected to take several years to complete.
Seven Balkan countries emerged from the former Yugoslavia, of which one – Slovenia – joined the EU in 2004 and two others – Croatia and Macedonia – are now candidates. Croatian accession is expected in 2010 or 2011 but talks stalled in April over a border dispute with Slovenia.
Five other Balkan countries are potential candidates. Montenegro submitted its application last December, followed by Albania in April this year.
Kosovo declared its independence in February 2008 but this has not been recognised by former ruler, Serbia. EU accession will be a prolonged process in this case, given the 1999 conflict and its consequences. Bosnia and Herzegovina is also in the queue but deep divisions still remain following its civil war.
Rich and stable Iceland traditionally stayed outside the EU but after its banking collapse many islanders considered EU membership to be better than standing alone. The new government has formally applied for membership and wants to call a referendum on the issue. Its application could be fast-tracked alongside Croatia.
Enlargement is broadly backed in Irish political circles; the EU's last major expansion took place on Bertie Ahern's watch in May 2004.
"The historic unification and stabilisation of the European continent would be left incomplete without the gradual integration of the Western Balkans into the EU", Fianna Fáil's European manifesto reads. Further afield, the party supports the territorial integrity and sovereignty of Georgia, Ukraine and Moldova on the borders of Russia.
The Government supports membership negotiations with Turkey, while insisting that Turkey fulfils its obligations, including supporting a "comprehensive settlement" of the Cyprus conflict.
Fine Gael's manifesto highlighted the importance of a large internal market to Ireland at a time of economic slowdown. It favours Turkish accession provided the country meets all the required social and economic criteria, Foreign Affairs Spokesman Billy Timmins told eolas, adding that the party supports enlargement on a "case-by-case" basis.
Labour is looking forward to both Croatia and Iceland joining, Europe Spokesman Joe Costello explained. The party is generally "well disposed" towards Turkish membership but there is "a lot of water to go under the bridge" before that happens; he sees the country as a bridge between east and west.
The Greens were quite supportive of previous enlargements and take a "positive" view of Turkey's application. They also sense an obligation to build peaceful societies in the Balkans, although this would not necessarily involve EU membership.
A Sinn Féin spokesman said his party had no problem with enlargement as long as each applicant met the same criteria as current members. It is concerned about Turkey's human rights record and role in the Cyprus conflict.
The Socialist Party dissents. It sees the EU as pro-big business and does not think that EU membership will improve the living conditions of ordinary Turks. Socialists are also critical of Turkey's treatment of the Kurdish minority but insist that their scepticism about Turkey is not based on anti-Islamic sentiment.
For Ireland, further enlargement will put the island at a periphery of an even larger EU, probably with less funding as money moves south-east, and perhaps north- west. However, a growing internal market would, as before, also open up opportunities for Irish exporters as well as attracting immigrants – with or without jobs – to local shores as well.
Tags: Europe