Michael McGrath, the highly regarded TD for Cork South-Central, is regularly hyped by the political commentariat as a Fianna Fáil leader-in-waiting. Ciarán Galway meets with the party's spokesman for finance to explore his thoughts on fiscal responsibility, the confidence and supply arrangement and future electoral battlegrounds.
Opening the conversation with his political genesis, Michael McGrath identifies his "love of history in school" and "a keen interest in current affairs" as having informed his desire to immerse himself and play a role in public life.
The Corkonian regards his re-election to Dáil Éireann in 2011 as "probably the biggest achievement" of his political career to date, given the collapse in the Fianna Fáil vote at that time. In 2016, McGrath topped the poll in Cork South-Central, slightly ahead of his constituency compatriot and party leader, Micheál Martin. Reflecting on his return to the Dáil as a "humbling" accomplishment, he emphasises: "I certainly don't take that for granted in any shape or form."
In terms of policy achievements, McGrath points to the work of he and his colleagues to introduce legislation in the Dáil to establish an insolvency system to assist those struggling with debt to secure a restructure of their mortgage. "Our Bill was accepted and was eventually superseded by a Government Bill. So, we did play an important role in those early years in opposition, putting the structures in place to give people suffering indebtedness a hope that a sustainable solution could be for found to their own financial difficulties."
Priorities
In the coming weeks, prior to the summer recess, McGrath indicates that Fianna Fáil's attentions will turn towards Budget 2019, which, through the confidence and supply agreement, it has committed to facilitating. "From our point of view, we will be looking for significant progress in the delivery of housing – that's the number one priority facing the country at this time," he outlines. "We want to see much more progress in tackling waiting lists in our health system, both outpatient and inpatient as well as surgery lists. They are not acceptable at this point in time.
"We secured a commitment in the confidence and supply agreement that the national treatment purchase fund would be reactivated. While they were reluctant initially, that has now happened and the Government has committed to investing more money into it."
In his own sphere of finance, the party is focusing on cost of living. "We have, in the current Dáil, put a real focus on issues such as high interest rates, the cost of insurance and the cost of living for families. We will continue to focus on those issues because there is a limited amount of money that the State has at its disposal for tax reductions and spending increases. So, we need to achieve more from the private sector by trying to force down costs where we can and ease the cost burden which is becoming a major problem for families and individuals throughout the country."
Fiscal responsibility
While the Taoiseach has alluded to Fianna Fáil's attempts to 'buy' the next election with promises that would bankrupt the country, McGrath suggests that the party's fiscal responsibility credentials are "very strong" and that it has "really learned the lessons of the past".
"We strongly supported the fiscal treaty referendum, adopting fiscal rules into our domestic legislation and giving constitutional recognition to that. We were the first party, in 2015, to advocate the establishment of a 'rainy-day fund' as soon as the country balanced its books and now we hear the Government coming forward with those proposals. We welcome that.
"It is an issue like no other and we recognise it as such. The party will get back to normal business once the referendum is over and I'm confident that there won't be any scars or ongoing issues that can't be resolved."
"We are committed to managing the Budget responsibly. I myself, to some extent, would have been taken under Brian Lenihan's wing as a young backbench TD and I saw the incredibly difficult decisions that he and his colleagues had to make after 2008. I think those lessons have been deeply ingrained in my own thinking. I would be naturally cautious on questions like economic management and fiscal responsibility – we simply can't take risks with the public finances. If we get the chance to govern again, I can assure people that fiscal prudence will be the order of the day," the former member of the Oireachtas Committee of Inquiry into the Banking Crisis asserts.
While on record as acknowledging the Government's achievements in steadying the economy, McGrath is capable of incisive criticism. "There is a strong economic recovery and that's something that we very much welcome, but there are risks building up in the economy at the moment which are not being dealt with by the Government. We are becoming overly dependent on corporation tax receipts and we have a very significant dependence on receipts from multinationals in particular."
Outlining the Fianna Fáil alternative, the finance spokesman indicates that enterprise strategy should be revisited and greater supports introduced for SMEs operating within the indigenous economy. "It is important that we continue to support multinational investment and have a strong offering for inward investment, but I do think there is a need to shift the balance in our economy to reduce that dependence because major decisions made in a small number of multinational headquarters could have very serious consequences for the Irish economy.
"We must lessen that dependence by growing the other parts of the economy while protecting inward investment. I think that's one area where the Government doesn't even seem to recognise the risks at this point in time."
McGrath emphasises the need to be proactively cognisant of Ireland's economic competitiveness. "We did regain competitiveness out of necessity during the economic crisis, but there are signs of slippage again and anyone who reads the reports from the National Competitiveness Council can't but be struck by the risks which are facing our economy. We need to keep a close eye on that," he says.
Confidence and supply
Acknowledging that the confidence and supply arrangement which sustains this current Government can be "frustrating at times" because while the party is out of office, "not everyone views you as being completely in opposition".
"You can push the Government only so far because every time that you raise the temperature on an issue, or when a controversy arises therefore, the first question that is asked is 'why don't you bring the Government down and go to the country?' We have had many opportunities to do that over the last number of years, but we did give a commitment that we would underpin three budgets. We said we would provide stability to the country at a difficult time and I think that we are fulfilling the promise that we gave," he explains.
"We're not fulfilling this arrangement out of any great love for it, it's because we gave a commitment, I think it's the right thing to do for the country but there will be an election in the short to medium term…"
While McGrath emphasises that he advocates that Fianna Fáil sees through the third budget he again acknowledges the frustration. "We don't have as much influence over the Government as people might think. We don't have any executive authority, we are not in there making decisions. We have had successes for sure, and I think we have recalibrated Government policy in a number of areas, but speaking as someone who has never been in government, I imagine there is no substitute for actually being in a department every day and running the show.
"That is something that I would very much like to do and I know my colleagues would too. We're not fulfilling this arrangement out of any great love for it, it's because we gave a commitment, I think it's the right thing to do for the country but there will be an election in the short to medium term and we will be hoping to be returned to government."
Government
On recent polling, the Cork TD contends that "it's all to play for". Alluding to Fine Gael's current lead, he impresses: "The one thing I've learned in my time in the Dáil is that you can't be complacent and politics is very unpredictable. Even if Fine Gael are ahead of us going into an election, we believe that we can overturn that lead and that we can come out the other side as the stronger party."
Likewise, he regards the format of the next government as impossible to predict. "I'm not convinced that there will be any form of confidence and supply agreement after it – I don't think there will be a queue of parties looking to enter into one, particularly on the part of facilitating another government, but that remains to be seen.
"I think it will be over to the people in the relatively near future and I hope that they deliver a decisive result. I certainly believe that the parties are the best vehicle to achieve that rather than independents or even smaller political groupings."
On the possibility of Sinn Féin – now under the leadership of Mary Lou McDonald – acting as a viable post-election government partner, McGrath toes the party line emphatically thrown down by his leader. "[Micheál Martin] has categorically ruled it out and he has the support of the party for taking that position. So, the answer is no and we will be sticking to our word as we stuck to our word following the last election when we said we would not be going into government with Sinn Féin or Fine Gael."
Battlegrounds
In relation to the omnipresent spectre of a general election, McGrath expresses his hope that the main battleground will encompass the public services. "I think protecting and nurturing the economic recovery will obviously be central and we will have a suite of policies around that area to support the indigenous enterprise environment, but there is no question that public services are deeply strained in some areas.
"I see that as a practising politician, at a political level – I have young families coming into me and they are waiting up to two years for an assessment of a young child with a disability. That is not acceptable to us. Across so many different areas, our public services are failing people. That is not the fault of people who are working in public services, they are doing their very best, but the investment is not being provided and reforms are not being introduced so, from our point of view, it will again be about 'an Ireland for all'. That will require investment in our public services, in health, in education, in housing and right across the board."
Brexit
Reflecting on the Government's Brexit diplomacy, McGrath intimates that his party is playing a supportive role for the sake of the national interest and details some core policies. "We want to get the best deal that we possibly can. We do need to see the backstop agreement put into effect. We can't countenance the return of a hard border in any shape or form in the island of Ireland, but equally the notion that there would be some form of border affecting trade down the Irish Sea is something that is equally unacceptable because of the consequences that that would have," he summarises.
However, "the lack of practical supports at a domestic level" is central to his crituqe. "Survey after survey has shown that the vast majority of firms, and small businesses in particular, who are very exposed to the British market, are not prepared for Brexit and the supports available to them from State agencies are quite limited – there isn't even an awareness of many of the supports which are there. I think there can be legitimate criticism levelled there.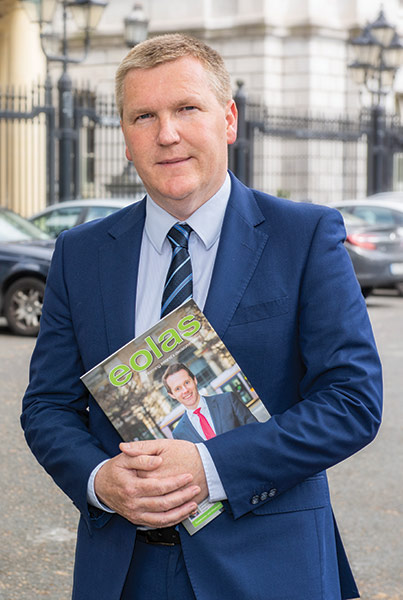 "Likewise, we have expressed our concern about the negotiations being allowed to move on to the phase dealing with the future trading relationship without the border issue being dealt with. We have flagged that concern and we are aware that there is a crucial summit coming up now in June and we will expect the Government to deliver on the backstop and prevent any form of border infrastructure being put in place on the island."
United Ireland
Amidst the uncertainty of Brexit, Fianna Fáil has be reluctant to contribute to the Irish unity debate with regards to border poll advocacy. "We are very much a republican party – we make no apologies for that. It is our aspiration to see a united Ireland based on the principle of consent as provided for in the Good Friday Agreement. We don't believe that it would be wise to seek to exploit the uncertainty created by Brexit to force a border poll at this time – there's too much at stake in the negotiations that are underway and those have to take absolute priority."
However, while his party are "focused on the negotiations", McGrath suggests that their subsequent resolution will "determine the shape of north/south and east/west relations" and "have a critical bearing on the likelihood of a united Ireland happening in a relatively short term". At the same time, he acknowledges "some very strong language from unionists about the approach taken by Leo Varadkar and Simon Coveney" and emphasises, "we have to allay legitimate concerns that people have".
Eighth Amendment
Speaking immediately prior to the Eighth Amendment referendum, the Fianna Fáil TD outlines his position on a topic he regards as being "a deeply personal" and one which is "not party-political". Indeed, his party did not impose a whip and members were entitled to vote with their conscience, with the consequence that the majority of the parliamentary party were publicly at odds with leader Micheál Martin's own stated position which favoured repeal.
"I have put my own views on the record that providing for termination up to 12 weeks gestation, without any restriction as to reason, goes too far for me personally. There are many who would disagree with that, perhaps a majority [indeed 66.4 per cent voted yes]. We are now very close to the referendum and it will give a clear indication of public opinion.
"It is an issue like no other and we recognise it as such. The party will get back to normal business once the referendum is over and I'm confident that there won't be any scars or ongoing issues that can't be resolved," he indicates.
Clarifying his own position, McGrath advocates "replace rather than repeal" and argues: "I have always felt that it would be possible to replace the Eighth Amendment with an alternative wording which retains constitutional protection for the unborn, but which would allow the Oireachtas to legislate for the exceptionally hard cases which are undoubtedly there and would include rape, incest, fatal foetal abnormalities and to protect the health of the woman.
"Providing for it, in a compassionate way, with a replacement amendment and legislation would be far preferable to my mind, than opening it up to what we're now looking at which is essentially access to termination without restriction."
Vision
Concluding the conversation by outlining his own vision for the future of Fianna Fáil, the finance spokesman strikes a tone of humility. "We were in power for 14 consecutive years and I think that the party did lose its way during that time. We were lucky to survive the economic crash. There were many who wrote our obituary.
"However, while we're still well short of the support levels that we would have had in the past, people have been prepared to give Fianna Fáil another opportunity, so I think it is about staying connected relevant, in touch and being realistic while also being ambitious and radical – which is where the roots of our party lie. I'm confident that we do have a bright future as a party, whether we're in government or opposition is another day's work. If we are seen to stand up for a fair Ireland, then I think we will continue to attract significant support."