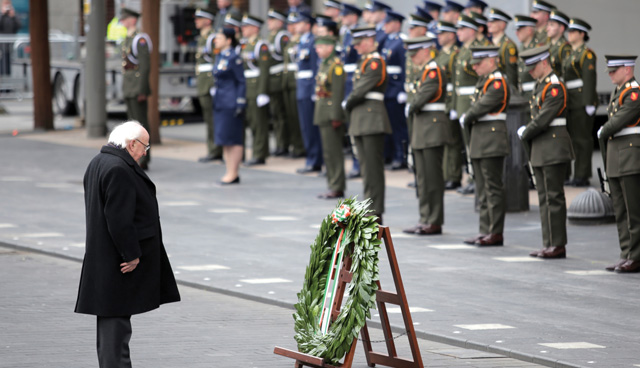 In spite of some resistance to a Presidential Election among the commentariat, the contest for Áras an Uachtaráin is on. The date for election has been set for 26 October 2018. eolas reflects on the role of the President and the challenge facing current Uachtarán na hÉireann, Michael D Higgins.
In 1937, the Office of President was established by Article 12 of Bunreacht na hÉireann. While the President of Ireland is Head of State (and Supreme Commander of the Defence Forces), it is largely a ceremonial office. For instance, whilst after consultation with the Council of State, the President may communicate directly to the Houses of the Oireachtas, the Constitution indicates that any address must receive approval of the Government.
Powers and functions
The powers and functions of the President are prescribed in the Constitution and, while the President has absolute direction in some areas, many of the presidential powers can only be exercised on the advice of the Government. Presidential powers include:
• appointing the Taoiseach, members of the Government, the judiciary and other officials;
• summoning and dissolving Dáil Éireann (on advice of the Taoiseach) and convening the Oireachtas (in consultation with the Council of State);
• signing legislation into law and/or referring Bills to the Supreme Court (while consultation with the Council of          State is required, the decision to make a referral is at the discretion of the President);
• representing the people of Ireland (both at home and abroad); and
• acting as Supreme Commander of the Defence Forces.
Securing over one million votes, the ninth President of Ireland, Michael D Higgins, was elected on 11 November 2011. Holding office for seven years, a candidate can serve a maximum of two terms, consecutively or otherwise. While directly elected by the people of Ireland, on six occasions only a single candidate has been nominated, in which case he or she is deemed elected and there has been no poll.
In July, President Higgins confirmed that he had informed the Government of his intention to stand as an independent candidate, under Article 12.4.4 of Bunreacht na hÉireann. In late August, Housing minister Eoghan Murphy signed the Ministerial Order for a Presidential Election, signalling the beginning of a 28-day period in which candidates must secure nomination.
Challenges
While exceptionally popular, President Higgins faces three broad challenges.
Firstly, the erstwhile Labour TD is 77 years old, meaning that upon embarking upon a second presidential term he could still be in office at 84 years of age. As such, akin to the presidential campaign in the US and in line with the precedent of intense scrutiny which came to bear on candidates in the 2011 election, the steadfastness of his health could be called into question. That being said, both Douglas Hyde and De Valera have set a precedent in that upon leaving office, they were 85 and 90 years old respectively.
Secondly, while the President is entitled to €317,434 for expenses, it appears likely that Higgins' expense claims in his capacity as President are also likely to be subject to meticulous inspection. For instance, suggesting that President Higgins stayed in a five-star suite during a recent trip to Geneva, would-be presidential candidate Senator Gerard Craughwell spoke with RTÉ's Miriam O'Callaghan to express his concerns. "This is public money we are talking about, but there is a more important issue here around whoever is booking the accommodation. I know the Oireachtas staff who are booking accommodation will not exceed a four-star hotel anywhere, and that includes ministers… It is only right and proper that all public offices are open to FoI. I think what's wrong is the mystery around all of this," he said.
Finally, as a Labour candidate in 2011, Michael D Higgins made a commitment that he would serve a maximum of one term if elected. The depth of public feeling on that broken promise is uncertain, though it seems likely that he will not escape from this presidential contest unscathed, as happened in his last outing.
Unprecedented
We are now entering uncharted waters. Never before has a sitting president actively campaigned for election to a second term and it is only the second time since 1966 that an incumbent has faced contest. Despite facing a challenge in 1966, Éamon de Valera refused to campaign. The result being that his rival, Tom O'Higgins, who conducted an 'American style' bid for the presidency, ran him to within 11,000 votes in the election. In the interest of 'balance', RTÉ did not provide coverage of O'Higgins' campaign.
Sinn Féin challenge
It seems likely the Sinn Féin will put forward Munster MEP Liadh Ní Riada as a candidate. Her candidacy as a relatively young woman would contrast starkly with Higgins as an elderly man. Likewise, she will contrast from the party's previous candidate, the late Martin McGuinness, a northerner with unambiguous IRA connections.
However, while Higgins' popularity continues to circumvent party allegiances, especially among younger voters, it seems unlikely that Sinn Féin will significantly improve their vote share. Yet, the exposure that a Sinn Féin candidate will garner in the absence of either Fine Gael or Fianna Fáil candidates could prove invaluable ahead of the next general election.
If Ní Riada does indeed go forward as a candidate, the dynamic will be interesting. In 1993, she was appointed by the then Arts Minister Michael D Higgins to the board charged with establishing Teilifís na Gaeilge (TG4). That existing relationship may inhibit a repeat of the viciousness which came to define the 2011 election. In July, the MEP conducted a lengthy interview with RTÉ's Marian Finucane in which she performed competently.
However, the one particular topic on which Ní Riada floundered – commemoration – also happens to be one of Higgins' greatest attributes. In 2016, the President, bolstered by his personal background, surehandedly steered the nation through the centenary of The Rising with a dignity that has come to iconify his presidency. A similarly steady hand will be required to navigate the country through rougher seas during the centenaries of partition and the subsequent Civil War.
On top of this, Higgins has brought an ethical side to the presidency which somewhat contrasts with the neo-liberal business orientation of some prospective candidates in 2018. While there is no constitutional obstacle to a president expressing political opinions, he masterfully carved a radical space for himself, advocating social justice and often flirting with the boundaries of precedence. For example, he has consistently emphasised that the economy, society and politics should not be regarded as being separate spheres.
Establishment support
Another strength that Higgins holds is his widespread support from the political establishment. For instance, Micheál Martin outlined: "I spoke with the Fianna Fáil frontbench and parliamentary party today and confirmed our view that Fianna Fáil will not field a candidate to challenge President Higgins and will be supporting his candidacy, in the event of him seeking a second term."
Similarly, Chairman of Fine Gael's Executive Council Gerry O'Connell stated: "In supporting Michael D Higgins, we acknowledge that he has demonstrated over the last seven years that he has been a model President who has brought great dignity to the Office and earned great affection from the nation.
"We are committed to supporting his re-election unconditionally and are encouraging that the party membership on the whole to lend him their fullest support."
That being said, competition is healthy, and the integrity of the office can only be enhanced by the democratic rigours of an election. Entrepreneur and Gavin Duffy and Senator and Pieta House founder Joan Freeman are the frontrunners among those who have announced their intention to stand for election. In order to do so, aside from being an Irish citizen over the age of 35, they require nomination either by a minimum of 20 of the 218 serving members of the Oireachtas or by at least four of the 31 county or city councils. As in the case of Higgins, an incumbent or former president who has served only one term can nominate themselves.