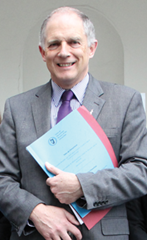 Chairman of the Justice, Equality and Defence Committee David Stanton discusses the new scrutiny process for bills and the need for more committee time, with Stephen Dineen.
For David Stanton, "legislators now are working as legislators," and it pleases him. This has arisen from Oireachtas committees being given the chance to scrutinise legislation before it is published.
"Prior to this, bills were published and it was a fait accompli," the Fine Gael man tells eolas. Committees now have an opportunity "to get the legislation very right before it's published".
Under the new system, committees debate and hold hearings on the heads of a Bill and send recommendations to a minister for consideration before they publish legislation. Departmental officials "sit in, quite often" on these hearings, says Stanton. Members "very often will pick up on nuances and niche issues and they can then ask a very focused question," he adds. Stanton's committee then wades through these meetings' transcripts, and submissions, before sending observations and recommendations.
Scrutiny of the Personal Insolvency Bill's general scheme led to the recommendation "that the family home would be safeguarded, if possible at all." To prevent bankruptcies, the committee also advocated an appeals mechanism against rejections by banks or financial institutions of a "reasonable offer" for debt settlements. While Minister Shatter has rejected this proposal, Stanton expects a debate on it at committee stage this autumn.
The committee also wants to see a regulatory structure to ensure that personal insolvency trustees are suitably qualified.
Stanton and his colleagues have also scrutinised the Legal Services Regulation Bill. The Bar Council, the Law Society, Free Legal Advice Centres and the Competition Authority have given evidence to the committee.
Concerns centred around the legal professions' independence and how the profession is "going to be organised from a business point of view" after reform. The Bill proposes new multi-disciplinary practices (between lawyers and non-lawyers) and partnerships between barristers and solicitors. Minister Shatter is bringing forward amendments "which we hope to discuss now in the autumn" at committee stage, a stage that has been "foreshortened quite a bit" because of pre-vetting.
As well as legislative work, the Justice, Defence and Equality Committee has published reports on penal reform (an interim report) and on missing persons.
At a hearing about missing persons, the committee took evidence from agencies such as An Garda Síochána, which has subsequently launched an amber alert system. This notifies the public when a child has been abducted.
"It was also put to us that we should have a national missing person's day," says the Cork East Fine Gael TD. The Taoiseach and Minister Shatter have agreed to this. A recommendation for a place of remembrance for families of missing persons is being examined.
While the new approach to legislative scrutiny is welcome, Stanton believes that a more "radical" reform is necessary. He proposes that the Oireachtas should consider adjourning the Dáil and Seanad in the early afternoon to allow committees to work exclusively. With only four committee rooms, the Dáil and Seanad chambers could also be used, hence "you could have six committees working in the afternoon." In three hours, "you'd get a lot of work done uninterrupted". Interruptions are regular due to votes, leading to loss of time and momentum, he believes.
Dedicated committee time would require a reformed Dáil and Seanad devoid of "long, rambling speeches with one person reading a script" into an empty chamber. On members' contributions in the chambers, he states: "You might as well send it by email and forget about it because there's no interaction, no debate, no discussion".
Dedicated committees time would be welcome as "very often you'll find that the real nitty-gritty of legislation and decision-making happens in the committees".
As Chair of the Working Group of Committee Chairs, Stanton sits on a political steering group organising the parliamentary dimension to Ireland's Presidency of the Council of the European Union next year. It has agreed that up to five sectoral committee meetings (which may include the finance, enterprise, agriculture and environment committees) will hold special meetings. "Committees from all over Europe will be travelling here to engage with each other here in Dublin, and with our committees," he notes.
Defence
Stanton's committee also covers the Minister for Defence's remit. However, it has done little in this area. He puts this down to a lack of legislation and anticipation of the Government's green and white papers on defence.
The committee's forward work plan includes joining the Naval Service on patrol for a few hours this autumn. The service does "tremendous work in unbelievably harsh conditions, and once they're over the horizon people tend to forget about them," says Stanton, a former member of the 23rd Infantry Battalion (Army Reserve). The Naval Service's work includes combating trafficking and protecting marine assets.
The Cork East TD wants people to know that "quite often when a naval vessel goes into a foreign port it's actually acting as a floating embassy for Ireland." He recalls seeing a Naval Service vessel hosting an event for business people in Helsinki about ten years ago. The event was "a showcase for Ireland" on a day in which he was "very proud to be Irish".
Recognition of the service forms part of his belief that the nation should value its island identity. He points out that Ireland's territory is mainly oceanic (a 10:1 sea-to-land ratio), and that we are discovering more and more of its resources.
"As I say to people over the years: 'For many years Ireland turned its back on the sea, and I think it's about time that we started to face the sea.'"
Profile: David Stanton
David Stanton started out as a woodwork and technical drawing teacher and career guidance counsellor at St Colman's Community College, Middleton.
"I was always interested in community activity," he says on why he got involved in politics. "I had been involved in working for older people in my area in building     a day centre," as well being interested in youth affairs and social issues.
He became politically active in the mid-1990s and was elected for Cork East on his first attempt in 1997.
Married with four sons, he believes that he is "very lucky" to have a spouse "who actually supports me hugely in the work I do" and "a core group of friends and supporters".
"We're close to the beaches in east Cork," he says of spare time. He and his wife "head off for a stroll on the beaches or the woodlands, and just get some fresh air."