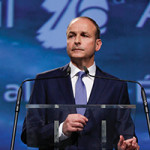 In 2011 Fianna Fáil felt the full wrath of a furious electorate. Four years on, with its declining support appearing to have plateaued, the party is preparing for a fightback. Ciarán Galway reports.
In late April, the 76th Fianna Fáil ard fheis attracted an estimated 3,000 of the party's 20,000-strong membership through the doors of Dublin's RDS. Externally, the major gathering appeared notably low-key. A handful of gardaí congregated at the front entrance was the only indication of the event taking place behind the 19th Century façade. A single piece of hoarding displayed this year's rather ambiguous logo – a map of Ireland, set against a green background and containing only the characters '76ú'. Far removed from the confident spectacles witnessed at ard fheiseanna in days gone by.
Inside the main hall, however, large posters of Charles J Haughey grinned down at delegates and observers from the Irish political literature exhibition. Throughout the weekend's proceedings, other past leaders, de Valera and Lemass, were invoked too.
The party faithful milled around, some hunched over a pint from the pop-up bar. Enthusiastic canvassers, sporting customised t-shirts bearing the slogans of their respective candidates, campaigned and lobbied delegates for votes in the party's ard chomhairle election. The glory days were recalled and large banners hung from the ceilings, chronologically cataloguing decades of Fianna Fáil government initiatives, from neutrality to paid holidays. Distinctly dominated by older party supporters and stalwarts, there were occasional gatherings of youthful and energetic individuals spread throughout the venue. Meanwhile, the party's middle-aged membership was conspicuously absent.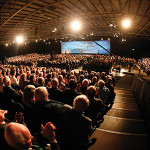 Among rank and file members, the traditionally assured confidence of Fianna Fáil was supplanted by a guarded optimism ahead of the next year's battle for government. This cautious approach is not surprising, perhaps, for a party which, opinion polls indicate, has failed to recapture lost ground in the aftermath of 2011. For 75 years, the party had dominated with a steady and consistent average of around 40 per cent of the vote. The latest Sunday Business Post / Red C poll results, which saw Fianna Fáil at 19 per cent (a modest but welcome 1 per cent gain), will have brought scant comfort.
However, the party is in the midst of a reimagination and the leadership came out fighting. Flanked by the tricolour and the flag of Europe, party leader Micheál Martin used his concluding address to remind those gathered that, since last year's conference, Fianna Fáil had become the largest party in local government. Indeed, in recent weeks, the party has launched an emphatic response to the frequent criticism that it no longer possesses a distinct identity or agenda.
A flood of new policies and promises have greeted the electorate. Plans committing to the abolition of zero-hour contracts, increased Garda recruitment, increased PRSI benefits, and reform of the USC have all been unveiled. Emphasising the importance of healthcare as an issue for the party, Martin remarked: "Rural areas are being left without a GP and we believe salaried contracts should be introduced to fill these vacancies. We want an all-out national effort to address the impact of mental illness through the establishment of a mental health authority – and we want a new commitment to addressing public health problems like childhood obesity."
The recent rush of policies has been met with internal criticism from Public Accounts Committee Chairman John McGuinness who accused his party's leadership of being out of touch with grassroots members.
On the offensive
The incumbent government came under sustained criticism throughout the ard fheis. Micheál Martin accused coalition partners Fine Gael and Labour of being "obsessed with trying to buy re-election". He added: "They are so out of touch and arrogant that they have absolutely no idea why people are so angry with them." A poorly-attended session of delegates voted against joining any coalition with Fine Gael or entering government as a junior partner, although the vote is not binding.
Launching a scathing attack on the Government, the party's environment spokesman, Barry Cowen, unveiled a new four-pronged approach to housing policy, in order to resolve what he deemed to be a national scandal. Likewise, Irish Water was denounced as "a company which itself does nothing but install redundant meters and issue bills". Martin called for the utility company to be abolished "before it does any more damage".
Jack Chambers, a young councillor based in Castleknock, received a rapturous response from assembled delegates when he attacked Sinn Féin's brand of republicanism. Martin also zeroed in on Sinn Féin, describing the party as an "even worse" option for the electorate than the current cohort. He remarked: "In the Republic they promise everything to everybody, while in the North they are implementing savage cuts which will decimate public services." To a standing ovation, the Fianna Fáil leader declared: "We will never accept the claims of a sinister movement, founded 40 years ago, to have any link with 1916."
Micheál Martin also reasserted The Republican Party's commitment to reunification, and maintained: "Today, more than ever, a single state, uniting us all, would unleash tremendous economic and social progress on this island." Indeed, republican iconography was in abundance and huge replicas of the Proclamation were available from the Ógra Fianna Fáil stall. Coiste 1916, the party's commemoration committee, distributed a document outlining its programme of events and was busy collating contact details of 1916 relatives from among the delegates.
Referendum
Ahead of the referendum on same-sex marriage, there was a discernible 'Yes' vote presence within the RDS. Indeed, the keynote address was used as an opportunity to reiterate the leadership's support for marriage between two people, regardless of gender. Framing the issue as one of equality, former Minister Pat Carey stated: "I think that the forthcoming referendum is a marvellous opportunity for the Fianna Fáil party to proclaim its true republican credentials. I am sick, sore and tired of hearing republicanism being about bombs and bullets. It's about liberty."
However, there were a number of dissenting voices who broke ranks. One delegate, Peter Soden, commented: "I believe that the power élite in this party have decided that social conservatives don't matter. To win the next election, they have decided to expand their vote by going for the pink vote." He added: "Well, social conservatives, when they are dissatisfied with a policy like this, will abstain from this party."
Elsewhere, among the exhibitors, a series of specialist sessions were hosted in the 'workshop hub', including a Northern Ireland policy boot camp, social and traditional media training and a votes at 16 discussion. Those gathered for the workshop on the North, hosted by border TD Brendan Smith, contributed to a lively debate which reaffirmed the party's ambition to contest northern elections from 2019 onwards.