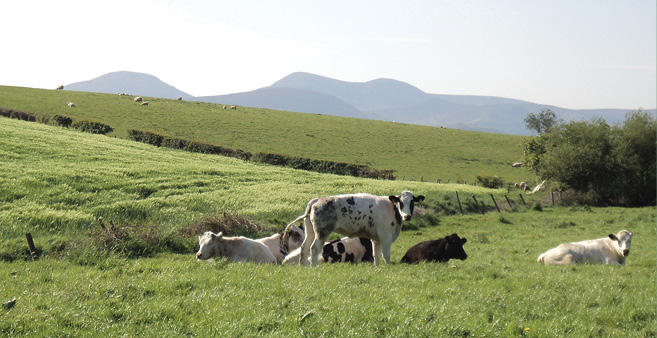 Years of austerity and recession left its most telling mark on Ireland's rural towns and villages. The Government has committed to ensure that a return to growth is felt in all corners and not just the major cities. eolas examines the potential of a €­­­10 million investment.
Minister for Arts, Heritage, Regional, Rural and Gaeltacht Affairs, Heather Humphreys, was clear when challenged about the potential impact of €10 million once it was shared out among all of Ireland's rural areas that the investment was not a "silver bullet" for the inadequacies.
However, she said that supporting the regeneration of a potential total of 200 towns and villages was a step in the right direction in what has been over a decade of under-investment and decline. Although the money allocated is part of an overall package announced by the former Minister Alan Kelly under the previous Government, Humphreys has more than doubled the planned spend of €4 million for 2016 to €10 million and said that she would continue to seek funding for rural development in the forthcoming budgets.
Out of the €10 million of capital funding allocated for the Government through the Town and Village Renewal Scheme, each of the 26 counties will be eligible for €380,000.
The Minister has said that this year's focus will be on "supporting smaller towns with populations of less than 5,000". Towns and villages will be categorised into two types. The first category will cover towns/villages with a population less than 5,000 people. The second category will apply to those between 5,000 to 10,000.
Each county will only be eligible to apply for grants for up to eight separate towns/villages by submitting plans to the Department for approval and funding will be allocated to Local Authorities for up to 85 per cent of the total cost.
At least half of the funding has been earmarked for those towns and villages with a population lower than 5,000, while only two projects of the higher population category will be eligible for funding. The maximum grant for any single project is €100,000. The scheme will then be reviewed and adapted for 2017.
The scheme has set out objectives for those which it aims to support including sustainability and visual impact on the town/village. The types of projects it suggests are those which:
increase attractiveness as a commercial and social centre while improving its draw as a place to live and work;
enhance environment and amenity for residents, businesses and visitors;
promote tourism through the enhancement of culture and local heritage; and
tackle minor physical infrastructure deficits and land assembly issues.
Speaking at the launch of the scheme in Clones, County Monaghan, Humphreys said: "Rural development is a key priority in the Programme for a Partnership Government. Ireland's towns and villages are the heart of our rural communities, but the economic downturn had a significant impact on many of these towns and villages. It is incumbent on us to help them achieve a recovery. I am launching the Town and Village Renewal Scheme to begin breathing life back into our rural towns and villages. It is critical that towns and villages become areas where economic activity can flourish, where people can live and work, and where people can meet at a social level."
The overall aim of rural regeneration is to attract residential communities back to rural areas. Recent decline has seen the traditional compactness of rural towns and villages unravel, with amenities such as schools, offices and businesses dispersing from urban centres in favour of out-of-town locations.
Local authorities have been tasked with re-building their urban environments through high quality public realm initiatives to attract investment, employment and tourism. Housing is a major issue in this rebuilding process. A total of 200,000 additional homes are required in Ireland by 2050 and local governments are working to ensure that both the physical (houses) and social (amenities) aspects of their area are attractive.