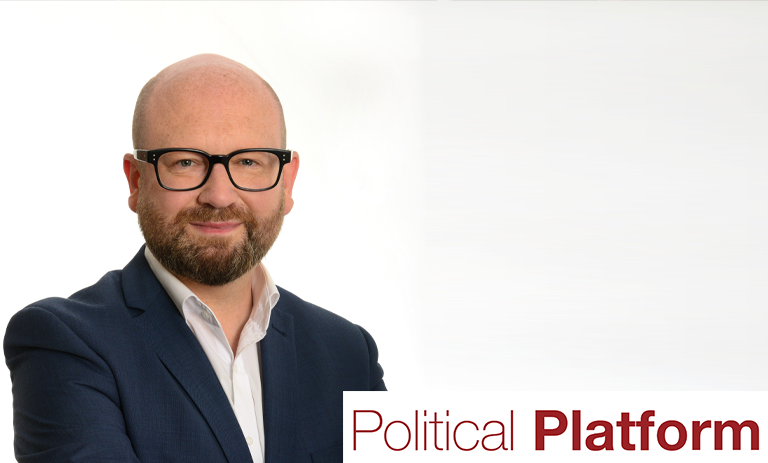 Labour Party spokesperson for finance, public expenditure and reform Ged Nash TD was first elected to represent the Louth Dáil constituency in 2011. Having lost his Dáil seat in 2016, Nash was subsequently elected to the Labour Panel in Seanad Éireann before returning to Dáil Éireann as a TD for the Louth constituency following the 2020 general election.
How did your political career begin?
I was always interested in politics and in current affairs. Figuring out how the world works and why it does not work better. My mother often reminds me how difficult it was to get me away from the TV as a young child when election counts were taking place. My dad was active in the Labour Party and as a shop steward in the 1970s and 1980s in the factory where he worked. Politics and labour alongside community and union values were a big feature of life for me when I was growing up and I have been involved in election and political activities for as long as I can remember.
I studied politics in UCD in the 1990s and contested the local elections in Drogheda in 1999 and was elected to Louth County Council that year at the age of 23.
What are your most notable achievements in the Oireachtas to date?
The opportunity to serve as Super Junior Minister for Business and Employment between mid-2014 and early 2016 allowed me to do what I think are some important things which have made life better for many workers across the country.
I set up the Low Pay Commission in law in 2015 and we now have a new, fairer way to set the national minimum wage, with increases to the minimum wage in every year since the Commission was formed. It also sparked the momentum towards the creation of a real living wage for workers.
New wage setting mechanisms I legislated for have also improved the pay and terms and conditions of hundreds of thousands of workers in construction, security, contract cleaning, and other sectors and it is a source of real satisfaction that these systems have now helped unions and employers deliver better wages and conditions for highly skilled early years educators.
One does not have to be in government to make positive change. Every legislator has a responsibility and indeed opportunities to bring about reform and positive change. A case in point is the way I managed, during my spell in the Seanad, to work with my Labour colleagues in opposition and the then government to secure the historic State in 2018 to the LGBTQ+ community for the way in which our laws and our society discriminated against citizens of the community for much of our history. The second element of my proposals – work on the introduction of a scheme to disregard convictions of many gay men before the 1993 law that decriminalised homosexuality was passed – is making good progress.
What is unique about representing the Louth constituency?
It is my homeplace and I am very much 'of it'. I really love representing Louth and east Meath. Every day is different. In many ways it is a constituency of contrasts – the two largest towns in Ireland – Drogheda and Dundalk – at two opposite ends of a county which straddles the border at one end but practically borders Dublin at the other. It is one of the fastest growing parts of the country, especially the Drogheda, south Louth, and east Meath part of the constituency and this area has not really had the investment and central government support an urban area of its size, scale and significance ought to attract. The area must be empowered to reach its full potential.
"We do not see it as our role just to oppose the Government for the sake of it." Ged Nash TD
What are your priorities going forward?
My immediate priorities involve ensuring that the State uses the wealth we do have to help support those who are on low and middle incomes through this vicious cost of living crisis. This is the single biggest and most urgent issue facing us all. The success of our country should no longer be measured by economic growth alone but how we make our country fairer and more sustainable through real progress on housing, climate, healthcare, and jobs. Every single economic and social measure we will propose will be considered through that lens.
How can the Labour Party maximise its impact in opposition?
We are at present a small party but with a reach into and a history in virtually every community in the country. We are ambitious for an Ireland that works, and we can maximise our impact in opposition by being constructive with government when it is in the interests of the country and be critical but solutions-focused when government falls short. Unlike some parties who are hellbent on pleasing everyone, Labour knows that the kind of dishonest populism we are being sold now will only serve to put off the structural economic, tax, social and environmental reforms we so badly need today. We do not see it as our role just to opposeothe Government for the sake of it. The Opposition is not some kind of monolith and while we cooperate with other opposition parties, we will carve out our own unique positions.
What are your interests outside of the political sphere?
I am an avid Drogheda United fan and I azm a regular gig-goer with my wife and friends. I have a history of involvement with the arts. During the dark days of the pandemic, I really missed the theatre, cinema, and live music. This summer I really enjoyed the chance to reengage with live music again and I am looking forward to catching as many plays as I can this autumn and winter.