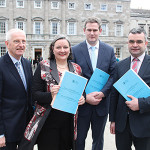 The economy was a strong running theme throughout the last month at Leinster House. The Government was keen to claim credit for the recovery but low wages and poor industrial relations were also high on the agenda.
The Dunnes strike featured prominently at leaders' questions on 1 April, with Micheál Martin stating: "This reflects a broader casualisation of the workforce, a regressive trend towards lower pay and less security of hours. The strike tomorrow is essentially about low-hour contracts that have become the norm in certain sectors of the economy." Dunnes maintains that it is not obliged to engage directly with trade unions and has pointed to two previous pay increases.
Martin called for a Fair Working Hours Act to protect employees. Enda Kenny highlighted that the Low Pay Commission was already looking at the issues involved and added that the staff needed more certainty about their pay and working hours. Gerry Adams condemned the issuing of the first water charges bills as "a further example of the dysfunction and injustice which has marked this Government's approach on this issue." Kenny robustly responded by claiming that Adams was apparently "content to leave people with inferior water" in towns where the network is poorly maintained and emphasised that water was being wasted through 30,000 leaks every day.
Independent deputy Tom Fleming used his speaking slot to highlight the pressures facing families whose relatives were living with dementia. The Alzheimer's Society of Ireland, he noted, wanted to see a vast improvement in diagnosis and referral services, more home care packages, and a campaign to end the stigma associated with dementia.
"This is a most distressing condition that people find themselves in," Kenny replied. "Everybody in the House knows families or people whose loved ones or family members are so afflicted, and I know many myself." He explained that the strategy set aside €27 million for services and support and added that dementia would be considered "a matter of social importance and personal importance" in the 2016 Budget.
Labour TD Michael McNamara – a barrister by background – brought forward his Office of Fiscal Prosecution Bill on the following day, to establish a dedicated public prosecutor for serious offences involving financial services, company law, theft, fraud, bribery and corruption. The Bill would, if enacted, impose mandatory prison sentences for those convicted.
"I am not convinced that the current regime is sufficient to investigate or prosecute corporate crime," McNamara said, adding that the concentration of resources in a small number of high profile prosecutions made it harder to investigate lower level corporate crime. The Government did not oppose the Bill and it will be taken in private members' time.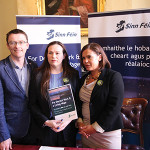 Two-tiered
After the Easter recess, Peadar Tóibín returned to the problem of low pay with a motion calling for a clear legal entitlement to full-time work, an immediate ban on all zero-hour contracts, and a wider remit for the Low Pay Commission to help women, younger workers and migrants.
"As we approach the end days of this government," Tóibín remarked, "it is clear its legacy is one of inequality in a two-tiered country, in a country where the gap between those who have and those who have not is increasing."
In a robust response, Richard Bruton claimed that Sinn Féin "continually pretends that there is no improvement occurring in the economy." Bruton pointed to 90,000 new full-time jobs within the economy since 2011 and a fall in long-term unemployment claimants of 50,000 since 2012.
Meanwhile, Labour brought forward private member's legislation to tackle abuse through text messages and social media i.e. Pat Rabbitte's Public Electronic Communications Networks (Improper Use) Bill and Lorainne Higgins' Harmful and Malicious Electronic Communications Bill.
The SiteServ dispute was raised by Micheál Martin at leaders' questions on 22 April. "Essentially, a company that was insolvent and owed €150 million was allowed to run this sale," Martin stated, before criticising the €5 million payment to shareholders.
"The bank that was Anglo Irish Bank was the rotten carcase that brought down this country, costing the taxpayer
€34 billion," Enda Kenny responded. "I might add that not one cent was put into it by this government." He contended that the actions concluded by the IBRC board were concluded under the old framework agreement set up by Fianna Fáil ministers.
Simon Harris enjoyed bringing forward the Statute Law Revision Bill later in the month. "One of the earliest references in the Bill is to an order concerning the publication of the Magna Carta in 1215, which is a long time before the acting Chairman was around," he commented.
"Slightly," Bernard Durkan (aged 70) replied from the chair. The Bill will repeal legislation which is no longer relevant and also allow for more secondary legislation to be published.
Spring Statement
The first comment on the Spring Statement (28 April) came from independent TD Finian McGrath: "Here comes the election manifesto."
Undeterred, Michael Noonan went straight into his speech, emphasising how the Government "has been determined to fulfil the mandate given to us by the people, to repair the economy and public finances, to create jobs and to give hope and confidence to our citizens of a better future."
Brendan Howlin recalled: "It became fashionable for a while to decry this country and its potential. However, the turnaround we have achieved in our economy is indicative of the fundamental strengths of the Irish people and the Irish nation."
Over three days, the Government's economic position, as expected, drew praise from its own benches and criticism from the opposition side. Rounding the initial debate off, Tipperary's Séamus Healy commented that the statement "should be put to the country sooner rather than later."
Sinn Féin's Michael Colreavy stated that the Government "still has to tackle" low-paid work. Colreavy also lamented the State's failure to recognise collective bargaining in law. Fine Gael backbencher Gabrielle McFadden summed up the Government's call for optimism: "Thankfully for families right across this country, we have moved away from an era of austerity to a new dawn full of hope and renewal for our great country."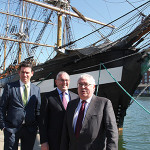 In the Seanad, a motion from Katherine Zappone called for a comprehensive review of a policy decision to require single parents to work full-time. Jillian van Turnhout relayed a letter from a single mother in part-time work, explaining that she faced a drop in income of €70-80 per week. Joan Burton remarked that she was constantly meeting lone parents, many of whom "say to me that they only wish they had gone back to school and got training and qualifications at a much earlier stage in their life."
Previous rules had represented a "welfare trap for those who are just as bright, industrious and hardworking, and, indeed, intelligent, as anyone else in the country" and the system was changed to encourage people to get into work. The Tánaiste added that there would be no change in payments to parents who are outside education or employment (often the full-time carers for their children).
Senators discussed the Action Plan for Jobs, in a parallel debate to the Spring Statement in the Dáil.
Members from outlying regions welcomed the overall progress in the economy but were disappointed that much of the growth was concentrated in and around Dublin.
"My age group has left my county of Donegal," said Fianna Fáil's Brian Ó Domhnaill. "The only people left are those who are unemployed, who have a job in the State or who have a mortgage. Those who have the option of leaving have left and many of them have emigrated."
The last order of business slot of the month, on 30 April, saw a variety of topics raised by senators.
With a dash of wit, Senator Mark Daly compared Jean-Claude Trichet to the Scarlet Pimpernel for his refusal to appear before the Banking Inquiry. Trichet's attendance at an Institute of International and European Affairs event, where he was questioned by inquiry members, was a sign of "arrogance and disregard for the Irish Government and Irish people."
Daly's frustration highlights the difficulties faced by the Oireachtas in holding others to account. The Banking Inquiry, though, promises to bring forward a thorough and comprehensive scrutiny of the economic crash and therefore, at least partly, satisfy the public's demands for answers.