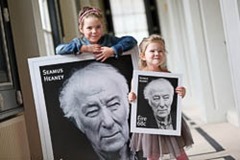 An Post's tribute to Seamus Heaney is adding to his memory.
Almost a year after his passing, the work of Seamus Heaney is being recalled by thousands of correspondents across and beyond Ireland thanks to a new stamp from An Post.
The 68c stamp features a black and white photograph of the Nobel laureate by John Minihan. The design was undertaken by Vermillion Design and a special first day cover envelope shows an extract from his 1969 poem Bogland alongside details from Heaney's own poetry notes.
"We are immensely moved that An Post has chosen to mark dad's memory with the issue of this stamp," said his son, Michael. "The year since he died has been a sad time for our family but this is not only a wonderful testament to his life and work but also a reminder of the generosity and support people have shown since dad's passing. We would like to express our deepest thanks and appreciation to everyone involved in bestowing this rare honour on the husband, father, grandfather and poet we miss so much."
Irish stamps date from the first penny black in 1840 and the first under independence was a two-penny green edition printed in 1922.
Suggestions for designs are considered by independent advisory committees, which consider how the final version could be a 'paper ambassador' for Ireland. The Heaney editions are on sale at all main post offices, at the GPO stamp shop and online at www.irishstamps.ie