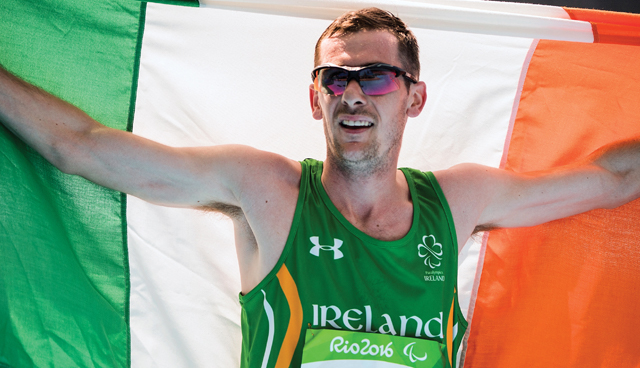 A four-time Paralympic gold medallist and a serial winner in the World Para Athletics Championships, middle distance runner Michael McKillop is still hungry for more. Ciarán Galway discusses success, setback and ambition with one of Ireland's all-time most successful athletes.
Michael McKillop has a mild form of cerebral palsy and competes in the T37 and T38 disability sport classifications. However, growing up as a child immersed in running and able-bodied sport in general, he never perceived himself to be disabled.
McKillop's parents were both athletes themselves. His father, Paddy, represented Ireland and his mother, Catherine, was an all-Ireland champion at age group level. "When I was growing up, my parents utilised sport as physiotherapy for my disability. I really fell in love with running. It was more personal to me because it was a way of being independently competitive," McKillop says, explaining his running origins.
Alluding to his continued dedication to the sport, he credits his early success. "I guess when you taste victory from a young age, it's always easier to enjoy," he quips.
Father and coach
One interesting dynamic of McKillop's athletic career is his relationship with his father. "I know it sounds cliched, but he's been my coach from the day I was born. He was the one who had to take on board the fact that his son has a disability and he took on the responsibility of helping me to be as able-bodied as possible," he explains.
Paddy McKillop, a Cushendall-native and former fitness coach with Ruairí Óg GAC, ensured that his son had opportunities to participate in various sports, including GAA with Naomh Éanna in north Belfast. Indeed, alongside his running, Michael remains an Arsenal fanatic and a keen golfer.
"Dad instilled in me a sense that anything was possible with his backing. Having started coaching me in athletics from the age of 11 or 12, there was only one person who was going to coach me when I broke into the international scene. He still coaches me now and I trust his ability and expertise.
"Beyond athletics, he's been influential in a lot of areas of my life and having him by my side gives me a sense of security. I know that I stand beside him as his son but also his athlete," McKillop reflects.
Beijing 2008
In 2008, McKillop won his first Paralympic gold medal, placing first in the Men's 800m T37 Final in Beijing at the age of 18. Much has changed since then, both in his own career and in parasport generally. Prior to the Summer Paralympics in 2008, he was young and unshackled by expectations or pressures.
"After I had won in Beijing, though, I had a greater sense of what a full-time athlete is. I entered the public eye and gained respect for what I had achieved. At such a young age, for me anyway, it can be difficult to accept people's perception of you as a role model," he acknowledges.
Admitting that he subsequently missed out on aspects of early adulthood by prioritising his athletics, McKillop maintains that he wouldn't do anything differently a second time around.
Pinnacle
While travelling to Beijing to participate in the Paralympics for the first time and running in front of 91,000 people ranks highly in McKillop's career highlights, the standout moment came four years later in London when he retained his gold medal in the 800m and also won the 1,500m race.
"Running in front of 60,000 people in the Olympic Stadium, winning the 800m and breaking the world record was fantastic. Then, on the night of my 1,500m win, my mum presented me with my gold medal. That created history and she was the first parent to do so in either the Olympic or Paralympic Games. That was a night in my athletics career that will live in my memory forever.
"Having the opportunity to run in and win two different events in the Paralympics is special. It doesn't happen all the time. It was nice to do that in London, which is so close to home, and with so many friends and family in the stadium watching me. For me, that's what I regard as the pinnacle of my career," he recalls.
Motivation
At 18, McKillop could have retired having already been world champion, world record holder and having already won a Paralympic gold medal. "Most athletes are in their 20s before they achieve even one of those successes," he emphasises, adding: "For me to do it so early on in my life, required a recalibration of my goals."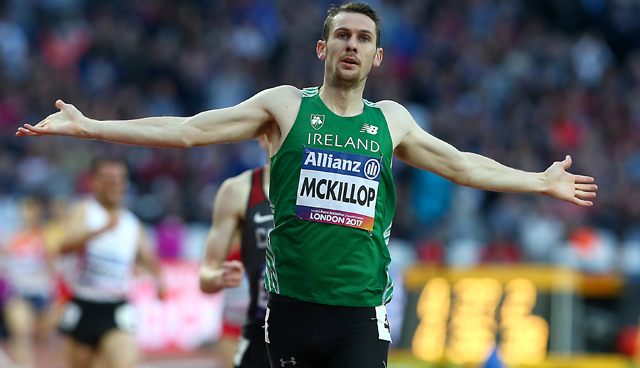 "On the night of my 1,500m win, my mum presented me with my gold medal. That created history and she was the first parent to do so in the Olympic or Paralympic Games. That was a night in my athletics career that will live in my memory forever."
Having won the 800m in the 2006 World Para Athletics Championships, his ambition was to win 1,500m and break the world record in 2011 at Christchurch. He finished first in the 800m that year but was denied a medal for the 1,500m, despite setting a world record, because of a lack of entries.
After that, having been unbeaten since 2006, McKillop wanted to retain his streak and secure as many medals as possible. In 2017, he retained gold in both the 800m and the 1,500m at the World Para Athletics Championships in London. "I wanted to create history and become one of the most successful Irish sportspeople ever. That's what kept me going for a few years," he reveals.
Green vest
An Antrim-native, McKillop is a member of an elite cohort of athletes who represent Ireland on the world stage. Regarding it as "a privilege and an honour" to do so, he articulates his pride. "Undeniably, it's an amazing feeling to pin your name and number onto that green vest the night before a competition. It's then that you appreciate that you're running for everyone at home.
"You feel different in a way. When you work so hard for something and you achieve it, having that vest distinguishes you. Pulling it on, I have a special moment of respect for what it is, what it means and the people I'm representing."
Team Ireland
Famously, McKillop and Derry's five-time Paralympic gold winning sprint runner Jason Smyth are close friends. "He has been a massive part of my journey and I think I've been a massive part of his journey too. The reason being we went to our first World Para Athletics Championships together in 2006 and we had both been unbeaten from then until I lost in 2019. There is a deep sense of camaraderie between us," McKillop notes.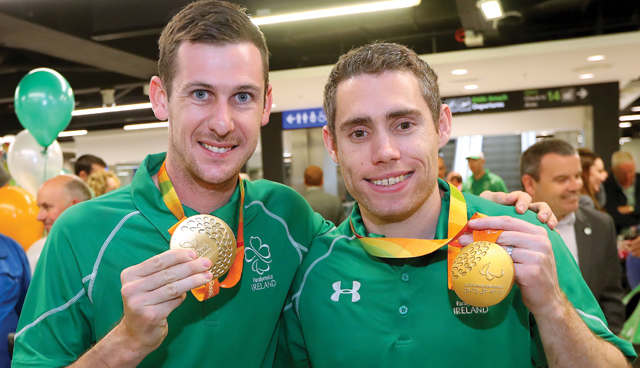 To some extent, the middle-distance runner attributes the shared hunger for success to the healthy rivalry that exists between Smyth and him. "Jason has been influential, and I've learnt a lot from him because he's not only a talented para athlete, he's an exceptional able-bodied athlete as well. He's the second fastest man across 100m in Irish history and he just missed out on competing in the Olympic Games. When you see people like him excelling at such a high level, you can only admire it," he asserts.
McKillop also pays tribute to his wider team, including his physiotherapists, strength and conditioning coaches, nutritionists and sponsors. "I have to regard them all as stakeholders in a business pursuit. We need to be on the same page and trust one and other. If it wasn't for everyone's knowledge and expertise, it wouldn't succeed," he contends.
Winning gold
Describing winning gold as "the most amazing feeling", McKillop reflects on his desire to repeat this success and prove himself as having been a major motivating factor. However, 2012 was a turning point for the young athlete, who was by then already a veteran of the sport.
"Up until 2012, it was pure excitement and such an amazing feeling coming across the line first and running a victory lap. By 2013, that changed, and it became more of a pressure to win. That came from the expectations I put on myself.
"There was an element of wanting to disprove the people who didn't regard me or parasport as elite. Pressure crept in. This is my job and it felt like it then. There wasn't the same sense of enjoyment and it was a case of getting the job done. It became a relief more than anything else. I still had a buzz when I won, but it was more of a box ticked so that I could go into the next year," the four-time Paralympic champion explains.
Adversity
In 2018, a long-term groin injury almost forced McKillop's premature retirement. A full 18-month absence from competitive running brought physical and mental obstacles. The athlete is no stranger to adversity, however, battling to overcome mental ill health in the past.
"I have openly talked about my mental health, the struggle that I've had with it and the impact on my career. I was successful at such a young age and I didn't understand what expectation really was until it hit home. I became a public figure and I was expected to win gold medals.
"Initially, I hid my emotions, my stresses and my strains. My mental wellbeing was something that I didn't respect. I palmed it off and assumed I would be fine. I hid my struggles for so long that I blew out. I became flat and demotivated to the extent that I couldn't leave my room at times. That was down to the lack of excitement in my life. Everything was athletics and there was no focus outside of that. When you focus on only one element of your life, then you really lose all sense of what life is about.
"I know now that athletics is just one part of who I am. It's an interesting part, but the most important thing is being healthy. There are so many people out there who struggle with opening up and being honest. The sooner people can reach the point of understanding that they aren't the only one who feels that way and that they aren't abnormal, the better," he suggests.
Winning mentality
Refusing to hide his mental struggles any longer, McKillop sought medical help before opening up to his friends and family. This, he says, was the moment in which he relaxed and took stock of those around him who were only too willing to help.
"As much as having a mental health issue can negatively impact upon you, in some ways it also makes you more resilient. When you recognise it and understand how low you can feel, then you can better manage the steps to overcome a mental health slump.
"Many people operating at a high-level of athleticism fear negativity. In reality, it's important to embrace the negativity and change it into positivity. Mindset is everything to me now. I focus on daily training without getting down on myself if a session doesn't go to plan. I still put in the maximum effort and train as hard as possible. If I don't hit my targets, at least I know I gave it my all. It means I can relax and enjoy my training more. I think of myself as being more than simply the sporting aspect of my identity," he says.
Recognition
Exploring the importance of parasport, McKillop believes that it demonstrates that while a person may have some form of impairment, it doesn't stop them from being successful, whether in sport, education or any other sphere.
Referencing the growing visibility of Paralympic stars in British media, including entertainment shows, he indicates that while Ireland is beginning to change, it has some way to go before disabled sportspeople achieve recognition as equals.
"Para athletes are elite, we eat, sleep and train seven days a week like anyone else competing at this level. However, I feel that there is an inconsistency in the respect afforded to my achievements and those of able-bodied athletes. That's the gauge for parasport," he argues.
While recognising the fickle nature of media interest in athletics in general, McKillop appreciates the recognition he receives and suggests: "If I can be the one of the people driving the belief that what emerging Irish para athletes are doing is worthwhile then I'm honoured to do so."
"Undeniably, it's an amazing feeling to pin your name and number onto that green vest the night before a competition. It's then that you appreciate that you're running for everyone at home."
Pandemic postponement
The onset of the Covid-19 pandemic has disrupted sporting events across the globe, not least the Summer Olympics and Paralympics which had been due to take place in Tokyo this year. While acknowledging that the postponement was devastating for many people, athletes and spectators alike, from a personal perspective, the Irish Paralympian regards it as "probably the best thing that could have happened".
The surgery he underwent in 2018 has affected his ability to train and to build his endurance. McKillop finished fourth in the 800m at the 2019 World Para Athletics Championships in Dubai, the first time he had not returned home with a medal since 2005.
Discussing his current mentality and visualisation of victory, McKillop now knows what success and happiness look like from the outside. "I use it as motivation for Tokyo. Having an extra year between now and when the games go ahead will allow me to build everything further. I'm in better shape now than I was in July 2019 and I have another year to get fitter and more conscious of my competitors. I'm really excited about it," he adds.
Indeed, the pandemic has had negligible impact on McKillop's training capacity. Having installed a strength and conditioning gym at his house and continued to run local country roads, the only major impact is the inability to meet with his physiotherapist.
Tokyo 2021 ambitions
Looking ahead to the postponed Paralympics in Tokyo, McKillop's primary ambition is to get back on the podium. "There is a newer and younger version of me in the race. He's exceptionally talented and seven years younger than myself. However, I know that no one is unbeatable. I'm focused on getting as fit as possible and manoeuvring into a position whereby I can compete for the top spot.
"I'm the veteran of the race now and probably the most experienced. I also know how it feels to lose and it's still fresh in my mind. Whenever it gets hard, I know that I must dig deep to win again. We can prepare as much as we want, but when it comes down to the moment of truth, you find out how hungry for that win you really are. That only reveals itself on the track," he concludes.