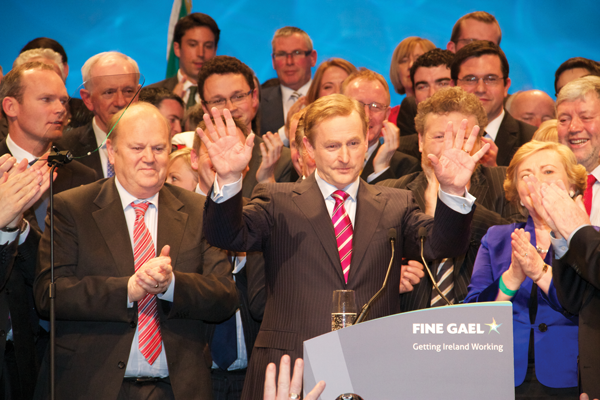 The country's problems and the difficult decisions ahead loomed large at Fine Gael's first árd fheis since re-entering government.  Stephen Dineen assessed its mood.
It doesn't seem long ago since people wondered what Fine Gael, then in seemingly perpetual opposition, stood for and where its future lay. Now, it is back in government, controls the centre-right territory in Irish politics and can be confident that that will continue for some time.
While there was "obviously a level of celebratory atmosphere," in the Convention Centre on 30-31 March, according to Limerick TD Dan Neville when speaking to eolas, it was "tempered with a realisation of the difficulty our people are in."
Despite these difficulties, many members expressed satisfaction with the party's performance in government. "I think they've done very well, considering the state of the country when they got it," said Aishling Pearce, from Castletownbere in County Cork, who works as a retail buyer. "I think they're re-steering the ship and it will take a while but I think they're definitely on the right path."
Seán Prendergast, a farmer from Claremorris in Mayo, also felt that it has done well. "Well, they've cut back on their salaries and a lot of expenses, which is the main thing, and they could probably do more I suppose in that line," he stated, adding that bankers' salaries need to be cut further.
For Marie Clifton, a retired public servant from Killarney, the Government's work abroad has been impressive, in particular retaining Ireland's 12.5 per cent corporation tax rate, as well as its focus on the tourism sector.  Reducing the "absolutely crazy" consultants' fees was her personal priority for reform as these were causing medical insurance companies' debt "to get greater and greater the whole time."
The big achievements in the first year, according to UCD economics student Leah Kavanagh, were "trade, exports and jobs." She believed that the Government's priority must be "more job prospects for young people."
This árd fheis took place barely a week after the Mahon Tribunal's report. For Leah's father Jimmy, a party councillor in Letterkenny, there is no room for complacency following its findings. "I think Fine Gael need to look at their own party and tackle it there."
"To sum it up: I think it's been a solid first year, but we still have a long way to go," Agriculture Minister Simon Coveney reflected. The Government's jobs plan "in many ways will be the driver in terms of political priorities this year," whilst admitting that "we have a communications challenge to actually keep people with us on a painful enough journey."
For Neville, a tireless campaigner for mental health services, a special allocation of €35 million for the area in 2012 was a significant achievement in the first year. It was all the more remarkable "because it's not high in the political consciousness, but is very, very high for the one in four people who will suffer from a psychological or a psychiatric difficulty in their life."
In his leader's address, the Taoiseach told the 4,000 members present that "we need the continued support and co-operation of those who work in our public service and the unions that represent them," which would have pleased Labour. Plans for "the debt-distressed" were outlined: negative equity mortgages, a personal insolvency Bill, expanded use of 'mortgage-to-rent' for families and additional mortgage relief for first time buyers.
Sixty-five of 80 policy motions were adopted by members. Whilst those passed at Labour conferences become party policy, Fine Gael motions are referred to the Government Chief Whip for consideration.  Among those passed was one calling for "an equitable property tax to fund local government."
Outside, approximately 5,000 demonstrators protested at the €100 household charge. Elected representatives and members alike know this was not the last árd fheis at which such protests will be outside the door.