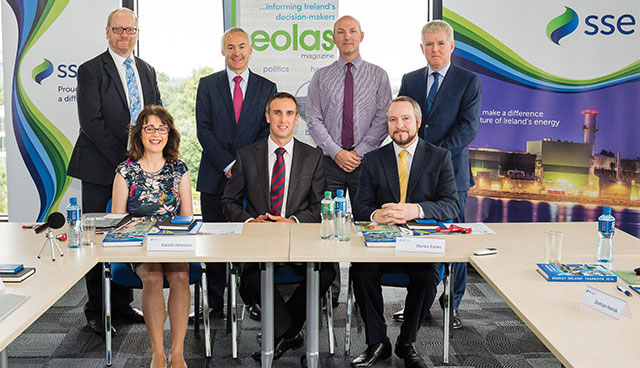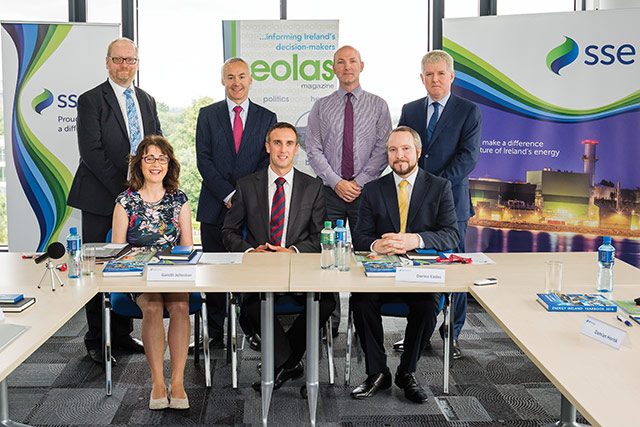 SSE Airtricity hosted a round table discussion on sustainable procurement that discussed its benefits and how it can be embedded in organisations.
What are the benefits of sustainable procurement?
David O'Sullivan
Through sustainable procurement buyers have the ability to influence the rest of the market place, including suppliers and sellers. The actions of any central government body speak loudly in its spending. Spending on that scale has the ability to generate a market. Take paper as an example, if the government opts for a certain type of paper, given its volume of consumption, it actually creates a market place and can sustain procurement through its actions. However, if they were to buy material or supplies from non-green entities they almost endorse that it's ok to the market place. It's important that the central procurement bodies look at procurement on an end to end basis so that it is not just about price but the whole process.
Damian Horisk
Some of the best benefits are those that are translated closest to the core objective of the organisation to which the service or goods are being delivered. Sometimes that falls outside the public sector's core sustainable objectives. If there is a synergy between the supplier and the organisation that is going to consume or utilise those goods, that's where the real benefits are found.
Darina Eades
Risk management, cost cutting and value creation are the three main benefits of sustainable procurement. Sustainable procurement ensures that the values that are core to the business are integrated right throughout the chain of supply. It's about questioning the need to buy while being clever about quantity and minimising resources such as energy, water and packaging materials. Optimising transport and logistics are important, as is looking at the opportunities to innovate and bring about results that are environmentally, socially and financially sound. If you are fully knowledgeable about your total supply chain, at all the tiers, you are going to be able to secure the reputation of the brand, ensure no regulatory non-compliance, while being prepared in the event of any disruption in the supply of a core good or service.
Gareth Johnston
Although sustainable procurement embeds environmental values we also need to be conscious of its economic and social benefits. The advantage for government of sustainable procurement is that it allows us to use it to deliver on the Executive's wider objectives. In the north, central government is spending £2.5 billion a year on works, services and goods. At CPD [Central Procurement Directorate] we are buying everything from pens and paper, to the PSNI helicopter and the Rathlin Ferry. Through procurement we seek to further the Executive's aims around energy efficiency, waste minimisation, innovation, growing small and medium sized enterprises and providing employment opportunities.
Stephen Gallagher
I think the benefits of sustainable procurement fall under three categories: economic, environmental and social. Economically it is important to look long-term. Having a value chain that is supportive and constant also aids long-term profitability. From an environmental perspective, procurement's potential positive impact on climate change is clear. The power of the public sector in procurement is not to be underestimated, with 17 per cent of the GDP of the EU flowing through public sector decisions on procurement. That's huge. By joining up policies towards targets such as renewable energy they can wield huge benefits. In the private sector the benefits are the building of trust through both your supply chain and in the broader market with the general public. If you are seen as a responsible employer and buyer then you can improve your brand and your standing within the business community.
Jim Gannon
The benefits lie in aligning an 'instant' transaction with corporate medium and long-terms sustainability goals. To do that you need a more mature and informed relationship with your supply chain. By establishing that relationship you get a more sustainable and differentiated product in a marketplace where a premium is now being placed on more sustainable products. Through a deeper understanding and confidence in your supply chain, you then have the ability to communicate those corporate goals to your own market to derive and provide value, safe in the knowledge that they are embedded in your products.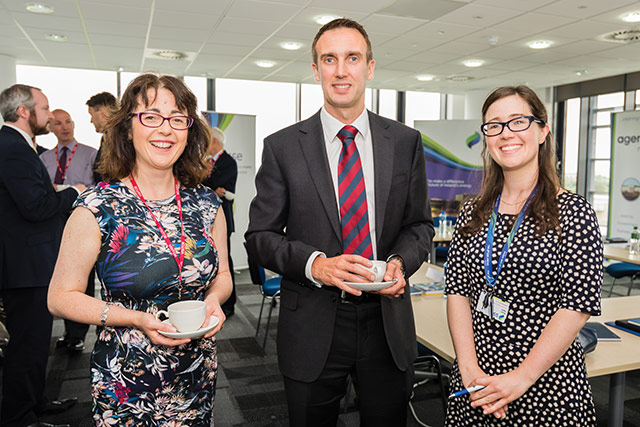 How have you embedded sustainable procurement in your organisation?
Damian Horisk
Sustainable procurement is a central government requirement that works its way out to the health and social care trusts and we need to be careful it does not become a box-ticking exercise. It is important that requirements such as social clauses are not just made at the contract award stage but that they sustain a longer-term relationship that delivers month after month. For example, with our energy contract there is a basic need to keep the lights on and keep everybody warm. However, energy use and its impact on climate change and on health is very emotive. If we can engage with our partner, in this case SSE Airtricity, to ensure that the requirements are delivered longer term and engage with our 22,000 staff to increase their awareness of energy efficiency. We look forward to engaging with the SSE marketing machine to help us increase that awareness. We now have access to a great resource, expertise and opportunity through this contract to carry sustainability throughout the term of the contract.
Stephen Gallagher
As part of most supply chains our customers' approach forces us as a supplier to think differently. You clearly have to be competitive on price but you have to think about what you can bring to the table on the sustainability front. For example, offering 100 per cent renewable energy or running an energy efficiency awareness week in each of the Health Trust hospitals are just some ways in which we can innovate to help further meet and support an organisation's sustainability objectives. It is about offering much more than just price, it requires pioneering thinking and being aware and aligned to your customers' ambitions.
Jim Gannon
Embedding sustainable procurement methods in an organisation naturally involves accepting some short-term risk. Any changes to the procurement process or to a technical specification of a product need to be clear to all parties from supplier to consumer. Consistent and clear communication is key to that, right through your value chain. Furthermore, those you are communicating to need to be confident that any new approach will result in overall long-term benefit to all in that value chain. When you achieve this sort of consensus and buy-in, your value chain will become more comfortable addressing risk in a co-ordinated way such as through energy performance contracting or more collaborative risk sharing models. A greater focus on reducing overall contract risk as opposed to just apportioning it should increase value to all parties.
David O'Sullivan
Sustainability should be put into the wider context of public procurement as a whole. It is not just about the lowest cost, or just sustainability or just social clauses – it is about all of them. There has to be a maturity in the buyers and sellers to get all these elements to connect. A key dimension is to know what is possible: Are you creating a new market? Have you articulated what you want? The specification is critical: you get what you ask for. All this needs to be managed within the verification rules. You also need to ask: do I need it in the first place? From a sustainability perspective it comes down to the contract and how it is managed. Sustainability is an element in the complex mix that is public procurement. It is too simplistic to see sustainability as one element on its own.
Stephen Gallagher
Transparency around what you want is important. For example, if everyone in your supply chain should pay the Living Wage then you need a verification or accreditation so that everyone can see that is the case. Otherwise you are going on promises that can't be evidenced.
Jim Gannon
Effective contract management is key to ensuring you get that long-term benefit. For any large transaction sustainability goals need to be clearly understood and articulated, both internally and to the marketplace, prior to detailed specification or development of an ITT. Best value and alignment to long-term goals can only be achieved through clear dialogue around changed expectations, and the earlier that dialogue starts the better.
Darina Eades
Our experience in working with companies shows that taking a cross-functional approach works best: procurement, sustainability, legal, compliance, HR and finance all sitting around the table as early as possible and having a discussion on a wide range of sustainability objectives: energy, water, waste, biodiversity or community impact, and then put together a business case that everyone can buy into. It is about understanding and knowing the full supply chain. Tier 1 suppliers are usually not the problem, challenges arise at tiers 2, 3 and 4. You can't target everything and you have got to prioritise in terms of potential reputational risk, country of origin, over-reliance on one supplier, and highest spend. It is also very important to have endorsement from the top of the organisation and to learn from other companies that are further ahead.
Gareth Johnston
Traditionally, procurement has been seen as the procurement department's job and in the Northern Ireland Civil Service we are trying to change that. We all need to focus on the commissioning stage and the drawing up of the business case. We need to ensure that the right skills are there and also to focus on the contract management stage which entails building and maintaining the relationship with the supplier.
In terms of embedding sustainable procurement, it is about having a clear line of sight from your overall policies right down to what is happening on a contract by contract basis. In Northern Ireland we have Section 25 of the Northern Ireland (Miscellaneous Provisions) Act 2006 which includes a statutory duty on all public bodies to act in a way that is best calculated to the achievement of sustainable development in Northern Ireland. Below that there is statutory guidance which includes procurement. We also have policies on equality of opportunity and sustainable development in public procurement. We then move down to operational policies on things like social considerations, whole life costs, procurement of food and catering services, procurement of wood and timber products where CPD is providing detailed guidance. And then you have your set of clauses that go into public contracts. For example, for construction we have employment opportunities for long-term unemployed people, fair payment practices in supply chains, the promotion of equality and human rights, environmental assessments, targets for recycling – these are the things that get into individual contracts but they can be linked back to the overall vision in the statute.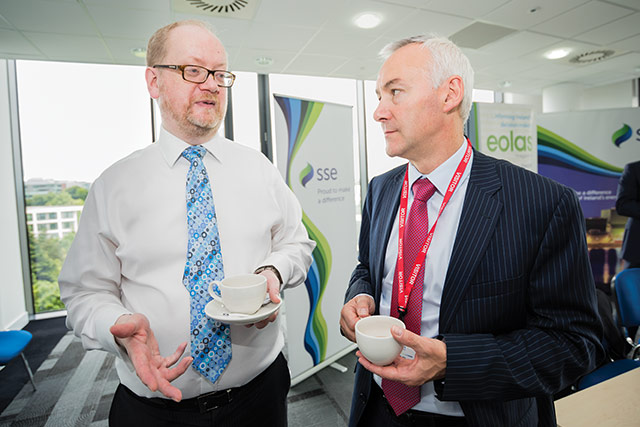 Do you have any best in class examples of sustainable procurement?
Stephen Gallagher
There is a group of companies called RE100 which consists of a group of multinationals that have committed to using 100 per cent renewable energy. It includes for example Johnson & Johnson, Nestlé and Google and its commitment is verified by Greenpeace and other bodies. This initiative is helping drive the market for renewable energy.
David O'Sullivan
It is also about the many small improvements organisations make and not just the significant changes. Many organisations are on the sustainability journey and they see improvements year on year. The best in class include sustainability the whole way through their operations from recycling packaging to checking where the fabric for their uniforms is coming from. It is that amalgam of these small things that will make the big improvements. One thousand small changes can make a very big difference.
Darina Eades
One of the organisations that has gone down the sustainability path is M&S, who have been incredibly inspiring. In 2007, they set out to be the most sustainable retailer in the world by 2015 when they launched their Plan A strategy. They actually achieved that five years early in 2010 – but they still say that they are on the journey. They have 17 stores in Ireland and employ 2,800 people and are working with 26 Irish suppliers. M&S is now net carbon neutral and is the only major retailer in the world to achieve this. All of the electricity for their Irish and UK stores comes from renewable sources. They have sent no waste to landfill for five years. All of their operational waste is recycled. They have also reduced the amount of waste each year with a 9 per cent reduction in 2015. They have many good practical examples such as making office furniture and store walls from waste cardboard. Since M&S started their Plan A journey in 2007, they have calculated that the net benefit to the company has been £650 million. They are 39 per cent more energy efficient in 2016 than they were in 2007, 31 per cent more water efficient and they are continually reducing food waste. They have also won a number of awards for their sustainability reporting and they are certified to the 'Business Working Responsibly' mark in Ireland.
Jim Gannon
It is important to also consider local achievements and there are three good examples in the public sector. Tipperary County Council has purchased vehicles on the basis of overall lifecycle costs, including for example fuel consumption, instead of simply considering just the initial price. Irish Water and some local authorities are also buying pumps along similar lines, with a greater consideration of life cycle costs. Also, more recently, Dublin City Council has entered into an energy performance contract for three of its leisure centres, using the SEAI approach for energy contracting, which inherently seeks greater medium and long-term value. These are all steps in the right direction.
Damian Horisk
The energy contract I mentioned earlier was a Health and Social Care collaborative procurement delivered through a centre of procurement expertise and involved all health and social care organisations in Northern Ireland. The first contract requirement was for 100 per cent renewable electricity. That type of contract was previously evaluated at 100 per cent cost and for the first time ever we asked for 90 per cent cost and 10 per cent quality which was based on the Department of Health's 10 year 'Making Life Better' strategy to improve health and wellbeing. My own organisation, the Belfast Health and Social Care Trust, as part of this strategy was focused on tackling health inequalities and the effects of climate change on health. The Belfast Trust has significant annual emissions of 80,000 tonnes of CO2 and a support and engagement strategy is a requirement of the contract. By increasing energy awareness of the Belfast Trust's 22,000 employees and their families we have a huge amount of influence in a CSR approach, not just within the Trust but across the city of Belfast. This contract has gone from previously paying monthly bills to something that is quite different, with SSE Airtricity helping us to change behaviours, increase awareness of energy efficiency and ultimately improve health and well-being – which is our core business.
Gareth Johnston
As an example of social sustainability CPD has implemented a new approach for employment opportunities for people who are either new to the labour market or have been long-term unemployed. The scheme that has been developed in partnership with SIB [Strategic Investment Board] is called 'Buy Social'. This has been adopted for construction contracts over £2 million and for civil engineering contracts over £4 million. We are also currently piloting this approach for some service contracts such as security and cleaning. Perhaps it is the individual stories that illustrate the impact of this best. One recent example involved Thomas who had been looking after his brother who was ill for a couple of years and it meant he was unable to work. He was finding it very difficult to access the labour market. Through 'Buy Social' Thomas has been given the opportunity to work on a significant construction project and to develop marketable skills and experience so that if he goes back to the job market he is going to have something real to show employers. That service is being supported with a brokerage service working with community organisations and the private sector.
How do you assess your procurement policy with regards to meeting sustainability objectives?
Gareth Johnston
We have a monitoring system built into our 'etendersni' system which throws out red, amber and green reports each month for project managers to make sure that those requirements are all being delivered.
David O'Sullivan
A lot of this is about measurement. M&S is clearly aware of where it is and where it hopes to go to. Policies can be nicely worded slogans but in terms of assessment it is about the objective measurements, and supporting that is verification via inspections, site visits etc. What gets measured gets done.
Jim Gannon
I fully agree, and would add that a robust approach to ongoing measurement requires a very frank discussion with your supply chain. You need to be confident, and have agreement, that what you are measuring is truly representative of your ultimate goals. Secondly, that your area of focus is going to be measured in the right way and, thirdly, that it can be verified by an agreed method.
Darina Eades
Sustainable Procurement is one of the 26 indicators of the 'Businesses Working Responsibly' mark – Ireland's certification on responsible and sustainable business practice. The mark is certified by the NSAI. On sustainable procurement, the mark examines if you have a policy and strategy, how you are measuring success, how you are communicating both internally and externally, and how you are showing leadership in the area.
Stephen Gallagher
You need to collaborate across the whole supply chain and be clear that these items are non-negotiable and verification will be required.
Damian Horisk
You need statistics at a corporate level but you also need to make the benefits real – using case studies like the very good example of Thomas provided by Gareth earlier. You have to articulate the real life benefits. In our case it is how it improves health and well-being outcomes.
Gareth Johnston
Being prepared to be challenged is important and putting yourself in situations where you can be challenged – where you can hear voices from the voluntary, community and representative sector. In our case CPD has been working with NICVA [Northern Ireland Council for Voluntary Action] on one of our pieces of guidance – elsewhere, hearing what the trade unions have to say has been challenging.
Stephen Gallagher
It is also good business. There are multiple benefits for both the buyer and seller. For the individual Health Trust in Northern Ireland, for example, being powered by 100 per cent renewable power ties in with its overall health objectives. It also ties in with our brand as a renewable energy generator and cleaner energy provider and what we are about. Our core value is about supplying the energy people need in a renewable and sustainable way.
Choose one area that senior managers should focus on when implementing sustainable procurement.
Jim Gannon
Clear line of sight from each transaction back to the core corporate objectives. I'm not confident that sustainable procurement has been articulated well enough within businesses, and without that clarity, it is hard to see how it can be implemented effectively at the level of the transaction. By having clarity around overall objectives early in the process, businesses can communicate those objectives to their staff handling the specific procurement exercise, and also articulate those objectives to their supplier and ultimately, with greater confidence, to their customer.
Stephen Gallagher
Joining up policy and practice. An example being how procurement can be used to ensure greater progress towards a 100 per cent renewables target.
Gareth Johnston
Thinking about sustainability at the earliest stage of a project. The way you advance sustainability is by commissioners considering government's overall objectives. We in CPD can facilitate people in a number of ways, be it engaging with the market, talking to suppliers or helping to develop specifications. We are also rolling out training for commissioners to support them at the early stage of developing a business case and help them to think about the social, economic and environmental factors.
Darina Eades
I believe the one area that needs the most focus is human rights. Last year, the UK introduced the Modern Slavery Act and from March of this year large companies have to disclose on their website how they are ensuring that there are no human rights risks at any level of their supply chain. In December, a non-financial reporting directive is due to be ratified by the Irish government that will pertain to 2018 reports. Public-interest entities will have to report on their environmental impact, corruption and bribery prevention, how they are promoting diversity in their board of directors, and also how they are ensuring there are no negative human rights impacts with their channels of supply. Those two pieces of policy will help, in what I believe to be a key area, when implementing sustainable procurement.
Damian Horisk
I think a really important focus should be put on the adequate briefing of those members who will represent an organisation during contract adjudication. Collaborative procurement often means that an organisation might be one of a number of voices around a table. That person needs to be adequately briefed on the organisation's interests but also be given the freedom to be innovative, over and above the basic sustainability requirements. Often representatives can get carried away with the process of such a large contract and while meeting the core sustainable objectives, they fail to push their own specific organisation's needs forward. This falls back on the point raised about timing. Individual requirements of an organisation need to be established at the earliest possible stage so that they can be accommodated within any collaborative process.
David O'Sullivan
For me it's about critical thinking and really understanding what sustainable procurement is. Knowing from the off what you are hoping to achieve and the awareness of balancing corporate objectives with sustainability. Also, not being afraid to push the boundary, bring other people on board and have an adequate gauge to measure progress and future plans.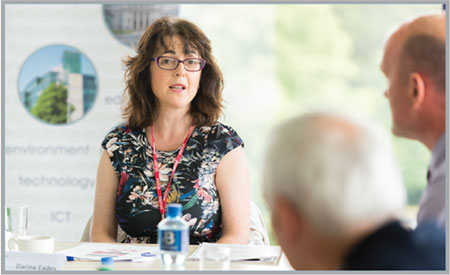 Darina Eades
Darina Eades is Senior Adviser on Corporate Responsibility with Business in the Community Ireland. She has built capacity in Ireland's most significant companies to measure, strategise and benchmark their sustainability performance against best in class. Her clients include Accenture, CRH, Gas Networks Ireland, Marks & Spencer and Smurfit Kappa. Darina's areas of specialisation are sustainability strategy development; sustainable procurement; sustainability reporting and communications; and the 'Business Working Responsibly' mark.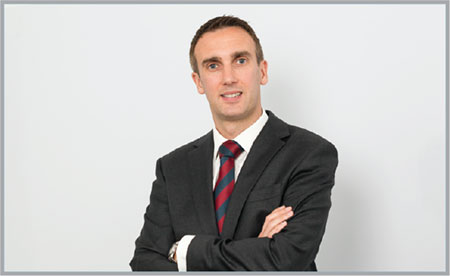 Stephen Gallagher
Stephen Gallagher is Head of Business Energy with SSE Airtricity, Ireland's second largest energy utility and leading provider of wind power. SSE Airtricity Business Energy provides energy and related services to commercial customers in Ireland and Northern Ireland, from SMEs to large scale energy users and to government agencies. In SSE Stephen has held roles as Head of Finance and Pricing with SSE Airtricity and Programme Director for SSE Retail Transformation. He is a graduate of UCD and a Fellow Chartered Accountant.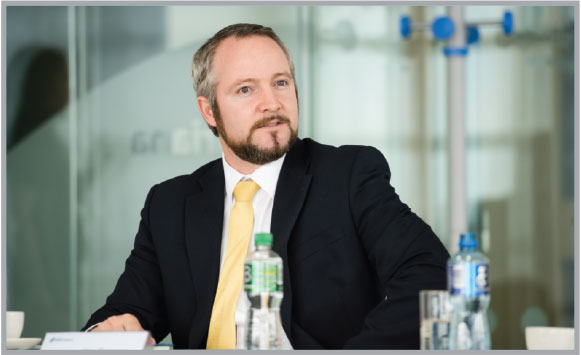 Jim Gannon
Jim Gannon is Chief Executive of the Sustainable Energy Authority of Ireland (SEAI). During his career he has advised both the public and private sector on policy and infrastructure development, and on sustainable resource strategy. He was also a contributor to the Green Procurement Guidelines for the Public Sector.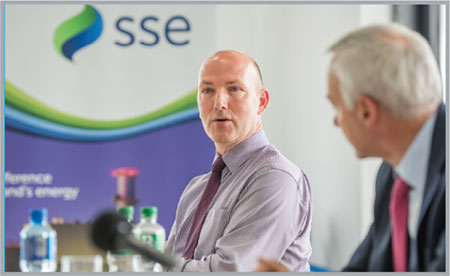 Damian Horisk
Damian Horisk is a Divisional Estates Manager at the Belfast Health and Social Care Trust with responsibilities relating to environment, sustainability and energy management. He has a Degree in Building Engineering & Management and is a Chartered Safety & Health Professional and a Member of the Institute of Healthcare Engineering & Estate Management. He has 19 years' experience in the Health Service and construction sectors.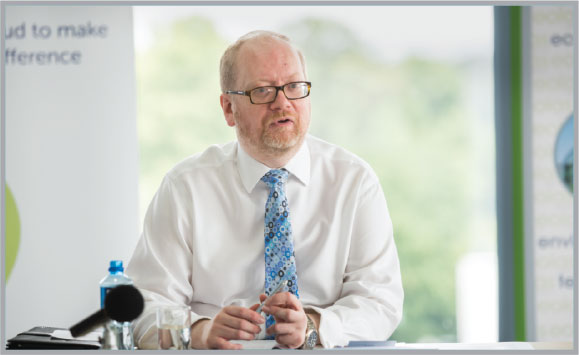 Gareth Johnston
Gareth Johnston is Director of Policy and Performance in Northern Ireland's Central Procurement Directorate, responsible for strategy and policy on public procurement and for continuous improvement. His current priorities include rolling out a single procurement portal, improving commercial and contract management skills, and a new model for social benefits. A lawyer by background, Gareth previously worked with the Department of Justice.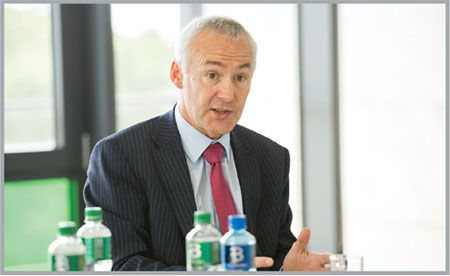 David O'Sullivan
David O'Sullivan is Sourcing Director with the Office of Government Procurement (OGP) and is responsible for their entire sourcing programme with an addressable spend in excess of €3 billion per annum. Prior to joining the OGP David was Head of Procurement for the Central Bank of Ireland, and prior to that was Director of Procurement for Symantec Ltd. David is a graduate of Dublin City University and also holds Advanced Diploma in Public Procurement law (King's Inn).