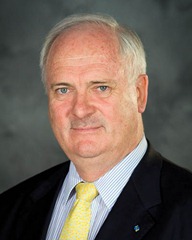 John Bruton views John Redmond as the forgotten leader who effectively secured Irish independence. Peter Cheney reports.
While most commentators view 2016 as the central point of the decade of centenaries, John Bruton wants to see a reappraisal of John Redmond's achievements in securing self-government for Ireland two years before the Easter Rising occurred.
Redmond, the MP for Waterford City, was leader of the Irish Parliamentary Party in 1914 when Ireland was on the verge of receiving home rule. After two previous attempts, Herbert Asquith's Liberal Government was able to bypass the Lords and gain royal assent for the move on 18 September 1914. The former Taoiseach notes that this was the first time since 1782 that the British Parliament had granted "legislative independence" to Ireland; the last occasion had resulted in Grattan's Parliament gaining autonomy from Westminster.
"And all of that was achieved without anybody not only losing their life but even being wounded," Bruton remarks. "The fact that that had been achieved was something that deserved to have been commemorated 100 years later – and to my deep regret it wasn't. Instead, all of the focus seems to be being placed on commemorating an action which didn't have the endorsement of the Irish people. There was no democratic mandate that was given to those who decided – against majority opinion – to initiate a violent struggle in April of 1916."
At the preceding general election in 1910, supporters of home rule had gained 83 out of the 103 Irish seats. It is put to him that Britain would never have allowed full independence due to the island's strategic position. Bruton is adamant, pointing to legislative independence being achieved via the Home Rule Act and adding: "I have no doubt that that would have progressed democratically in the same fashion."
He explains that the UK transferred the treaty ports to Éamon de Valera's government in 1938 "without the firing of a single shot" and surmises that a home rule administration "would have got a lot more and a lot sooner without all the hardship."
"Bear in mind all the people that died," Bruton continues. "Not just in 1916 – the civilians, the soldiers on both sides, many of whom were Irish – [but also] the many people who died in the War of Independence, and the even greater number who died in the Civil War which would never have happened if violence had not been initiated."
Home rule was achieved on the statute book but was quickly overtaken by events. Redmond died in March 1918 at a time when republican support was surging and his party was eclipsed by Sinn Féin in the general election later that year. The Irish Parliamentary Party's remaining seven MPs continued to represent nationalism at Westminster and the party was dissolved in 1922.
As a result, Bruton's views have attracted strong criticism from modern-day republicans such as Gerry Adams and Éamon Ó Cuív. However, his comments have turned attention once again to a man who was leading nationalism a century ago but is now one of our lesser-known historical figures.