People
A taste of Ireland in Paris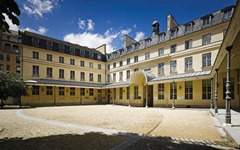 The Centre Culturel Irlandais showcases the arts from all parts of the island in the French capital. Director Nora Hickey M'Sichili talks to Peter Cheney about its work.
Among the crowded streets on the left bank of the Seine, a thriving hub of Irish arts and culture is attracting French interest in the Emerald Isle. The Centre Culturel Irlandais opened in 2002 but the island's links to the 5 Rue des Irlandais go back more than 400 years.
A seminary for Irish students was founded on the site in 1578 and the existing building was completed in 1775. It has been overseen by the Fondation Irlandaise – appointed jointly by the French and Irish governments – since 1805 and the street took on its present name two years later.
The building continued to serve as a seminary – for Irish and Polish students – until 1997 when the refurbishment for the cultural centre began. Director Nora Hickey M'Sichili explains that her role is to create opportunities for Irish artists across all disciplines in Paris, France and further afield as well. "We have a wonderful courtyard which is a real luxury in this area," she notes. "We are just beside the Pantheon, really in the heart of the Latin Quarter."
That space was filled with 7,500 people for performances on last year's World Music Day (21 June).
Her background was in arts management and having completed a masters in international relations, she had intended to promote Irish art through diplomacy. Originally from Fermanagh, she previously ran the Mermaid Arts Centre in Bray and "the timing just seemed right" when her current post was advertised in 2012.
Artists-in-residence use its studios and the centre also has 45 bedrooms for general visitors. "While it's in the heart of Paris, it's a little haven," Hickey M'Sichili reflects. The Chapel of St Patrick is open to visitors and continues to be used for a weekly mass. The old library, dating from the 18th century, consists of almost 8,000 printed books and manuscripts with the oldest being a book of hours from Notre Dame (dated around 1470). The centre's historical archives contain a property deed on parchment from 1316. Both documents have been digitised and can be viewed at www.centreculturelirlandais.com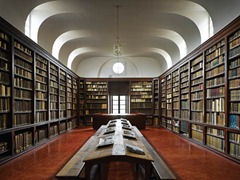 The modern médiathèque has over 7,000 books, films, CDs, magazines about Irish literature, arts, culture and history.
Belfast photographer Paul Seawright recently displayed his work in the 'Making News – Things Left Unsaid' exhibition and the opening was attended by 250 well-known photographers. "We don't just take touring work, we produce as well," Hickey M'Sichili comments.
Last May, for example, the centre organised a concert at the Irish embassy with pianist Michael McHale and composer Philip Hammond – both also from Belfast. McHale played pieces from Hammond's 'Miniatures and Modulations' which were, in turn, based on a 1796 collection of traditional Irish music. The concert marked the start of funding from the Arts Council of Northern Ireland, especially important to Hickey M'Sichili as it helps to reflect the whole island's culture.
Hickey M'Sichili hopes to raise the centre's profile and extend its networks over the course of 2015. It will host its first design residency – in co-operation with the Design and Craft Council of Ireland – and will continue to shape its work around events in Ireland and France. This will include a climate change-themed exhibition in the autumn as Paris prepares to host the 2015 UN climate change conference.
She also sits on the board of the Forum des Instituts Culturels Étrangers à Paris, which brings together the city's 70 international cultural centres. Through this link, the Institut Finlandais has agreed to help with the climate change exhibition, which will hopefully then go on tour in Finland.
France, she explains, perceives Ireland as an ally: "You have the traditional view that there's a common enemy [England] but then a more modern view that Ireland is a very much an active member of the EU." The country is also Ireland's fourth largest market for tourists.
Hickey M'Sichili relates that a romantic French view of Ireland encapsulates a mixture of warm hospitality, music and traditional scenes by early 20th century artist Paul Henry. Bretons, in particular, view their fellow Celts as "kindred spirits" and indeed Brittany is home to 11 Gaelic football clubs.
The conversation turns to the recent terrorist attacks which occurred a week before the interview. "I think, following the act," she says of the Charlie Hebdo shootings, "there was a strong sense of defiance and solidarity and I think people are getting back to normal." The security presence was still strong and some anti-Islamic graffiti had appeared but the dominant theme was that of a time of reflection and debate about freedom of speech.
Fresh thinking for design
To mark the Year of Irish Design, the Design and Crafts Council of Ireland will host a month-long research residency at the Centre Culturel Irlandais. A basket-maker since 1978, Joe Hogan has been chosen by the panel to spend a month in Paris this autumn where he will be visiting and making contact with institutions such as Musée du quai Branly which specialises in non-European art and craft. The residency allows the artists to take time away from their usual setting and soak up a new environment and network.
Photography by Ros Kavanagh and Julien Mouffron-Gardner.