People
A golden age for Irish cinema
Irish citizen Daniel Day-Lewis has just made Oscar history, becoming the first male to win the award for Best Actor for a third time. Despite our current economic woes, the future for the Irish in cinema is more than promising. Some very talented Irish individuals, both in front of and behind the camera, are invading the Hollywood film scene. Fiona McQuade profiles some of our more established names, and some to watch out for.
Robert Sheehan
Not your typical 24-year old from Portlaoise, Sheehan is creating something of a name for himself. Having quickly achieved success across both Ireland and the UK, he is currently set to break America later this year in the Hollywood adaptation of 'The Moral Instruments: The City of Bones' in which he will play Simon Lewis.
He has had major roles in film, such as 'Killing Bono' in 2011 and 'Cherrybomb', alongside fellow Irish man Daniel Day-Lewis, in 2009. His work rate has been phenomenal, already having starred in several hugely successful TV series, including his portrayal of Darren in RTÉ's much loved 'Love/Hate'. Sheehan was also a hit as the humorous character of Nathan Young in Channel 4's Misfits. Sheehan's career is definitely one to keep your eye on.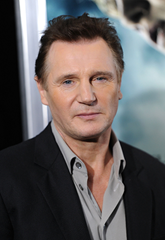 Liam Neeson
It is perhaps hard to believe that Oscar nominated Liam Neeson OBE, from the County Antrim town of Ballymena, was once a forklift truck operator for Guinness. Neeson, a well respected and established Hollywood name, began his rather impressive CV in 1976 at the Lyric Theatre, Belfast, taking to the stage at the Abbey Theatre, Dublin, two years later. After a move to Hollywood, Neeson was handpicked by Steven Spielberg to play Oskar Schindler in 'Schindler's List'.
This brought him international success and an Oscar nomination, though he lost out to Tom Hanks. He has experience in various roles from a Jedi knight in George Lucas' 'Star Wars: Episode I: The Phantom Menance' to Michael Collins, starring alongside Julia Roberts. Neeson has proven himself to be a lethal survivor from his casting as Bryan Mills in the thrillers 'Taken' and 'Taken II', in which he rescues his kidnapped daughter. He is also a well qualified member of the 'A-Team'. He has recently starred in Christopher Nolan's hugely successful Batman trilogy as villian Ra's Al Ghul. Neeson took on the role of a survivalist in 2012's 'The Grey', in which he faced the threat of wolves. He is currently filming action thriller 'Non-Stop', due for release later this year.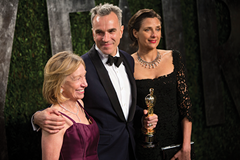 Daniel Day-Lewis
Daniel Day-Lewis has made history with his triple Oscar win for best male actor. He gained the award for his performance as Abraham Lincoln in Steven Spielberg's 'Lincoln', showing the President fighting for the abolition of slavery amid the hopes of ending the American Civil War. Day-Lewis is famous for his eccentric method acting, often isolating himself in order to gain an in-depth knowledge of his character's mind set.
He insisted on being called "Mr President" whilst working on 'Lincoln' and in his Oscar acceptance speech thanked his wife, who has "lived with some very strange men". Day-Lewis is the son of English poet laureate, Cecil Day-Lewis, and has lived in Wicklow since 1993. The Oscar winner has only a few films under his belt in comparison to his peers but has delivered outstanding performances. Day-Lewis was well-known for his stage work until, it is claimed, he saw his father's ghost during a production of 'Hamlet' and has never been on stage since.
In 1989, he won his first Oscar for his role as Christy Brown in Jim Sheridan's 'My Left Foot', based upon the true life story of a writer and painter born with cerebral palsy. He stayed in his wheelchair both on and off screen to fully experience his character's condition. In 2007, he won his second Oscar for Paul Thomas Anderson's 'There Will Be Blood'. Day-Lewis teamed up again with Sheridan, who has described him as a "force of nature," in the 1993 'In The Name of the Father' as Gerry Conlon, and later in 'The Boxer' in 1997.
Day-Lewis is the son-in-law of the famous playwright Arthur Miller, having met his wife Rebecca Miller whilst working on the adaptation of her father's play 'The Crucible' in 1996. He played the role of John Proctor opposite Winona Ryder. Day-Lewis is also well-known for his role as Bill 'The Butcher' Cutting in 'Gangs of New York' in 2002. He stayed in character for days, speaking with a New York accent and sharpening his knives during lunchtime.
Michael Fassbender
Fassbender is of German and Irish parentage; he was raised in Killarney from the age of two. He is most certainly one of the most sought after actors at the moment. Fassbender's breakthrough came in 2006 as Stelios, a young Spartan warrior in the fantasy film '300'. In 2009 he starred in Steve McQueen's 'Hunger' as Bobby Sands and was put on a crash diet of 600 calories a day to prepare for the role. Also that year, Fassbender starred in Quentin Tarantino's 'Inglourious Basterds' as Lieutenant Archie Hicox. In 2011, he starred in the epic romance 'Jane Eyre' opposite Mia Wasikowska as Mr Rochester. Also that year, he portrayed the character of Carl Jung, a Swiss scientist and psychologist, in A Dangerous Method alongside Kiera Knightley.
He starred in the prequel 'X-Men: First Class' which brought him even more mainstream recognition, playing the young Magneto opposite James McAvoy. He has received much admiration, including a Golden Globe and BAFTA for best actor, for his role as Brandon Sullivan in 'Shame', depicting a man in his thirties struggling with a sex addiction. Fassbender has also earned much critical and commercial success as the android David in 2012's 'Prometheus', the prequel to 'Alien', directed by Ridley Scott. He is due to reprise his role in the sequel.
Neil Jordan
Sligo writer and director Neil Jordan is the creator of many successful films and TV series. His first feature film was 'Angel' in 1982. He directed and wrote the screenplay of 'Mona Lisa' in 1986, starring Michael Caine and Bob Hoskins. He directed the Gothic horror adaptation of Anne Rice's 'Interview with the Vampire' in 1994. In 1992, Jordan won an Oscar for 'The Crying Game' which he wrote and directed, the film received six nominations in total and has just celebrated its 20th anniversary. He is well-known as director and writer of 'Michael Collins' in 1996. He wrote and directed the successful 'Breakfast on Pluto' in 2005. Jordan is responsible for the screenplay and directing of 'The End of the Affair' in 1999, starring Ralph Fiennes. Jordan won a BAFTA for this work. He has directed four actors with Oscar nominations: Bob Hoskins, Stephen Rea, Jayne Davidson and Julianne Moore. He is currently working on the third series of his hugely enjoyable creation 'The Borgias'. The hit drama captures the power, crime and corruption of an Italian Pope, Rodrigo Borgia, played by Jeremy Irons, and his illegitimate family in 1492 Rome. The series has received a Golden Globe nomination. Jordan currently lives in Dublin and is good friends with the singer Bono, who named his daughter Jordan after him. He has recently directed 'Byzantium',
Pierce Brosnan
James Bond, 007 of the British Secret Service, is in fact originally from Navan. Brosnan was nicknamed 'Irish' by his school mates, and later 'Hollywood' at drama school. He is a Golden Globe nominee with many a Hollywood blockbuster to his name. Brosnan is probably most recognisable in his portrayal of Ian Fleming's James Bond: 'Golden Eye' (1995), 'Tomorrow Never Dies' (1997), 'The World is Not Enough' (1999) and 'Die Another Day' (2002).
His performance in 2010's comedy musical 'Mamma Mia' alongside Meryl Streep showed his range of acting abilities, including singing. He also starred in the hit comedy 'Mrs Doubtfire' in 1991 with Robin Williams. Brosnan has starred in 'Dante's Peak' in 1997. In 1999, he starred in 'The Thomas Crown Affair' which he has stated was his favourite film to make. In 2010, he had roles in 'Remember Me' with Robert Pattinson and 'Percy Jackson and the Lightning Thief'. Brosnan also owns the production company Irish Dreamtime with producing partner Beau St Clair. He is set to co-star with Emma Thompson in the comedy 'Love Punch' in 2013.
Chris O'Dowd
An actor and comedian from Sligo, O'Dowd gained recognition for his character Roy Trenneman in the Channel 4 hit series 'The IT Crowd' (2006-2010). In 2009, he was cast in 'The Boat That Rocked' in which he played breakfast DJ 'Simple' Simon alongside Bill Nighy. The film was loosely based on the true life story of Radio Caroline which was illegally broadcast from a ship in the 1960s. Also that year he took on the role of Ray in the science fiction comedy 'Frequently Asked Questions about Time Travel', and had a role in the remake of 'Gulliver's Travels' alongside Jack Black. However, it was the 2011 film 'Bridesmaids' that established him as a Hollywood name. He played the role of Officer Nathan Rodes and won an IFTA for his performance. As the Guardian observed, he became "one of Hollywood's leading men almost overnight". In the same year, he appeared in 'Friends With Kids' with much of the same cast as 'Bridesmaids'. In 2012, O'Dowd co-wrote and created the comedy series 'Moone Boy' on Sky 1 which is based on his childhood. In 2013, O'Dowd has a busy year. He takes on the role of Ronnie in the 'Knocked Up' sequel 'This is 40'. He can also be seen in 'The Sapphires', released late last year, as Dave, the manager of an Australian girl group who sing soul to the American troops in 1970; this is inspired by a true story. O'Dowd is also due to appear in 'The Calvary' and 'Hippie Hippie Shake' with Sienna Millar.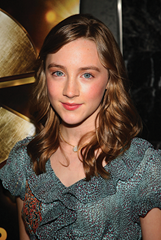 Saoirse Ronan
Having grown up County Carlow, Saoirse Ronan is the 18-year old daughter of Irish actor Paul Ronan. She has a stunning unearthly quality and is certainly talented beyond her young years. Ronan debuted in the hit film 'Atonement' at the tender age of 13 alongside Kiera Knightley and James McAvoy. Not a bad start, as she became one the youngest ever Oscar, BAFTA and Golden Globe nominees. Ronan was cast in the role of Susie Salmon in Peter Jackson's 'The Lovely Bones', based on the bestselling book by Alice Sebond, gaining her much recognition. She also played the action role of Hanna in the self titled thriller.
Ronan has an exciting 2013 in store. She is set to co-star in Neil Jordan's 'Byzantium' with Gemma Arterton, portraying two female vampires attempting to survive in 19th century Ireland. Ronan is predicted as being a huge success in the upcoming Hollywood adaption of 'Twilight' creator Stephenie Meyer's work 'The Host'.
Jim Sheridan
Dublin director, screenwriter and producer Jim Sheridan is a six-time Oscar nominee. He dislikes most 'popcorn movies' and believes a film demands something unpredictable. His work frequently examines Irish themes, particularly the IRA. Sixty-three year old Sheridan gained critical and commercial success with the film 'My Left Foot' in 1989 which led to nominations for best director and best screenplay. The film earned Brenda Fricker and Daniel Day-Lewis Academy Awards. A year later, he also directed 'The Field', an adaptation of the John B Keane play which earned Richard Harris an Oscar nomination. Sheridan was also director of the 1993 film 'In The Name of the Father', telling the true story of the Guildford Four case. The film received seven Oscar nominations and huge commercial success. In 1997, he created the gritty drama 'The Boxer', starring Daniel Day-Lewis in which a former IRA prisoner tries to put his life back together by forming a boxing club. The film was nominated for a Golden Globe for best film drama.
Sheridan is also the creator of the award-winning 'In America', a semi-autobiographical and emotive account of an Irish family's move to New York and the struggles they faced, starring Paddy Considine and Samantha Morton. He co-wrote it with his daughters Kirsten and Naomi Sheridan. The film received three Oscar nominations, including best original screenplay. In 2005, in perhaps a surprising choice for Sheridan, he released 'Get Rich or Die Tryin', an autobiographical account of the life of rapper 50 Cent which depicts his gangster life as a drug dealer before finding musical success. In 2011, he also directed the psychological thriller 'Dream House' with Daniel Craig. He is currently producing 'Sheriff Street'.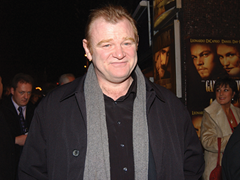 Brendan Gleeson
Gleeson is a well loved iconic Dublin actor. He has many Hollywood blockbusters under his belt yet remains equally dedicated to Irish cinema. Gleeson was previously a secondary school teacher before beginning to act in major films at the age of 34. He became known for his performance as Michael Collins in the 1991 RTÉ TV movie; interestingly he also later starred alongside Liam Neeson as the character Liam Tobin in the Hollywood film 'Michael Collins'.
He made his Hollywood breakthrough in 1995 as Hamish in the massively successful 'Braveheart', starring opposite Mel Gibson. He is now a well recognised face in film and has the diversity to take on any character. Gleeson portrayed the Irish gangster Martin Cahill in John Boorman's 1998 film 'The General'. He also won an Emmy in 2009 for his portrayal of Winston Churchill in 'Into the Storm'. He has had major roles in 'Gangs of New York', '28 Days Later' and 'Troy'. He starred in the globally successful Harry Potter films as Alastor 'Mad Eye' Moody, a role he took based on the excited reaction of his sons.
Brendan can also be found in many successful Irish films, one of the most notable being Martin McDonagh's popular black comedy 'In Bruges' in which he stars opposite Colin Farrell as hitman Ken. In 2009, he starred as gangster Perrier alongside Cillian Murphy in 'Perrier's Bounty', which has been described as an 'urban western'. In 2011, he took on the role of the hilarious and slightly vulgar Sergeant Gerry Boyle in the hit comedy 'The Guard'. He is currently filming John McDonagh's 'The Calvary' in which he will portray a priest whose life becomes endangered. He is due to begin his debut as a director in his adaption of Flann O'Brien's 'At Swim-Two-Birds'.
Gabriel Byrne
Byrne is a Dublin-born Irish actor, director, producer and writer. He began acting at the age of 29 in the Abbey Theatre and Focus Theatre in Dublin. He previously had a variety of jobs, including an archaeologist, a cook, a bull fighter and a Spanish school teacher. He then came to prominence in Irish TV Show 'The Riordans' (1965-1979) and made his film debut in John Boorman's 'Excalibur' in 1981 as Lord Uther Pendragon. He has starred as Dean Keating in 'The Usual Suspects' in 1994 and as Satan in the horror film 'End of Days' in 1999 alongside Arnold Schwarzenegger. He starred in the Cohen brothers' gangster film 'Miller's Crossing' in 1990, and also appeared in 'Vanity Fair' in 2004. Byrne gained critical acclaim for his role as Dr Paul Weston in the HBO series 'In Treatment' (2008-2010) and won a Golden Globe for best actor in a drama series in 2008 and was branded "the latest Dr McDreamy" by the New York Times. He is currently starring in 'Madigan Men', a comedy about three generations of Irish men in New York.
Aiden Gillen
Dubliner Gillen came to prominence in the controversial and highly acclaimed Channel 4 series 'Queer as Folk'. He played the character of Stuart Alan Jones which earned him a BAFTA nomination for best actor. Gillen, who is ironically a very shy individual in real life, states he is attracted to "bold risk-taking scripts". He is well-known in US for his role as larger than life Tommy Corcetti in the hugely popular and critically acclaimed HBO series 'The Wire' (2004-2008). He won an IFTA for his performance. Gillen also had a role in 'Shanghai Knights' in 2003 as Lord Nelson Rathbone. He appeared in crime thriller 'Biltz' in 2011 alongside Jason Statham as cop killer Barry Weiss. He stars in 'Shadow Dancer' alongside Clive Owen, a psychological thriller set in Belfast during the troubles. He currently stars in 'Game of Thrones' as Petyr 'Little Finger' Baelish. He is well known for his character John Boy Powers in RTÉ's 'Love/Hate' which gained him another IFTA. He is set to star in 'The Calvary' alongside Brendan Gleeson and Chris O'Dowd.
Colm Meaney
Meaney, born in Dublin, is well-known for his role as Miles O'Brien in 'Star Trek: The Next Generation' (1987-1994) and 'Star Trek: Deep Space Nine' (1993-1999). He began acting at the age of 14 and attended the Abbey Theatre School of Acting in Dublin. He began breaking into film with small roles in 1990 with 'Die Hard 2' and 'Dick Tracey', followed by his role as Major Ambrose in 'The Last of the Mohicans' in 1992. He starred as Duncan Molloy in 1997 action film 'Con Air'. Meaney is also known as Don Revie in 'The Damned United' in 2009. In the same year, he also co-starred in 'Law Abiding Citizen' alongside Jamie Foxx and Gerard Butler, playing the character of Detective Dunnigan. He has guest-starred in TV shows such as 'Law and Order' and has even had a role in 'The Simpsons' as an Irish bar-tender in the St Patrick's Day episode 'In the Name of the Grandfather'. Meaney Starred in AMC's hit drama 'Hell on Wheels' in 2011 as Thomas Durant. In 2012, he took on the role of Mason in 'Soldiers of Fortune' with Christian Slater and Ving Rhomes. Also that year, he played the character of Monsieur Rouset in 'Bel Ami' alongside Robert Pattinson.
due for release this year.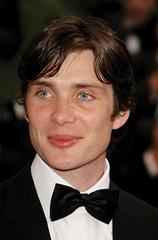 Cillian Murphy
Murphy is a strikingly distinctive actor. Originally from Cork, he made his breakthrough in Danny Boyle's '28 Days Later' in 2002. A year later, he then went on to appear in high profile films 'Cold Mountain' and 'The Girl with the Pearl Earring'. In 2005, he starred in Neil Jordan's comedy drama Breakfast on Pluto in which he plays Patrick 'Kitten' Braden who leaves his small Irish town, whose residents can't understand his trans-gendered nature, for life in London. In 2006, he gained international recognition in Damien O'Donovan's enormously successful independent Irish film 'The Wind that Shakes the Barley'.
Murphy is much admired for his ability to capture the role of an understated but incredibly sinister villain. His piercing blue eyes gave some very frightening performances as villain the Scarecrow in Christopher Nolan's trilogy 'Batman Begins' (2005), 'The Dark Knight' (2008) and 'The Dark Knight Rises' (2012). The New York Times described him as the "picture perfect villain". In 2010, Murphy starred in the thriller 'Inception' alongside Leo DiCaprio, also directed by Nolan. Murphy is currently set to work on the 'Tron Legacy' sequel.
Juanita Wilson
A writer and director from Dublin, Wilson has received much critical acclaim for her 2008 short film 'The Door' based on the book 'Chernobyl Prayer'. Filming took place in the Ukraine, in some of the most radioactive cities on earth. The story begins with the stealing of a door; it is highly thought provoking in its examination of the tragedy of Chernobyl through one man's eyes. She received an IFTA in 2009 and the film was nominated for an Oscar for short film in 2010. She produced the comedy 'Inside I'm Dancing' in 2004 starring James McAvoy which sees two young disabled men attempt to live independent lives. She also produced 'H3' about the 1981 hunger strike. Her latest work, 'As If I'm Not There', in 2010 has also received praise, winning an IFTA in 2011 for best film, best script and best director.
Kirsten Sheridan
Kirsten is the daughter of famous Irish director Jim Sheridan. She began her career with successful short films in 1999: 'Patterns' and 'The Case of Majella McGinty' which is the story of a young girl who escapes stressful life by climbing into a suitcase. This earned Sheridan an IFTA nomination. In 2001, she then directed her first feature film: Enda Walsh's adaptation of his own play 'Disco Pigs', which stars Cillian Murphy and Elaine Cassidy as teenagers with an anti-social obsessive friendship. The Guardian described it as "stylised, hyper-kinetic drama". Sheridan then went on to co-write 'In America' with her father and sister Naomi for which they were nominated for an Oscar and Golden Globe. Her next project was directing 'August Rush' in 2007 with Jonathan Rhys Meyers and Keri Russell playing lovers and musicians. She also acted in her father's film 'My Left Foot' in 1989 as the younger sister of Daniel Day-Lewis.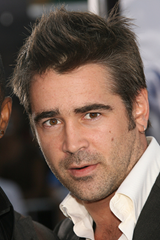 Colin Farrell
Dubliner Colin Farrell is the son of Irish football player Eamon Farrell. He once auditioned for the boy band Boyzone but, luckily, he was rejected. Farrell began his career in Irish TV show 'Ballykissangel' (1998-1999), and a year later broke through with the film 'Tigerland'. He then starred in the hit film 'Phone Booth' in 2002, in which his character who spends most of the film being held hostage in a telephone box. Though it may not sound too exciting, it was certainly successful.
Also that year, he starred in 'Hart's War' with Bruce Willis and in Steven Spielberg's 'Minority Report' as an ambitious cop alongside Tom Cruise. Farrell is also known for 'Daredevil' in 2003, in which he played the skilled Irish villain Bullseye alongside Ben Affleck. Farrell is well-known for 'In Bruges' in 2008 for which he won a Golden Globe for his portrayal of hitman Ray on a job gone wrong. He starred opposite Brendan Gleeson, who is currently directing him in in 'At Swim-Two-Birds'. His idol, Al Pacino, has described Farrell as "the best actor of his generation." In 2012 he starred in 'Seven Psychopaths' and as Douglas Quid in the re-make of 'Total Recall'.
Brenda Fricker
Born in Dublin, Fricker is a well-known theatre, TV and film actress. She became well-known for her character Megan Roach in BBC One's 'Casualty' (1986-2010). In 1990, she was the first Irish actress to win an Oscar for Best Supporting Actress for her role as the mother of Christy Brown, played by Daniel Day-Lewis, in Sheridan's 'My Left Foot' (1989). In the same year, she also starred in 'The Field' along with Richard Harris. She had a string of successful roles in film. In 1992 she played the part of the crazy pigeon lady of Central Park in 'Home Alone 2: Lost in New York', followed by 'So I Married an Axe Murderer' in 1993. She also took on the role of Bernie Guerin, in 'Veronica Guerin' in 2003 alongside Cate Blanchett. She was cast in the role of Eileen in the comedy 'Inside I'm Dancing' in 2004. In 2011, Fricker took on the role of Dot in 'Cloudburst' along with Olympia Dukakis which received much praise for their portrayal of a same-sex couple. In 2012, she received an IFTA nomination for her supporting role as Polly in the 2011 film 'Albert Nobbs'.
Domhnall Gleeson
Son of iconic Irish actor Brendan, Domhnall has proved himself a successful name in his own right. He played the part of Bill Weasley in 'Harry Potter and the Deathly Hallows: Part One' (2010) and 'Harry Potter and the Deathly Hallows: Part Two' (2011). He starred alongside his father and many other Hollywood stars. Gleeson was then cast in the Cohen brothers' 'True Grit' in 2010 as Moon alongside Matt Damon and Jeff Bridges. The film gained an Oscar nomination. In the same year, Gleeson also starred in 'Never Let Me Go' with Kiera Knightley and Carey Mulligan. Gleeson worked with Kiera Knightley again in 2012 in the adaptation of Leo Tolstoy's classic 'Anna Karenina' in which he was cast in the role of Levin. He has a promising career ahead of him and is currently working on 'About Time', a romantic time-travelling comedy in which he co-stars with Rachel McAdams.
Antonia Campbell-Hughes
This Northern Irish actress is set to become an international success. Campbell-Hughes left a promising career in fashion to focus on acting. She has been cast in the role Natascha Kampusch in '3096', inspired by the true life story of a young girl held captive in a cellar for eight years. The film is due for release later this year. Campbell-Hughes hit the headlines for her dramatic weight loss for the role, looking incredibly frail as she slimmed to under seven stone. She starred in Neil Jordan's 'Breakfast on Pluto' in 2005. She is well-known for her role in the series 'Lead Balloon' with Jack Dee (2006-2011). Campbell-Hughes also played the character of Abigail in the Jane Campion 2009 film 'Bright Star' based on the romantic life of poet John Keats. In 2011, she starred in the psychological thriller 'The Other Side of Sleep', and played Emmy in 'Albert Nobbs'.