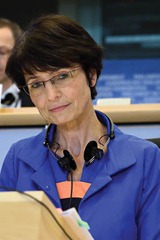 MEPs have debated European Commission's latest proposals to make €1 billion of youth unemployment initiative funding available in 2015.
Most contributors supported the plan to combat the problem through funding for projects, the development of long-term solutions and structural reforms. Youth unemployment within the EU stands at approximately 7.5 million people and is highest in Southern Europe. As of December, youth unemployment in Spain stood at 51.4 per cent while in Ireland it was 21.6 per cent.
Speakers questioned the capacity of EU member states to efficiently deploy the funds and create long-term quality jobs, rather than spending them on immediate temporary solutions. However, Employment Commissioner Marianne Thyssen (pictured) promised strict controls and assessments for the projects and added that this measure would not affect either budget allocations or payments from other funds.