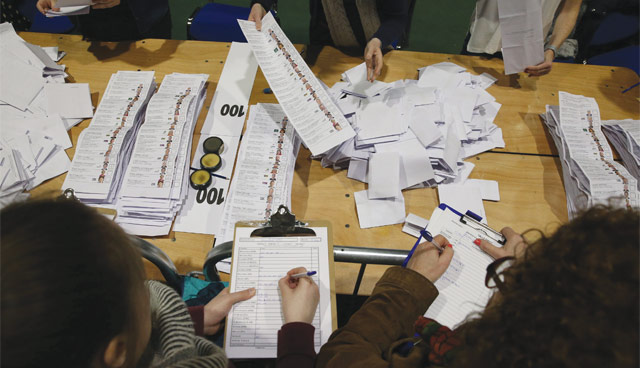 Recommended in 2006 and promised as part of Enda Kenny's Government, Minister for Housing, Planning and Local Government Eoghan Murphy TD, has announced that work has finally begun on the setting up of an Electoral Commission.
Minister Murphy's decision was announced in July, bringing to a close 13 years of waiting for work to be seriously undertaken toward the foundation of an Electoral Commission after it had been recommended by the Commission on Electoral Voting in 2006. The founding of the Commission had been promised when Fine Gael had come to power under Enda Kenny TD in 2011, but no actions were forthcoming.
The 2006 report said that there was "an increased need, in the context of electronic voting, for the establishment of a single independent statutory electoral commission for Ireland" and that an Electoral Commission "would be in keeping with best international practice and would have responsibility for relevant aspects of electoral administration and oversight currently vested in the Department, the Commission and various other commissions, including the Standards in Public Office Commission (SIPO), the Referendum Commission and the Constituency Commission".
The responsibilities of an electoral commission should also include the development of standards for electronic voting, ensuring overall compliance with those standards and the observation of elections conducted by electronic means.
It is envisioned that the Commission will oversee and regulate elections in Ireland. In 2016, a Joint Oireachtas committee published a report into the foundation of an Electoral Committee, saying that the purpose of such a commission is "generally to guarantee that electoral administration is carried out in an independent manner – free from political interference". It is believed that the Commission's responsibilities will include the solving of problems within the electoral register, the organisation of referendum campaigns, redrawing of constituency and local area boundaries and dealing with issues regarding engaging with the electorate, as well as encouraging more citizens to vote.
The responsibilities that will be delegated to the Electoral Commission upon its foundation are currently split among various government departments, statutory agencies and components of the Oireachtas. Carlow-Kilkenny Fine Gael TD John Paul Phelan is currently the Minister for State with Special Responsibility for Local Government and Electoral Reform. His portfolio is the responsibility of Minister Murphy's Department of Housing, Planning and Local Government.
In a joint statement, Murphy and Phelan said that the Commission would be "established on a statutory basis and will bring together several electoral functions in an independent, dedicated public body". Murphy said that he was "delighted to be bringing forward the establishment of an Electoral Commission which will bring added coordination to our electoral functions and will significantly contribute to the development of our electoral system and policies into the future", while Phelan called the announcement a "major event in the evolution of Ireland's electoral system".
The estimated costs for the new Electoral Commission range from €3.3 million up front, with additional yearly costs of €1.8 million to €2 million each year. This estimate, however, does not include the funding that is already dedicated to SIPO or the Referendum Commission, both due to be incorporated into the Electoral Commission. It has also been suggested that the 1997 legislation which governs the logging of politicians' interests, such as property and shares, should be reviewed. SIPO has previously made similar recommendations to the Government and the action is a possibility under the new commission, Phelan said in 2018.
In March 2019, SIPO submitted a detailed criticism of the Ireland's current electoral laws and the Electoral Act as part of the consultation process for the setting up of the Electoral Commission. Citing "gaps and challenges" currently in the electoral laws of Ireland, SIPO said that any Electoral Commission's first task should be, or at least involve, a "comprehensive review of the Electoral Acts".
SIPO put forward the case that provisions of the Electoral Act have been outdated by changes in technology, which have brought about new methods of political activism and fundraising. One of its main points was that the current definition of a third party, in political terms, "leaves out a significant number of groups engaging in campaigns that are self-funded". Third persons are currently defined as a person or body which accepts a donation above a set threshold given for political purposes. "It also leaves open the possibility of dispute or difference as to whether a donation received was for political purpose, or for charitable or other purposes," SIPO's submission says.
Phelan also said the new agency would have a role to play in setting the standards for online political adverts and it would carry out national research into all elections and referendums held in Ireland. The Commission will also include a research and advisory arm that will aim to inform the Oireachtas on considerations related to the reform of electoral law and related issues. Work is underway on the drafting of the General Scheme for an Electoral Commission Bill that will end 13 years of waiting.
While Phelan referred to the establishment of an Electoral Commission, along with Seanad reform, as a "chestnut that needs to be grasped", he may also need to concern himself with growing outcry over local authorities facing increasing commercial rates and reducing services. The issue has been aired at both the Public Accounts Committee and at Leaders' Questions in the Dáil in the past months.
"Up there with Seanad reform, this is a chestnut that needs to be grasped."

— Minister of State for Local Government and Electoral Reform John Phelan TD
Fianna Fáil TD and PAC member Shane Cassells has called local government the "starved dog of Irish public administration", while Sinn Féin's David Cullinane blamed the shortages on the Minister for Public Expenditure and Reform, Paschal Donohoe TD's refusal to fund the commercial rate compensation scheme.
Cullinane said that Dublin City Council would lose a total of €8.7 million while Waterford City and County Council will see a 13.5 per cent drop in rates, €3.3 million, making it proportionately the most affected council. South Dublin County Council will lose €4.1 million while Fingal County Council will lose €2.3 million. Chief Executive of Dublin City Council, Owen Keegan, backed up the assertion that the drops were due to the halting of government compensation, despite promises to the contrary, he claimed.
Tánaiste Simon Coveney said that compensation of €47 million was paid annually to local authorities between 2014 and 2019 in lieu of commercial rates from Irish Water. With Irish Water liable for commercial rates from 2020, he said that the requirement for compensation in lieu of commercial rates comes to an end. The Tánaiste defended the Government's record on local government funding, saying that Exchequer funding for local authorities has increased in recent years, including the allocation for 2020 for Waterford City and County Council of just over €3 million, a €700,000 increase from 2019's allocation rate.