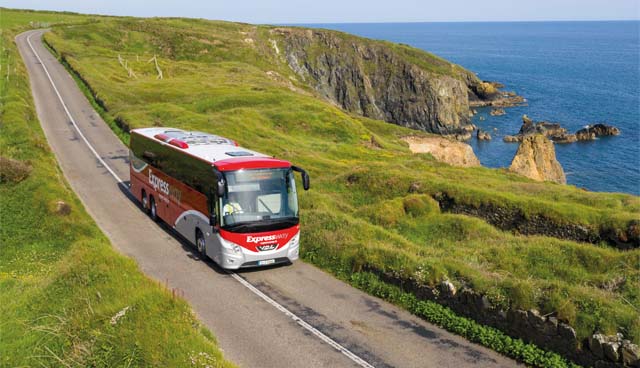 Rory Leahy, Bus Éireann's Chief Safety and Sustainability Officer writes on how Ireland's national bus company is prioritising a safety culture for public transport.
Every day in Ireland, people put their trust in public transport providers to help them on their journeys, whether for work, education, or leisure. Bus Éireann, as Ireland's national bus company, has a special commitment to each and every one of our 89 million passengers annually to make sure that they reach their destination safely; indeed, safety is one of our five core values.
Covid-19 has presented a significant challenge for public transport. Despite restrictions on capacity and fewer people travelling, 94 per cent of our passengers say they feel safe on our services. With more than 2,700 employees, 1,150 vehicles and 82 million kilometres clocked up in an average year, with a further 120 million subcontracted kilometres, we feel strongly about our duty to instil trust in the safety of public transport and to contribute to a safety culture for all users of the national transport network.
The new Road Safety Strategy 2021-2030 acknowledges that public transport is a safer and more sustainable mode of travel than private cars. Bus Éireann is promoting trust in public transport, aligned with the Road Safety Strategy and Vision Zero, Ireland's long-term goal of achieving zero road deaths or serious injuries by 2050.
Our expert training instructors focus on safe systems of work with our drivers; 200 new drivers joined Bus Éireann in 2021 and we introduced over 200 new vehicles into our fleet, each incorporating the latest safety systems. Our drivers are supported by 150 craftworkers and 80 engineering operatives at our 17 depots and garages who keep our fleet safely maintained and on the road. Advanced fleet telematics is further improving our ability to measure safer and more fuel-efficient driving performance. More than 8,400 vetting applications were processed by Bus Éireann's school transport team in 2021, signaling our commitment to the safety of some of our most important passengers,­ 122,000 school children.
As we transition to new sustainable fuels, our transport network is changing and will increasingly be shared with greater numbers of people using public transport and modes of active travel. Safety in 2022 requires greater awareness of and appreciation for all users of our transport network and embracing new innovative safety technologies. This determination to keep safety as a priority, combined with our ambition to grow passenger numbers by 30 per cent by 2030 is why Bus Éireann is renewing our commitment to safety in welcoming our passengers back on-board.
Please contact info@buseireann.ie
for further information or call
0818 836 611