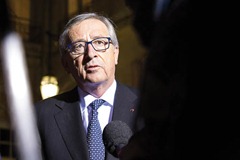 The Commission President has set out an ambitious work programme with a focus on output.
Jean Claude Juncker has outlined a 10-point work programme for 2015. The programme is in line with Juncker's aim to reduce bureaucracy and make the Commission more relevant to citizens by producing tangible results.
"Citizens expect the EU to make a difference on the big economic and social challenges," he said, "and they want less interference where member states are better equipped to give the right response. That is why we committed to driving change and to leading an EU that is bigger and more ambitious on big things, and smaller and more modest on small things."
The priorities are as follows:
1. new boost for jobs, growth and investment;
2. connected digital single market;
3. resilient energy union with a forward-looking climate change policy;
4. "deeper and fairer" internal market;
5. "deeper and fairer" economic and monetary union;
6. increasing trade;
7. maintaining the EU as "an area of justice and fundamental rights";
8. developing a new policy on migration;
9. making Europe a stronger global actor; and
10. "union of democratic change".
Many of the policies underpinning these priorities were announced over the course of last year e.g. the Commission's €315 billion investment plan, the digital single market package, and the energy union (involving more co-ordination to withstand price shocks and disruptions to supply).
The euro zone currently covers 19 out of 28 member states and Lithuania became its latest member in January this year. The EU is prioritising the Trans-Atlantic Trade and Investment Partnership (TTIP) with the USA, the Comprehensive Trade and Economic Agreement with Canada, and the WTO's Trade in Services Agreement.
The "area of justice and fundamental rights" is a broad description for the rights and freedoms which apply to all EU citizens as part of their countries' membership of the union. One of the major emerging questions is how these rights should apply to asylum seekers arriving from conflict zones on the edge of Europe.
A "union of democratic change" includes a mandatory transparency register – i.e. to increase openness around lobbying – and more flexibility to allow member states to make decisions on GM products. This is a response to public unease about both of those policy issues and also the perception, articulated by David Cameron, that Juncker is an insider with little interest in reform.