Economy
IBEC's Danny McCoy on his ambition for Ireland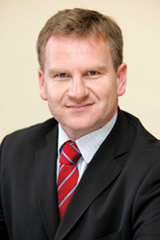 Irish business can create the highest prosperity in Europe, Danny McCoy tells Stephen Dineen as he shares an upbeat assessment of the State's economy.  However, he sees a close link between those economic prospects and the fiscal compact referendum result.
A prosperous Ireland can help lead a recovering European economy, according to IBEC Director-General Danny McCoy, but while the economy recovers, the Irish workforce cannot expect a return to centralised wage-bargaining anytime soon.
"The Irish economy, I think, has stabilised very dramatically on the back of the business community's capacity to adapt," McCoy remarks, explaining that "the adaption started to take place as early as 2007 and by the start of 2009, the Irish business community had very fundamentally taken steps to make their business more sustainable."
2011 proved to be a record year for Irish exports.  However, at the same time, the domestic economy was "destabilised" from last summer onwards as the euro crisis started to hit.  Firms held back from investing due to worries over the currency's existence.
"There was a slowing down in the latter half of 2011 so, overall, I think 2011 will probably show a positive growth rate but it could be much stronger in the absence of the current version of the euro crisis," he comments.  "This euro crisis has dampened the recovery in the Irish economy but the recovery is still there nonetheless."
Overall confidence decreased in late 2011, for the reasons mentioned above, but a resurgence has gathered pace since December.  Exporting companies, in particular, are "very buoyant again and feeling they will be back in employment mode" and domestic businesses are also "confident about their business."  In the latter category, though, consumers are still in a "kind of paralysis, connected again to the euro crisis" so the supply side is not matched by effective demand.
McCoy firmly rejects any future for Ireland outside the euro.  In his previous career as a Central Bank economist, he worked on Irish entry to the monetary union.
"I think [it] would be foolhardy to contemplate giving up on the most successful economy in the world," he states, pointing to Europe's position as an "incredibly strong engine of economic capacity".
As an enthusiastic supporter of the fiscal compact, IBEC wants to see the Government "bring this treaty quickly," a reference to ministers persuading the electorate to vote in favour.  Uncertainty over the euro zone's future could deter international investors who "believe the Irish growth story at this stage" and also damage the economic confidence of domestic householders.
"The six-pack is actually more enveloping," McCoy notes, explaining that its expenditure rule "would have helped the Irish circumstance". The "crisis of governance connected in part to banking" is far from the full picture.  Within Ireland, he points out that government spending constitutes around €25 billion of €160 billion in GDP: approximately 15 per cent.
"Eighty-five per cent of the story is elsewhere.  For instance, the fiscal compact puts rules basically on the Government but it's not a constraint on the private sector, and the private sector's what's driving the economy and driving growth."
Ultimately, Europe is "going to have to punch at its weight" rather than being divided between differing national economic policies.  He continues: "There is the prospect of a euro bond emerging over the next two years and I think that will be a big decision for countries like Ireland as to how they want to progress in it."  His personal view on euro bonds is that this is "something that we should be contemplating."
Leading Europe
He wants Ireland to become the most prosperous region of the EU.  "Today, we're 133 per cent of the European average in GDP terms," McCoy states.  "A lot of people believe that our convergence is over.  I don't believe that."  In the last regional figures on GDP, for 2009, Ireland stood at 128 per cent while the Île de France reached 177 per cent, Brussels 223 per cent and inner city London reached 332 per cent.
"And the reason why I'm confident of that is we've got absolutely world class businesses here and it's not just the US multi-national foreign direct investment.  The scale of multi-national indigenous companies is phenomenal for a 4.6 million population.  CRH, Glen Dimplex, Paddy Power, Ryanair, Kerry Group, Glanbia: phenomenally large companies and successfully trading."
McCoy again credits the euro zone for this success: "That stability gave rise to the removal of the risk premium which allowed expansive growth and a confidence that we were actually embedded in Europe in a very strong way.  I think our destiny is inextricably linked to Europe but the strength of the Irish business model is that Ireland can actually lead Europe and I think that's what it should be doing."
Separately, IBEC is seeking a revenue-neutral budget.  The use of smart cards to pay child benefit, he says, would release €2 billion for the retail sector, which could then make that money go further with in-store discounts.
Young couples and parents who cannot afford a home are "postponing their lives".  IBEC proposes a pre-announced increase in stamp duty from 1 per cent to 3 per cent in 2014, which would give them a new incentive to get on the property ladder.  To help older people renovate their homes, IBEC is suggesting a formal tax credit for innovation and retrofitting.
Banks, in his view, are "moving into a much more of a position where they can start lending again."  On the tracker mortgage discussions, McCoy adds: "We're going to get rid of that burden but it's a question of where it's parked to allow the functioning of the banks to get more."
IBEC agrees with ICTU that pension funds could be utilised to create an investment bond, to allow Irish people to invest in their own infrastructure (particularly telecoms and water).  Businesses also want action on the lack of available and suitable commercial property, particularly in Dublin.
Small social partnership
No return to social partnership (at least as we knew it) is on the horizon.  McCoy affirms: "Centralised wage-bargaining won't come back in the Irish economy, I think, in the very short- to middle-term … nor do we believe should sector wage-bargaining."
Enterprise-level bargaining "is going to be a feature of the Irish landscape for a decade at least and so in that context social partnership, as previously envisaged, I don't think is going to re-emerge."
That said, its relational side will have a longer legacy and government will remain an important mediator in industrial relations.
"It's crucial that there's strong relationships between employers and employees," McCoy remarks, "whether that's mediated through trade unions or not, to ensure that there's workplace productivity and [that] competitiveness is driving everything they do in the sharing of those benefits."
Indeed, on the social agenda, he predicts that an "enlightened" trade union movement can have a "very significant relationship with employers."