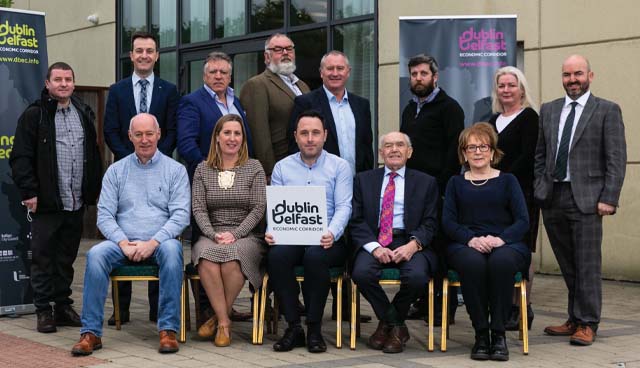 The development of the Dublin- Belfast economic corridor has gained momentum with cross-border council links being strengthened along Ireland's east coast.
A Dublin-Belfast Economic Corridor Oversight Board was appointed in November 2021, with its inaugural political leadership team elected to "help drive employment opportunities, address barriers impacting trade and encourage the delivery of better transport infrastructure". Peter Byrne, an SDLP councillor for Newry, Mourne and Down was elected as Chair of the Oversight Board, while Seána Ó Rodaigh, the Labour Party's Mayor of Fingal was elected Deputy Chair.
Membership of the Dublin-Belfast Economic Corridor partnership is made up of councillors from four councils on either side of the border. 24 councillors sit on the Oversight Board, three coming from each council involved in the initiative: Armagh City, Banbridge and Craigavon Borough Council; Belfast City Council; Dublin City Council; Fingal County Council; Lisburn and Castlereagh City Council; Louth County Council; Meath County Council; and Newry, Mourne and Down District Council. This economic partnership also includes Dublin City University and Ulster University, whose collaboration on a report on the economic corridor led to the foundation of the group in March 2021.
Upon the foundation of the partnership, Belfast City Council expressed the hope that the economic corridor could be the "equivalent of the Northern Powerhouse or the Malmo-Copenhagen Tech Region (Oresund), both of which have created larger functional economies of international scale to ensure they have a more resilient response to the ongoing pandemic, economic cycles and geopolitical challenges".
The collaborative report published by DCU and UU found that the region has a population of over two million people and "is younger and more diverse than any other part of Ireland with 15 per cent born off the island". It also has the best educated workforce with 34 per cent of the population holding third level qualifications "thereby creating an excellent pipeline for concentrations of jobs requiring graduates".
The report also states that in 2019, there were 125,000 firms located along the corridor with entrepreneurship and survival rates higher than elsewhere in Ireland and more people employed in mid-sized and large businesses than anywhere else. Key sectors along the corridor include advanced manufacturing, ICT, agri-food, professional services, financial services, construction, and tourism while the challenges facing the region are "adapting to Brexit, climate change and transformation to a low carbon economy, low population density and an ageing population".
Speaking upon her election as Deputy Chair of the Oversight Board, Ó Rodaigh said: "Alongside the obvious social and economic benefits of closer cross border collaboration in order to develop the corridor, what we are looking to help drive is greater inward investment, the boosting of trade opportunities for local businesses, increased production in key sectors and higher employment. This will be increasingly important as the population along the corridor continues to grow."