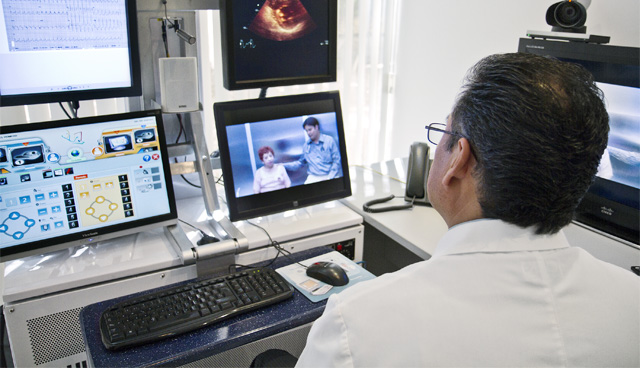 As automation comes to the fore of daily life and the Covid-19 pandemic leaves healthcare providers looking for alternative methods to deliver treatment, boost quality of care and decrease spending, virtual health strategies may begin to become a more common mode of healthcare delivery.
Virtual health has long been heralded as the next breakthrough in health technology, but its adoption has varied between slow to non-existent from country to country. Virtual health can be broadly broken down into three categories: telehealth, digital therapeutics, and care navigation.
These categories further break down into subcategories such as synchronous and asynchronous telehealth, remote patient monitoring, replacement therapies, treatment optimisation, patient self-directed care and e-triage. Commonwealth Fund research showed that adult primary care and behavioural health showed smaller declines in total visits during the pandemic than surgical/procedural specialties.
These smaller declines illustrate the fact that primary care and behavioural health visits can be accomplished by evaluation and management only as opposed to surgical specialities. Such differences in specialities suggest that opportunities are there for the further rollout of virtual health technologies, such as remote monitoring, which could allow both primary care and specialty care practices to expand their virtual patient interactions.
A pre-pandemic survey of health system leaders performed by McKinsey and Company in 2019 revealed that "virtual health adoption was highly concentrated in synchronous telemedicine, with limited investment in the full suite of available virtual health technologies". These health system leaders also cited remote monitoring as a key area for future investment. Prior to the pandemic, McKinsey "found that health systems, under value-based care arrangements, demonstrated 17 per cent savings when they provided virtual care with their existing healthcare professionals instead of using an outsourced provider", showing the opportunity that exists for providers to embrace the technologies from both a modernising and a financial standpoint.
Particularly relevant to the Irish context could be the opportunities that exist to promote efficiency through models like tele-ICU and change-capacity use through "hospital at home" (HaH) models. Examples of models cited by McKinsey that could be of use in rural Ireland where access to speciality services is scare include:
a regional health system that provides virtual specialist visits and tele-ICU coverage in partnership with local rural health systems to extend access to services;
a regional health system that partners with a third-party provider of virtual primary care to extend its primary care capacity and creates linkages to its specialty practices;
an academic medical centre (AMC) that provides virtual specialty care that consumers access directly from different geographies, with some consumers choosing to travel for care; and
a regional health system that provides primary and specialty care through physical and virtual applications, and partners with an AMC to access virtual sub-specialty care.
The HaH setting in particular could be of significant benefit in Ireland, where an ageing population can often be matched with rural isolation, meaning that the implementation of HaH could mean both a reduction in travel for many patients and a reduction in healthcare-associated infections. Covid-19 has prompted much talk of a "new normal"; in healthcare, it appears the time is ripe for the new normal to incorporate the disruption that has been talked about long before the outbreak of the pandemic.