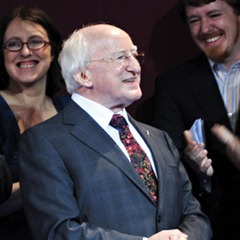 Ireland's new President swept to victory, promising to "make an Irishness we can be proud of in a real republic." Meadhbh Monahan reports.
The Presidency of Ireland is the highest office in the State and comes with the responsibility of dedicating one's abilities to the service and welfare of the people of Ireland. Representing Ireland on the international stage and strengthening the trade and friendship links with "the global Irish family" is essential. Michael Daniel Higgins will take up the mantle from Mary McAleese and will be the first intellectual and poet to reside at Áras an Uachtaráin. Higgins is expected to continue the human rights path first taken by his Labour predecessor Mary Robinson.
Elected Ireland's ninth President on 27 October, Higgins received 701,101 first preference votes, which increased to 1,007,104 with transfers. This equated to a 39.6 per cent share of the total vote, well above Cavan entrepreneur Sean Gallagher's 28.5 per cent.
"I am delighted with the strong vote I have received. My message of positive leadership, patriotism and commitment clearly was resonating with tens of thousands of ordinary Irish people," Higgins commented after receiving the news.
Born in Limerick, but raised by his aunt and uncle on a farm in County Clare, Michael D Higgins' early life awakened him to social justice and equality, issues which were to be central to his political and academic life. He studied and set up a home with his wife Sabina Coyne in Galway and he claims that is where his heart "will always be".
An academic, poet, campaigner and politician, Higgins has always had a passion for creativity and the arts. While he was Minister for Arts, Culture and the Gaeltacht from 1993-1997 he established Irish language station TG4, ended the section 31 censorship that barred Sinn Féin from the airwaves, and oversaw investment in public museums such as Collins Barracks and the Chester Beatty Library.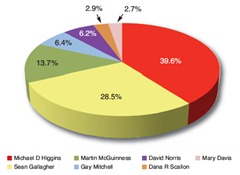 He has been critical of US foreign policy, participating in rallies against Ronald Reagan when he visited Ireland in 1984 and speaking out against the use of Shannon Airport for the re-fuelling of US planes en route to Iraq.
Human rights activism has taken him to Turkey, Western Sahara, Nicaragua, Chile, Gaza, the West Bank, Peru, El Salvador, Iraq and East Timor. In recognition of his work for peace and justice in many parts of the world he became the first recipient of the Seán MacBride Peace Prize presented by the International Peace Bureau (a voluntary organisation dedicated to the vision of a world without war) in 1992.
He began his presidential campaign on 19 June claiming that Ireland must emerge from the present crisis with a "more responsible model of our economy and society." During the following 14 weeks he was questioned about how his age (70) might impact his health and his ability to do the job. However, he did not receive as much negative coverage as the other candidates.
Profile: President Michael D Higgins
Born: Limerick (18 April 1941)
Education:
– Ballycare National School, County Clare
– St Flannan's College, Ennis
– Clerk in ESB
– Mature student at University College Galway (aged 20)
Academic career: 
– Political science and sociology lecturer at University
– College Galway
– Visiting Professor at the Southern Illinois University
Political career:
– President of University College Galway Students' Union (1964 to 1965)
– Unsuccessful in 1969 and 1973 general elections
– Appointed to the Seanad by Taoiseach Liam Cosgrave (1973-1977) and re-joined on NUI Maynooth panel (1982-1987)
– Galway county councillor (1974-1993)
– Mayor of Galway (1982-1983 and 1991-1992)
– Galway West TD (1981-1982 and 1987-2011)
– Minister for Arts, Culture and the Gaeltacht (1993-1997)
– President of Labour Party