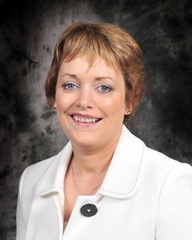 One of three Fianna Fáil TDs for Cavan-Monaghan, Margaret Conlon was elected to Dáil Éireann in the 2007 election. Married to Seamus with two sons and one daughter, she lives near Castleblayney. Margaret is a former deputy principal of St Louis Secondary School, in Monaghan town, where she taught business studies and economics.
How did you get started in politics?
I have been involved in politics since I was 15 years of age when my late father brought me to my first cumann meeting. I continued my active involvement during my college education in St Patrick's College Maynooth and during this time I was elected as constituency rep to the National Executive.
I continued to play an active role in local politics and was elected as Chair of Monaghan County Executive, Fianna Fáil. It was during this time that I was approached by Fianna Fáil to run for the Dáil in the 2007 election.
Why Fianna Fáil?
I come from a family steeped in the FF party tradition. From an early age I remember being out canvassing with my father for the party. FF are a progressive party whose aim is secure, in peace and agreement, the unity of Ireland and its people and to develop a distinctive national life in accordance with the diverse traditions and ideals of the Irish people as part of a broader European culture.
It is also FF policy to guarantee religious and civil liberty, and equal rights, equal treatment and equal opportunities for all the people of Ireland. These are all ideals that resonate with me. FF are also a responsible party which is why, even when they were in opposition they behaved like a government party.
How does the border influence your constituency work?
The border continues to play a major role in my constituency work albeit different from the days of conflict.
There are many cross-border links, established in the areas of education, health, energy, agriculture, social protection and transport to name but a few, and we continue to work with our northern counterparts to further advance these.
I am also a member of the Joint Oireachtas Committee on the Implementation of the Good Friday Agreement and am Vice-Chair of the British Irish Parliamentary Association.
Are there any conflicts of interest in representing two counties?
I don't see any conflicts of interest in representing two counties. The problems people contact me about are basically the same in both counties.
I live in a rural border constituency and my focus is to serve those who elected me and to try to support businesses, and bring investment and jobs to the area.
What main lessons have you learned so far about being a TD?
I see the importance of listening to people and how they want a listening ear. It is also very important to be honest with people and revert to them as quickly as possible. Time management is hugely important and trying to strike the family/work balance is difficult.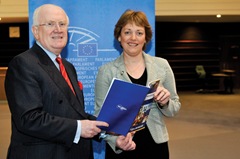 What has been the main highlight to date?
The main highlight for me was getting elected. Since that there have been some notable highlights. The visit of Rev Ian Paisley and Bertie Ahern to the Boyne site was a hugely significant day. Also acquiring a €20 million investment for the site of the old army barracks in Monaghan Town to be turned into a multi-user educational facility, but it's the little things that you do for people that mean most.
What are your main political interests at present?
Job creation, for obvious reasons. We have far too many people unemployed, especially amongst young people and that is why job creation is my priority.
As a mother of three teenage children and as a former deputy principal of St Louis Secondary School, Monaghan, I have a vested interest in the state of our Health Service and education system. Great strides have been made in both areas but we cannot rest on our laurels in relation to these two crucial areas in the future. I am the convenor of the Joint Oireachtas Committee on Health and Children which affords me the opportunity to be at the forefront of policy-making in these areas.
What are your interests in your free time?
The GAA, socialising, spending time with the family, reading and music.
What three people would you like to meet for dinner?
Barack Obama, the iconic world leader of his generation. A world statesman that offers hope and inspiration to many in these difficult times
Tommy Bowe, Ospreys and Ireland rugby player. A wonderful ambassador for County Monaghan and a bit of eye candy at dinner table.
My husband, Seamus, as I never seem to see him these days and it would be nice to have a good chat without interruption.
"[Fianna Fáil] are a progressive party whose aim is to secure, in peace and agreement, the unity of Ireland and its people and to develop a distinctive national life"