Digital
iPad: a choice for serious business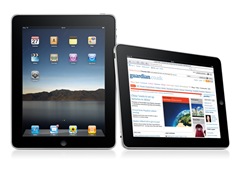 Industry expert and iPad fan David McDonald says that re-thinking old habits and embracing the world of mobile computing will allow you to carry your office around with you.
Apple were patient entering the 'tablet' market, only launching their product when they truly had their 'ducks in a row', resulting in the iPad proving to be a huge success in the consumer marketplace. However the notion that it is only a device for consuming media still deters many from considering the iPad as a practical tool for business use.
This notion is understandable. With Apple having seemingly magicked away the complexities of a typical tablet device, the iPad looks suspiciously simple to be of interest to the hard-core 'Road Warriors'. But this isn't really the case and, with the right software (apps) and accessories, your iPad may replace your laptop a lot sooner than you think.
Time was, I could put all my working files on my laptop and carry them with me. But with increasing file sizes, collaborative projects and multiple versions of files to contend with this is no longer possible, I'd go so far to say that it's not even desirable. Having all your data on a single hard drive is a liability waiting to happen and, no matter how diligently you make back-up copies, a persistently synced cloud based storage option is more efficient.
Cloud services are key in the success of the iPad as it is behaves more like a 'thin-client' device. With easy Wi-Fi or 3G access to your data (the 3G iPad really is the choice for serious business users) the iPad obviates the need for large local storage – hence a small fast solid state drive, instead of a big, slow and power-hungry hard drive.
The legacy of working with locally stored applications and files is becoming irrelevant as cloud computing gets easier, faster and cheaper. For many businesses the typical working day now requires almost continuous web access – a task that the robust, compact and lightweight iPad was designed specifically for and excels at.
The iPad comes with a default suite of apps covering most core business needs: email, web, calendar and contacts and these can be synchronised with their desktop equivalents via iTunes, Microsoft Exchange, or a Google account. The Exchange and Google options are particularly significant as they provide 'over the air' wireless synchronisation, ideal for a mobile device like the iPad.
The Safari web bowser is the single most important app on the iPad, as it is the portal to the Web, offering a wealth of content and interactive facilities. There are also many 'web-apps' (optimised websites) that offer a high level of features without the need for any actual software on the device itself, e.g. Google Docs.
For document editing though you will need to buy some apps. The iWork suite from Apple (pages, numbers and keynote) is an easy choice, it will open, edit and export Microsoft Word, Excel and Powerpoint documents. There are several alternatives for this particular task, including the popular 'Documents to Go' suite.
There are literally thousands of apps to choose from and, although many are trivial, the marketplace is maturing fast with a good number of well designed solutions aimed at professional and business users.
Essential apps on my iPad include: Dropbox, a cloud based and continuously-synced over-the-air (OTA) wireless synchronisation sharing and storage file; 1Password, a strongly encrypted unified password login/management; Omnifocus, a task management app with OTA sync; Omnigraffle, a planning/diagramming app; iBooks, a PDF storage, management and access app; and Instapaper, a features synced offline storage for keeping up with industry blogs.
Pros:
• Lightweight and very portable
• 12 hours (approx.) battery life
• Fast (no waiting for a spinning hard drive)
• Always-on for easy access
Cons:
• Re-evaluating your mobile work habits
• You need to familiarise yourself with how the Touch interface works (the good news is that it's relatively easy)
• Relatively small disk space (start thinking cloud)
• Doesn't run Adobe Flash