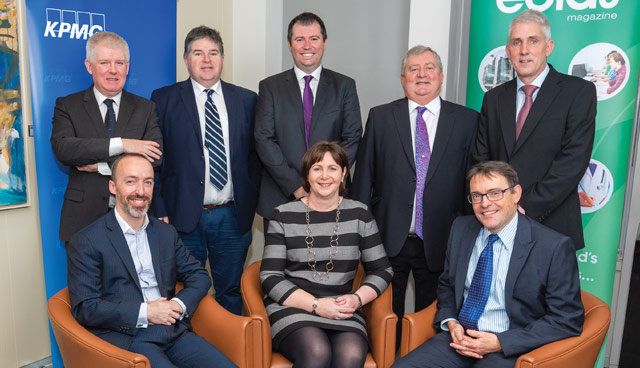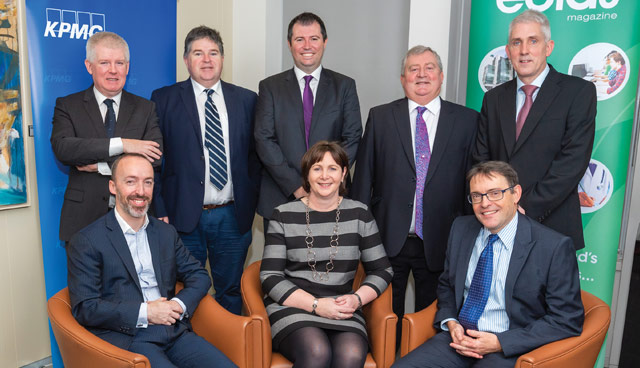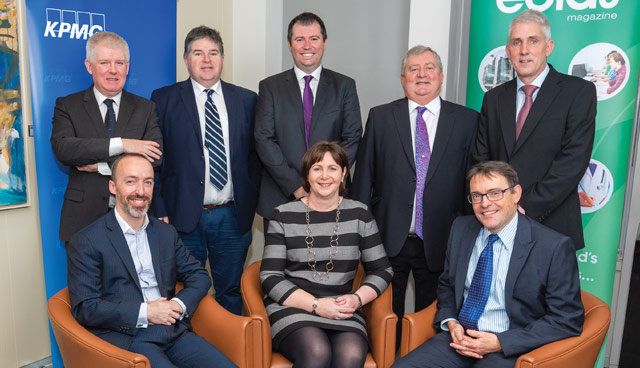 KPMG hosted a round table discussion on the topic of innovating for the future of public services, overcoming the inherent challenges and enhancing services for the benefit of citizens.
How do you promote innovation in your organisation?
Owen Harrison
This is at the heart of what we do, and we often encourage innovation through networking events and workshops. We also call upon international players to communicate their organisation's successful innovation. Fundamentally, we provide co-ordination and stimulate the conversation. Innovation brings risk, and your organisation's appetite for risk can dictate its success. Innovation must be driven through leadership. As an example of this, our secretary general has asked every assistant principal to propose one idea that drives innovation during this year's business planning sessions.
Marguerite Sayers
We have several informal and formal methods of promoting innovation. The formal methods were encompassed by establishing an Innovation Division a number of years ago. From our experience, a traditional working culture is now meeting with something new and agile in nature. In my own area, we have huddle boards and conversations every morning, composed of 75 per cent of the team. Crucial to innovation success is recognising and accepting failure. It is counter-cultural, and that does bring with it its own set of challenges.
John Barron
Innovation needs to become embedded into the organisation as the natural way of doing things. Business process re-engineering is a key driver of innovation. This involves assessing and questioning the current process and looking for a better approach. We constantly consider new products, technologies and techniques that may offer greater efficiency. External factors like other departments' needs and legislative requirements also drive innovation. We have also relaunched an internal mechanism for staff to provide their input and ideas. Sometimes, the new approach may require legislative change, so innovation is bigger than just the technology changes and involves a combination of input and effort from across an organisation.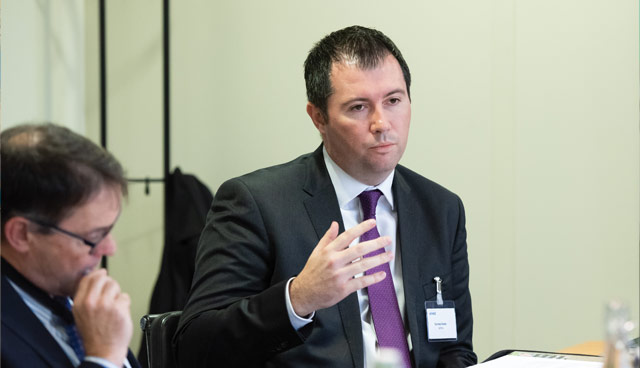 "Data is the lifeblood of digital and most organisations want to be more data driven, to enable better decision-making."
Cormac Deady
A key focus of innovation is changing cultures, behaviours and mindsets. Methods like Lean bring with them a mindset of continuous improvement. If you have individuals making small, incremental gains, that should be regarded as a positive shift. Many aspects of innovation centre around technology. We must see past the hype and recognise how these are being applied in other sectors in a positive way. A culture of innovation must come from the top, and leaders must be seen to be innovating and encouraging innovation in their organisations.
Tim Willoughby
Innovation is an interesting challenge. In An Garda Síochána, there are around 14,000 frontline staff, meaning that even small changes could encourage a significant ripple effect. We bring frontline staff together with back office, business people and let them imagine a solution through the perspective of our officers, and the challenge is that the only place where the integration is going to happen is in the pocket of the guard. For us, the main change is taking place between agile processes and waterfall technology systems.
Liam Butler
Innovation must come from within the business itself. Enabling innovation can mean delegating authority through management, whilst encouraging the idea that there are other ways of doing things. When staff come up with suggestions, there are people empowered to support those suggestions, possibly with technology solutions. Another aspect involves an international outlook to understand what comparable organisations are doing with technology. Achieving innovation means promoting and recruiting innovative people. Getting those external perspectives and experience into the public sector to drive innovation and change is crucial.
Donal Singleton
With a limited set of resources, there is a need to improve services dramatically. That is the driver for innovation, which enables us to deliver more improvements with limited resources. To formally ensure that happens, we have ensured that within our project portfolio, a certain percentage of the projects will be what are defined as 'innovation projects'. So, everyone is clear that if you have an idea, we will act on that idea and this will lead to a series of projects to implement the best ideas.
What, in your experience, are the biggest innovation challenges and how have you overcome them?
Owen Harrison
On the reform side, our business is trying to introduce new ways of working across different public bodies. That raises a particular challenge whereby innovation has to come from 'the top', however, administratively, there was no top of the public service. One of the challenges, therefore, is creating a leadership environment across the public service. That is being overcome through the creation of new governance structures such as the Civil Service Management Board and the Public Service Leadership Board. Additionally, procurement is one of the biggest challenges to innovation. It is extremely difficult to be innovative when you must plug in what is a waterfall process within an agile mind-set. Trying to work strategically with regard to procurement, targeting high value people, is important.
Tim Willoughby
Budgeting for innovation is quite tough if you know that some of it is bound to fail or that you're doing weekly or monthly releases. Depending on how that release goes, the future may be in a different direction than you had anticipated. Trying to predict what a budget should look like, before you start, which is the way we do it, is an interesting discussion. Going to OGCIO for approval for each stage of what we're trying to achieve is an area in which I have become quite creative. This means looking at the process and working to be agile around it. Again, it's strategic use.
Marguerite Sayers
We're all competing for scarce resources and funds for innovation and that's a challenge. It's trying to pick a winner while recognising that some things will fail but hoping they won't. We all recognise that we need to do new things, but we also need to mind traditional activities. To borrow a phrase from a colleague, we have to be careful to avoid selling the cow for some magic beans. Another challenge we would see – and it depends on the nature of your organisation – but some of our staff work in extremely risky environments. So, while we want innovation, for certain tasks and in certain environments, we need compliance. It's about striking a balance between minding the best bits of traditional approaches where innovation is appropriate and equally, in situations where you can improve things.
Liam Butler
There can be a cultural mindset which argues that, 'well, it's working at the moment, so leave it alone.' It's breaking that down and facilitating the space for failure while ensuring there are sufficient in-built checks and balances to allow the process to be stopped. Innovation has to come from within and from the people that are at the coalface. Managers won't always know the nuts and bolts, so it's the daily practitioners that must be convinced that it's a good idea in the first place. I understand why transparency around procurement is important, but it can be very frustrating and time consuming.
Donal Singleton
I agree in relation to procurement. It's designed for traditional projects and it can act as a barrier to innovation. Within the culture and governance of the sector, all projects are not equal. If you try to compare an innovative project against a traditional one, with a traditional business case, there's only one winner.
Cormac Deady
Finding the balance between encouraging innovative ideas and solutions and then actually delivering them is a common challenge. Most project portfolios are at or over capacity, so you must transparently show how those projects can make it from idea to production and how they link to the strategic goals of the organisation to make sure that they are relevant. This allows the conveyor belt of ideas to keep running and prevents people from being demotivated by the fact that their ideas are not followed through. Additionally, it is essential you invest in your people and train them in new technologies that can be leveraged to deliver innovative solutions.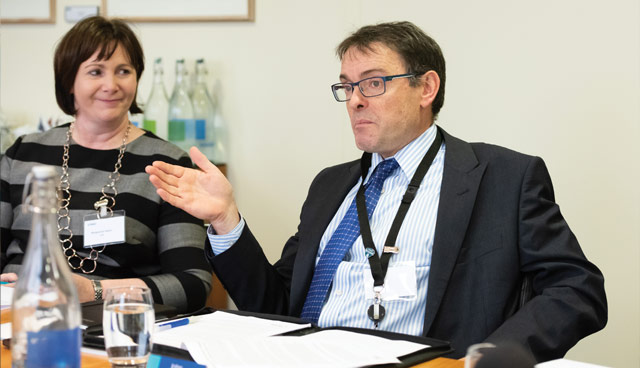 "Data is the new oil and it will grease the cogs of the public service going forward."
John Barron
The challenge around skills and capability is a particularly difficult one. A lot of innovation is going to be driven by new technologies and we don't have the skills internally. Many of the skills are in high demand but low supply. It is difficult for PSBs to recruit people with these skills for a number of reasons including lower pay rates. However, these skills are increasingly difficult to acquire from third party vendors like systems integrators. Part of that problem is driven by the high cost of living in Dublin and high wage demand from potential candidates.
How do you plan to increase the availability of more digitally enabled services?
Marguerite Sayers
There is a whole spectrum of customers out there that have specific needs – some of whom want the traditional face-to-face approach and some who want more digital offerings. Customers' expectations are totally changing because of their experience with other companies and they expect the same from us. We have a huge list of digital projects that we'd love to do but we're having to prioritise our requirements. In developing new digital offerings, it is also important to involve staff who understand the business and know what improvements would make the biggest difference. A couple of years ago, we provided iPads to our 1,700 network technicians. That allowed them to operate more effectively and digitally, but also created an appetite for innovation among them to make suggestions for further improvements for themselves and customers. So, not only can new technology serve a purpose, but it opens the door and makes people want to achieve more.
Tim Willoughby
Digital transformation is the balance between desirability and achievability. We want to innovate, but we have to balance that with our core business. Working with staff, our plan is to introduce 3,000 mobile devices so that all of Garda Traffic and all of Dublin will have what we have implemented in Limerick. We also intend to introduce 30 more enabled vehicles, bringing the total to 50 and to implement the digital station approach across all small stations.
Again, that is just the beginning. We have to make all the back end and centralised data more available. To achieve quality data capture is the next thing we need to do.
Cormac Deady
MyGovID is a key enabler to digital services providing a better citizen experience and will help to address the volume of forms we ask our citizens to fill, as highlighted by DESI in their 2018 report. Increasingly digital services benefit from an 'outside-in' consideration. This is where citizens and businesses are engaged to provide valuable insights into where the customer experiences issues and opportunities exist. This means considering what challenges they face and then analysing these alongside internal ideas when deciding which to invest in.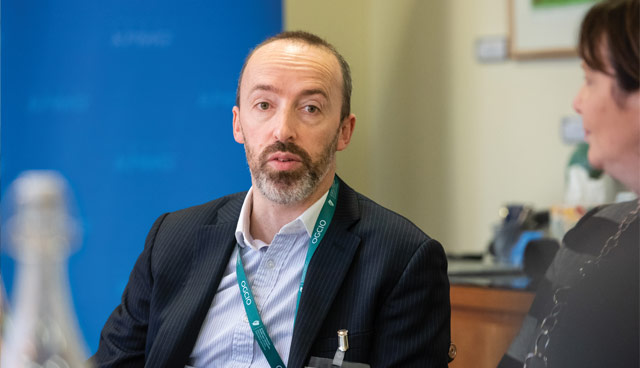 "Innovation brings risk, and your organisation's appetite for risk can dictate its success. Innovation must be driven through leadership."
Owen Harrison
We try to identify common requirements which all digital services need and provide for them once. One of the most effective enablers we work on is the MyGovID service, an identity and access management solution lead by DEASP, that other departments can easily use. MyGovID, built on top of the public services card, is a great example of enabling digitisation of services across Government.
John Barron
The default in Revenue is that all new services are developed online as a starting point. If necessary, we will legislate to ensure that businesses in particular must interact with us electronically. Revenue already has a large amount of digital services already available. For example, the 2018 self-assessed tax return season has just finished and for the first time, over half-a-million Form 11 returns were filed online which represents almost 93 per cent of Form 11s filed. Having said that, the most common and preferred channel of contact between customers and Revenue is still the telephone. Tax and many other functions of the public service is complicated, and people want to make sure they get things right. There are challenges for us at a legislative level, to simplify things for people and therefore, further drive digital adoption.
Tim Willoughby
One of the opportunities around procurement is the idea of small business innovation research. The local authorities have been very good, working alongside Enterprise Ireland, in running competitions with four or five organisations in order to define the problem and then have potential solutions ready in time for the procurement process. It's an interesting approach to innovation.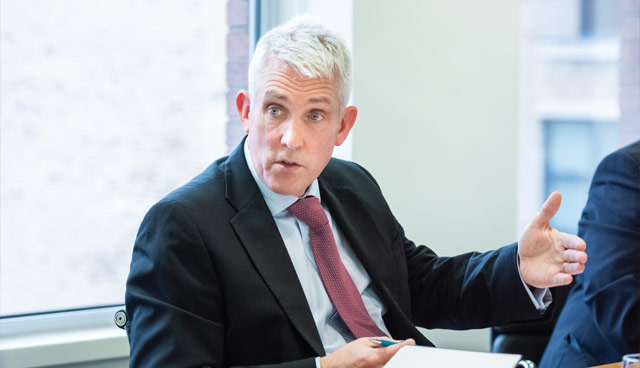 "Achieving innovation means promoting and recruiting innovative people."
Liam Butler
We have had a lot of traction and success with the development of Business Intelligence dashboards for workforce planning. This is something that has been really well received internally and we are actively working on new digital services for our external stakeholders.
Donal Singleton
One of our big initiatives is the service catalogue. Services provided by local authorities have been analysed in great detail to establish a standardised offering across all 31. The focus is on the customer and not on back-office processes. The goal is a public facing view that provides what the customer wants.
Data is clearly a key enabler. What challenges have you had to overcome and how?
Owen Harrison
In the coming weeks, we are hoping that the Government will publish a Public Service Data Strategy. Every organisation is trying to use the data they have to the best effect in achieving objectives. The strategy is to ensure that best practice in data management is common practice. Through the strategy, one objective is to complete the legislation to clearly define access, from a legal perspective, to data held within the public service. GDPR is at the heart of that. We are aiming to introduce an interoperability platform which drives the proliferation of application programming interfaces use for machine-to-machine integration. That brings its own challenges.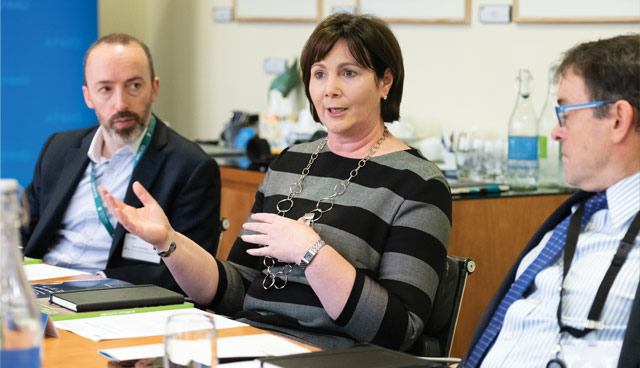 "Customers' expectations are totally changing because of their experience with other companies and they expect the same from us."
Marguerite Sayers
Getting the data scientists is a challenge. Then, once you have those who know what to do with the data, it's about marrying them with those who understand the business and know what kind of answers are required. Again, this is about teasing out what problem you are trying to solve and what service you are trying to improve.
Liam Butler
We all see the benefits that the Public Service Data Strategy can bring. Reflecting on our own databases, there is really no reason for us to maintain data ourselves when there are better sources of that data available elsewhere. From my own point of view, establishing authoritative sources of data and being able to access that data in real-time is important.
Traditional roles are evolving with the inclusion of specialist data skills requirements and the creation of new standalone data roles. Recruiting and retaining staff with these skills will continue to be difficult.
Cormac Deady
Data is the lifeblood of digital and most organisations want to be more data-driven to enable better decision-making. The foundation of getting the right insights is trust in the underlying data. Understanding how the metrics and key performance indicators, that are used to manage activities/teams/functions, have been calculated is going to become more and more important. GDPR has been a catalyst for reflecting on what data is held, how it is processed, where it's going and where it is sourced. That is leading to broader data management, governance and quality practices. Globally, we can see the number of government chief data officer appointments increasing.
John Barron
Data is the new oil and it will grease the cogs of the public service going forward. One of the big problems with data is that it is often not properly identified with a key such as PPSN or a tax reference number. Therefore, one of the big challenges is data matching which drives a manual review requirement. Once you start handling a lot of data from many sources, this becomes complex, time consuming and costly. In addition, an important challenge for all PSBs is to reduce and minimise the compliance costs for businesses. The more data we ask businesses to provide us with, the greater the cost to business. As public bodies, we have to constantly balance our requirements against that compliance cost.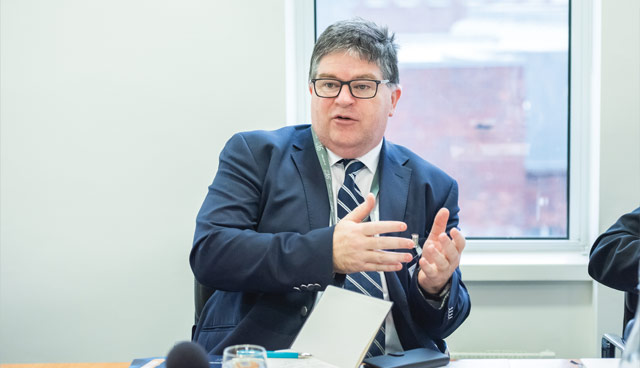 "Digital transformation is the balance between desirability and achievability. We want to innovate, but we have to balance that with our core business."
Tim Willoughby
A challenge that we have is that in a lot of proactive enforcement, we are using other peoples' data when it comes to motor tax and insurance compliance. Quality data capture, 'once and done', means getting it into the system once and getting it right the first time. From there, it is possible to have clarity in making better decisions. Identity, whether of a business or a person, is also a key challenge. There are many systems and we are considering how we pursue large data matching so that we get consistent answers.
Donal Singleton
The local authorities provide a huge range of services and gather vast quantities of data to do so. However, it is largely gathered for a single purpose and regardless of how beneficial it could be to the individual involved cannot be used for any other. The whole area of data protection should be addressed to ensure that different organs of the State can support each other. Data collection can be very expensive unless it is a by-product of the standard business processes undertaken on a regular basis.
What areas would you focus on to strengthen whole-of-government collaboration?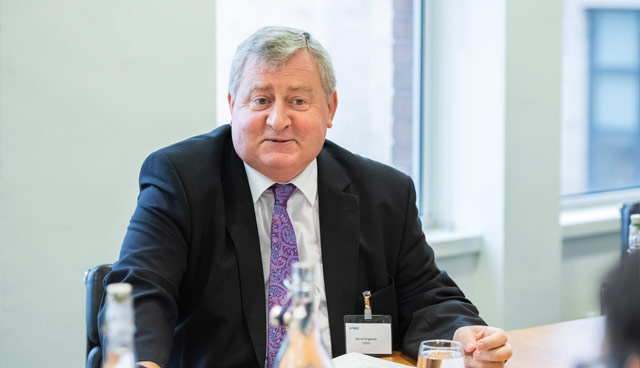 "With a limited set of resources, there is a need to improve services dramatically. That is the driver for innovation…"
Donal Singleton
There is a need for unique identifiers for person and property, and we must be allowed to use them. This would be hugely beneficial, even if it's only within the datasets of our own organisations. We need to share data across organisations. A legislative framework that enables such use would definitely facilitate collaboration.
Liam Butler
There are strong examples of where collaboration brings real benefit to the public, for example, the replacement of manual processes with the eTax clearance system. To provide additional services we need to have confidence and trust in the shared datasets. If we are to exchange data, we must know that it is correct and can therefore be used within our evidence-based decision-making processes.
Tim Willoughby
We've had huge collaboration with OGCIO, and huge support from the DPER in terms of getting things done. Moving forward, there must be greater focus on sharing data. However, there must also be more focus on sharing experiences. We have even looked at sharing code with other police forces. It is the trust in people to understand and get to know each other that counts here. You don't get to know people by exchanging emails. You get to know people by meeting them, face to face, at events such as this.
Cormac Deady
Digital innovation is a relatively new area for all. There are enormous benefits of collaborating and sharing of experiences. It helps all involved to reduce risk and increase the likelihood of success through learning from others. Recently, we brought together a number of public sector bodies to look at various challenges being faced. The outcome was much richer for all involved given the broader combined perspectives and experiences. That is because we are all faced with similar challenges and encountering the same hurdles. That awareness and sense of going through that process together is hugely beneficial to the individuals leading and participating in driving change.
John Barron
There is a lot of good collaboration already going on. In the context of digital innovation, sharing experience is critical, not only internally but with other departments and PSBs. The Data Sharing and Governance Bill will potentially open lots of opportunities for the public sector. We also need to review and consider scale and capability. Is there really a requirement for a small department to have an IT Department? We will undoubtedly have to outsource some of these services and buy-in additional technical skills. We need creative thinking about how we address and properly manage this issue.
Marguerite Sayers
I think we need to see some rebalancing between individual rights and the national and public interest. If there was a way we could collaborate to see that happening, that would be beneficial. There are a lot of developments that we could progress in the national public interest but are prevented from doing so by a small number of individuals.
Owen Harrison
The concept of pathfinder projects in the Civil Service Reform Plan was to use some interdepartmental projects to investigate how to improve cross-Government project governance. A constant challenge from this was how these types of projects are funded and resourced. There can be resourcing problems for example where people can be too busy to deviate from their day to day job, which is understandable. Interdepartmental work can run into difficulties as people get called upon for line of business priorities. This model should be reviewed to ensure funding and resourcing is allocated properly for interdepartmental projects.