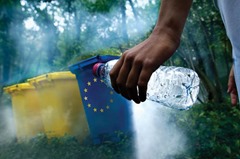 Forty-two per cent of EU waste is now recycled or composted but landfill is still dominant in many countries.
The current European Environment Commissioner, Janez Potočnik, can point to 42 per cent of EU waste being recycled or composted as an achievement as he prepares to leave office. That share was attained in 2012 and announced in statistics released in March.
Recycling and composting had stalled below the 40 per cent mark since 2008 as Europeans struggled to get through the recession.
Germany and Austria had the highest rates (65 and 62 per cent) in 2012 and Ireland performed well with a 45 per cent rate, broadly similar to the UK (46 per cent). The worst performing countries are in Southern and Eastern Europe, with Romania at the bottom of the table: 99 per cent of its waste was landfilled. The Balkan candidate countries have almost no recycling capacity and this will hold back the EU's progress if they join over the next decade.
Potočnik wants European businesses to "build on their advanced position" across a range of sectors, including waste water treatment, solid waste treatment, mechanical and biological pre-treatment, and waste tyre recovery.
"We must not waste the potential of waste," he has remarked, indicating that he would be presenting revised targets for recycling and reducing landfill before the European Parliament elections (22-25 May). These will be "central to a more comprehensive approach to moving to a circular economy, particularly in the sectors of buildings and food."
The Commission has continued to prosecute member states when their waste has seriously damaged the environment.
The Republic of Ireland is not currently facing legal action but other cases show that EU officials are still very willing to go to court when health and the environment are at risk.
A major ongoing case against Bulgaria involves alleged risks to human health from illegal landfill sites. Progress has been slow and many sites should have been closed down in July 2009 because of poor management.
When the deadline expired, 131 sites were operating illegally. The number now stands at 113. The Bulgarian Government promised to build 23 new sites, which would comply with the Landfill Directive, by 2015 but no clear timescale has been provided and the planning applications have been held up in the country's courts.
Potočnik's home country, Slovenia, is also before the European Court of Justice over two illegal landfill sites containing toxic metals. One site is just 500 metres from a busy town centre.
All eyes will now be on the new Environment Commissioner. The post has existed since 1990 and none of the incumbents have gone on to serve a second term.
The new European Parliament will first meet on 1 July. Candidates for the new Commission are likely to go before MEPs for scrutiny hearings in September although the timescale is hard to predict. The current Commission was appointed eight months after the last elections.