Abtran hosted a round table discussion on the key aspects of digital government.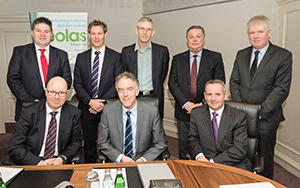 What are the key elements of digital government?
Declan Naughton
The key element in digital government is about using the available data and having mechanisms to share data in a safe and secure way.
Paul Reid
Digital government has been about delivering public services online to improve efficiencies and reduce costs. It is now moving beyond the web to integrate technologies such as mobile, social media, open data, data analytics and cloud. It is about using these technologies and location awareness to drive efficiency and cost and importantly to look at it from a citizen perspective rather than as a technology solution.
Liam Kidd
Digital is about getting on
with it and getting it done. We published a national e-strategy but it is not about "e", it is about connecting services and using digital platforms to process information and make it available to workers in a way that improves services to citizens. There needs to be central co-ordination and investment to get this done. We have a system already in place that links An Garda Síochána with the Courts Service and this handles around two million transactions every year between both organisations. The efficiencies are there to be had through further digitising processes between agencies.
Martin Leahy
Digital government, as with all digital processes, is about making it easy. Easy to use and easy to deliver the service. Easy to use for the agents of the organisation delivering the service as well as the customers – in this case the citizen. Making it simple and cutting through the complexity and attracting people to the service and making it more efficient.
John Leamy
Digital government needs to focus on simplifying and streamlining the interaction with the public in a secure manner. Digitising strategies for the sake of digitising is not enough, digital initiatives have to be justifiable and the business case for costs and benefits has to stack up. For citizen facing digitisation, simplification is key. A good example is the Halo app where you push one button – that's easy to sell to the citizen, there are benefits. If you make something easier for the public they will row in behind you, better still involve them as stakeholders from the outset.
Tim Willoughby
We have come from people, process and technology and now we need to add in the layers of data and security. Data analytics is a huge opportunity. Making things easy and getting things done is key. You don't have to be completely right when starting out but you have to get something out there to get people using it and then adapt and change it over time. The idea of building something over a three to four-year programme is gone. The web and cloud technology allows us to do things quickly and although they have to be right, they don't have to be completely right.
Karl O'Leary
There are four pillars to digitising government. Making government more efficient. Making it smarter and more predictive with analytics. Modernising it with mobility – are we really leveraging that mobile first world that staff and citizens are now living in? Finally, connecting the agencies and citizens better through technology for anything – from claiming a grant to notifying the police. That should drive data-driven decisions, lower costs and be more transparent, which is important for government.
What are the practical aspects of going fully digital?
Paul Reid
It is about making it easy. In Fingal County Council we have transformed our public office in Swords. When a citizen walks into county hall there were previously four different counters: planning, environment, housing and reception. We took all the counters out and replaced them with one single customer reception centre. Staff are now on the floor and everything has gone digital. If you want to come in and look at a development or local area plan it will not be on paper. Everything is now digital. If customers are uncomfortable with that, there is someone there to help. If you want to make a planning application there will be people on the floor to help you do it online.
Martin Leahy
Easy access is key. Another example of going digital is the transformation of the driver licensing service over the last three years. It is now guaranteed that you will have your license within three days from submitting your application form. RSA has made it much simpler to get your licence. It is different from the Fingal example, as this is a mass service with 600,000 licences issued each year. It is a single encounter approach and handles a great volume. Both are two good examples of making it simpler for the citizen by going digital.
Liam Kidd
Both of these examples show the importance of business leading change supported by technology. That has not always been the case in the past, with technology not always delivering. The technology has now improved to a level that it can deliver for the business. In An Garda Síochána we have an e-vetting system that will be launched soon and this will make a big difference to those submitting around 500,000 vetting applications each year.
Tim Willoughby
Another example from local government is the building control management system. The legislation came about in 2013 and it was deployed in 2014. The decision was taken at that stage to work with builders, architects and all those submitting drawings and plans that it would be fully online but we would accommodate those still wanting to work offline but it would be a little bit more difficult for them. We are now at 99.6 per cent online. Although we still facilitate offline, most users want it online because it is so much easier. We are also now doing analytics on the answers we are getting on the online forms. Where we are getting variances, we are going back and redesigning the forms. We are working with local councils, architects and builders to continually evolve the service. We are now looking at open data so that people can see what building is happening.
John Leamy
Digitising public service transactions for the citizen is something that you can sell provided the process is simpler than before. Can you go fully digital? Probably not, but there are many public services that can be digital. The next stage is what do we do with all this information we are gathering? How can we use it to improve the public sector? We need to get beyond the transactional services to those high value added initiatives that would help drive transformation, single authentication and connecting agencies.
Declan Naughton
The citizen is central. We sometimes forget about the communications effort that is needed to convince people of the merits of digital and to show them that it actually works. We sometimes focus too much on the products but neglect the communications piece. For example, Age Action work with senior citizens to bring technology to them. How can we make digital less fearful for people and communities?
Martin Leahy
If you make it attractive, people will come to it. For example, the RTÉ website for the General Election results had stunning analytics. That was something very useful for the citizen and it was easy to engage with and people were attracted to it.
Declan Naughton
We have a good example at RSA with Digitacho [digital tachograph card], which is a service for commercial drivers. In the past drivers turned up at a centre or posted it online. Over a period we got 90 per cent of them online – a cohort that might not have been thought of as technology adopters. That was achieved by giving a good online offering and selling it through training events and trade magazines and also giving a 25 per cent discount if they went online.
Martin Leahy
That is the essence of making it easy and attracting people in and giving them an added bonus for going online.
Karl O'Leary
We must have the aspiration to fully leverage digital. But the fact remains that elements of society and the services they require cannot be digitised. But the role of the public sector is to provide a range of services for every citizen including the most vulnerable or disadvantaged. One of the practical aspects of digital is to release resources to focus on those that need it most, to automate tasks, be more predictive by leveraging data to really be able to optimise all resources to deliver the highest possible quality and timely service, whatever that service may be. You may never be fully digital but you should be able to take the costs down to prioritise certain areas. The other concern about digital is to ensure you are getting smarter insights. Data is the new currency in the world and as such data obesity will be a growing challenge for organisations. You can be gathering data for data sake unless you can understand it, learn from it and act on it. So with this data how is the Public Sector going to skill up and scale out to act on to drive better services and better engagement?
Digital does reduce costs but it also is a better experience for the citizen. Practically, what is a digital citizen? How do we share their identity and their data across departments? If they register once, for example for a driving licence, can they use that information for other applications such as a passport or housing?
Paul Reid
Prioritising and informing decisions is key for public services. Local government now has a stronger association with the local aspect as people are now paying the local property tax. Increasingly the onus is on us to get information on where we need to invest those funds and how we prioritise our services. We are increasingly going to have to look at where we deliver services and in different areas where there are different needs. For example, Fingal has a population of 280,000 – 106,000 in Dublin 15, 48,000 in Swords, 20,000 in Balbriggan – all very different communities with different requirements. Using data to inform investment in public funds is crucial.
Liam Kidd
We have focused the discussion on e-services to the citizen but digital is also about the back office and how you digitise that – if we make information more accessible to those working on providing services then we can improve the back office processes for how those services are provided. Also, in the public sector we are not very good at claiming back the benefits from digitising and deploying new technologies. We have not always realised the benefits when we have centralised some services.
Karl O'Leary
A key aspect of transformation is that currently ICT is funded through capital programmes and not through revenue expenditure and that can create misalignment. We need to measure and fund the impact of technology on its revenue impact. Technology is now a service that delivers innovation not a capital program to deploy and maintain assets.
Martin Leahy
The days of capital investment in many ways are over with the cloud providing infrastructure and software as a service. It is much easier to pay-as-you-go. You don't have the massive difficult capital investments to transform a service. Someone else is spending the capital for your benefit. 
How can government manage the ever-growing number of documents? How can it do this securely?
John Leamy
Most of our documents are now database records and perhaps the question should be framed around data storage and database management. Cloud is starting to prove itself as a secure platform provided data classification criteria are met.
Tim Willoughby
We have addressed this issue over the past six months as a result of the local government mergers and the town council amalgamation into local authorities. There has been a lot of history to deal with and a lot of future digitisation issues. Some sites have put all the paper into storage using analytics and search to identify the documents. Now when a document is requested it is scanned. The paper is gone. It has revolutionised the work of many people who were until recently using filing cabinets – they also now no longer have the room for all the paper.
OGCIO has helped clarify the situation about putting our data into the cloud with their recent publication on the procurement of cloud services. If you are buying cloud services you look at the cost, including the long-term costs, data classification, geographical constraints and what type of data to put into it. If data can go into the cloud, why would you build your own storage? The answer would have been different 18 months ago.
Paul Reid
This issue is still very real for us. An example is around our development plan, which is a very legally driven process. People have to be able to see the plans. They were traditionally on large 7' by 3' boards for each map – these took up a huge space. Now it is all digital and with that we have much more knowledge about who is looking at the maps and where are the areas of most interest. There was a real concern about taking the boards down but it has been amazing how everyone has adapted so quickly.
Declan Naughton
It is about digitising documents with less and less paper. It is also about viewing the documents when you need them. Although it is becoming more and more digital, in some instances the original paper documents might be needed for legal reasons. Our objective is to move away from paper as effectively as we can.
Martin Leahy
Paper is going to be with us for some time to come. If you look at health care it is very paper based with many signatures. With the Irish Water campaign to register customers last year every household received a paper form. At one stage our mailroom was dealing with 42,000 paper application forms each day. We had to transform these paper copies into digital forms with a filing system to manage them. We will be looking at paper for some time yet.
Karl O'Leary
The paper is still there but there are ways to remove it. We have just finished working on a HR records project for Belfast Health and Social Care Trust, removing over 25,000 files and 5 million bits of paper but also creating streamlined digital processes so that a historic archive can be available and utilised as new interactions are recorded. The technology and skill exists and has existed for a long time to do this. It is the will to do it that is often the issue. The processes that are producing the paper need to be re-invented for a digital world. The low cost of storage also now exists in the cloud.
On the security issue, it is proven that cloud providers are probably more secure than a physical filing cabinet. The technology to secure documents is better and it is often the governance model rather than the actual technology that is the issue.
Tim Willoughby
Paper can be made intelligent. If you are producing a paper form put a bar code or QR code on it so it can be recorded electronically.
John Leamy
It is moving in the right direction. The farming community has to fill in a lot of forms as regards regulation and farm payments. These forms are now filled in online and record all inputs such as the amount of fertilizer and the amount and type of animal feeds. We can also see the farmer's planning applications and their financials with the most part of it digital.
Liam Kidd
We need to have a new debate about how citizens want to identify themselves when doing business digitally with the public sector. I would expect that most e-citizens would be happy to have their identity details held in one central location and shared across the public sector if it meant they could get access to e-Services more easily.
What role do cloud-based solutions have in digital government?
Martin Leahy
The reluctance to go to the cloud was based on security issues but if you look at the cyber attacks over the past six months they are not happening to the cloud system but are occurring to systems based in individual organisation's data centres.
Karl O'Leary
A recent Gartner report said Microsoft, Amazon and Google spend more on cybersecurity than any country. We have made these investments because we have to. There is private, public and hybrid cloud – they all have a role to play in digital government. They all offer scale, cost reductions and security. But technology is the enabler. The Nordics, Netherlands and UK have largely gone 'cloud first' for public services. We are still a little bit behind the curve. The OGCIO guidance was very helpful in aiding organisations to move to the cloud. It is now not about security or cost. It is more about privacy.
Paul Reid
There are a number of levels to this. Firstly, when the data becomes 'open data' it does not have to be kept in-house. Once it is open data the cloud is the solution. All the data on the trees in Fingal went out as open data and Queen's University Belfast used the tree mapping and put pollution data over that which proved that by the council investing more in trees it was a nicer place to live.
Tim Willoughby
The opportunity with cloud is innovation and experimentation as you can pay for infrastructure that you couldn't afford to build on your own. The other opportunity is to 'fail fast'. It may not work and with cloud you can simply turn it off.
Martin Leahy
The opportunities with cloud are huge. Every service should be designated cloud first. We have a product called Abtran Data Cloud – we have had this for two years and after a slow start in the last few months more and more transactions now take place in our data cloud. You are never going to have proper service through mobility without the cloud. If you expect mobile users to connect to your own databases on your own premises that is a recipe for disaster. With the cloud you have instant access.
What one thing should senior managers focus on when digitising their organisation?
Karl O'Leary
Focus on data governance. Look at the OGCIO data governance model and if they really understand their own data governance in a digital world they should be able to leverage technologies such as cloud more and more. There is probably some rogue IT going on anyway, so they need to revisit their data governance model.
Tim Willoughby
Focus on data – data governance, open data and data analytics.
John Leamy
Digitising should simplify the experience for the better. Organisations should create the vision and sell it, involve the citizens or users as stakeholders and ensure the business case stacks up.
Martin Leahy
It is about empowering the agent or member of staff who is delivering the service. Digitisation with the use of CRM, cloud or mobile technologies will enable that agent to deliver the best possible service to the citizen.
Liam Kidd
Mobility is key for An Garda Síochána. I would like to give every Guard a mobile device linked to Pulse and then work back from there – that's the technology piece. It is then about how the police officers work differently with access to that technology and data.
Paul Reid
It is about leadership and change management. Communication is important. People need to take leaps of faith and take people with them, whether that is the workforce, citizens, elected members or politicians. There is a big leadership challenge. That is what makes it happen. It is not just the technology.
Declan Naughton
It is overcoming the tension between the IT people, who often see broader uses for technology and data, and the business user who wants it done now. It is about identifying the data that is crucial to delivering the service, securing it, storing it in an accessible way for multiple users.
Sponsored by