Digital
Charles Leadbeater on public sector innovation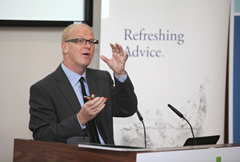 Innovation expert Charles Leadbeater discusses public sector innovation with Owen McQuade.
Innovation is "not just about things like iPads", Charles Leadbeater contends. Instead, it is an important concept that many organisations are not exploring thoroughly.
The public sector in particular needs to innovate, according to Leadbeater. However, too often, innovative ideas get trapped in "pockets" and "then get translated into policy at national scale, too fast."
Innovation expert Charles Leadbeater has been a senior adviser to UK governments, advising Downing Street's policy unit, the Department for Trade and Industry, the Department of Education and the European Commission on the rise of the knowledge driven economy and the internet. He has also advised organisations such as the BBC, Vodafone, Microsoft, Ericsson, Channel Four Television and the Royal Shakespeare Company. He told eolas the four main ingredients for innovation are to create an authority, generate and select ideas, develop and replicate those ideas, and exit the old systems rather than replicating them.
"Creating the authority requires continual political leadership, but increasingly [that] needs to operate at all levels of an organisation," Leadbeater contends.
Crisis often prompts innovation. However, money "rarely sustains it" and "mad passion and ambition drives it."
He says that the space for innovation will grow once an organisation realises: 'what we have is not good enough', 'our needs are fundamentally changing' and 'new ways to organise ourselves are plentiful'.
An innovator will be the individual who believes in an idea but doesn't behave, while those who behave will remain followers, Leadbeater stresses.
Innovating public services
Leadbeater believes that "innovation should be at the heart of public services."
He conceded that "the very existence of the public sector which has collectively funded ways to organise the provision of knowledge (doctors, teachers, fire fighters) is in itself a very significant innovation."
However, innovation "is about finding new recipes, which sometimes involves new ingredients but often involves old ingredients combined in new ways to deliver better value, more effective solutions [and] better outcomes for people."
The innovation process involves "making mistakes, upsetting people, challenging orthodoxy, making people change their jobs, making consumers adopt different ways of doing things, [and making] sure that it's the right thing to do," Leadbeater contends.
The public sector requires an authority for innovation "because innovation involves taking risks and if you haven't got a way of explaining those risks to the public, the media and politicians then it's a problem," he added.
The reality is that politicians and communities will fight for the retention of jobs and services therefore new ideas are often not replicated because of the "huge political challenge". Also, because so much money is invested in "the old way" of doing things, sometimes the public sector "can't see the opportunities for the future."
In addition, innovators must distinguish between products and services, Leadbeater told delegates.
He cites the Dyson bagless vacuum cleaner as an example of a product which is a stand-alone invention that has "out- moded" the vacuum bag. On the other hand, the iPhone is a product which relies on its access to a whole range of services, such as apps. "The innovation is not in [the phone], but what it gives you access to, which is a whole set of other services," Leadbeater explains.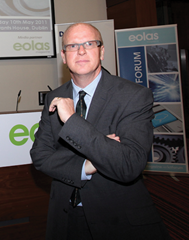 He adds that, when Apple introduced the iPhone, Nokia "mistook the product for the innovation" and consequently fell behind in sales.
Examples of innovation that do not require new technology are self-service food, self-service tracking parcels, IKEA's self-assembling of furniture and Ryanair's self-loading of airplanes, Leadbeater contends. "These are all slightly different recipes to allow us to do things in new and more effective ways," he says.
When thinking about innovation, the first thing to consider is what the outcome for people and communities will be. Then organisations should look at what change would mean for institutions and services. Innovative ideas from inside and outside the public sector should be discussed and borrowed, Leadbeater continues.
He believes that it is "very easy to set up pockets of innovation," for example re- offender schemes in prisons (public sector) or social enterprises (private sector).
"One of the most important things" is that organisations need to find people who can speak the language of the public and private sectors.
Barriers
Generating new ideas is particularly difficult for the public sector. There are two main barriers, according to Leadbeater.
"One big barrier is complacency; that people don't recognise enough how, what they're doing might be ineffective or out- dated," he states. In addition: "There aren't enough differences of view about what should be done so it's very difficult to break the mindset."
The second barrier is the risk factor. "Risk needs to be constantly managed in the public sector. Taken in a strategic and intelligent way, that requires political leadership, money and time," he says.
Ultimately, "innovation in the public sector takes time." It is the same as a "big, hierarchical corporation in relation to innovation" and it has additional problems with "political and public risk."
Whilst some organisations have become better at developing ideas, generation still relies on "turning it into a policy and then making it a mandate nationally". Leadbeater believes there should be other options because that route can often become "clumsy".
The private sector has a market incentive for innovation but there is no equivalent in the public sector. He suggested that an option would be to create incentives for public agencies or social enterprises.
However, he added that it is "completely erroneous to think that the private sector is necessarily more innovative than the public sector."
Many private companies don't have an authority for innovation. And "there are exactly the same problems with innovation as there are in much of the public sector," says Leadbeater.
Reaching the final stage (exit and duplication) can often be an 'innovator's dilemma', whereby they need to convince colleagues that the old systems should be replaced.
How innovation is developed and replicated is "undervalued in the public sector", Leadbeater tells eolas. This is because "too much public service innovation adds to what we have rather than replacing it with something better."
In order to achieve that "you have to audit the current way of doing things to try and show [there will be] real cost of effectiveness."
Companies often think "what we are doing at the minute is pretty all right" but Leadbeater has found that his assumption is often "completely unaudited."
Innovators should "create att
ractive visions of what you might create, explaining how the transition works and how it happens." In this way, people working in the organisation will see that "this way of doing it is better."
Leadbeater's final advice to innovators is to "build up the case that: 'What we are doing isn't good enough. What we could do is new, exciting and practical and it delivers results.'"