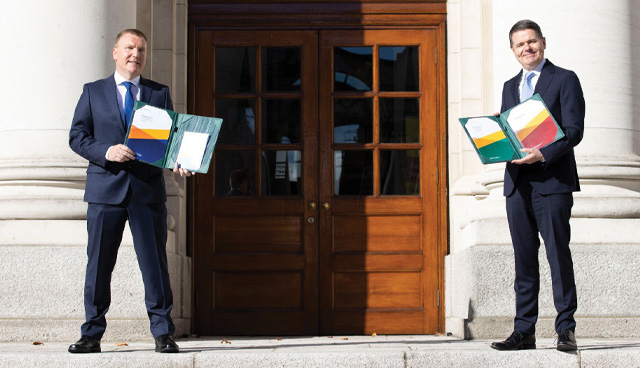 October's Budget 2021 delivered €87.8 billion in spending as Ireland looks to recover from the Covid-19 downturn and come out stronger on the other side. Critical to that will be a capital expenditure allocation of over €10.1 billion.
As part of the continued funding of Project Ireland 2040. 2021 will see a gross voted core capital expenditure allocation of €9.735 billion, a €1.5 billion increase on the revised estimates for 2020 and more than twice that of the pre-National Development Plan 2017 Budget figure of €4.6 billion.
Adding to the core of €9.735 billion is a once-off allocation of €290 million to cover Covid-19 costs across a number of departments. To combat Brexit costs, €26 million of capital expenditure is being allocated to the Department of Enterprise, Trade and Employment to deliver support through local enterprise offices and Enterprise Ireland, €4 million to the Department of Agriculture, Food and the Marine, and €16 million to the Revenue Commissioners. The Shared Island Fund will also receive €50 million in capital expenditure, bringing the total gross voted capital expenditure allocated for 2021 to €10.1 billion, a 2.8 per cent increase on the 2020 level.
The most notable change when studying year-on-year differences is that of gross voted capital expenditure experiencing a 19.2 per cent rise from the Pre-Budget Expenditure Update figures provided for 2020 to 2021, from €8.165 billion to €9.735 billion. Only emergency Covid and Brexit spending of €1.681 billion in 2020 brings the overall difference to 2.8 per cent, although it is fair to assume that 2021 spending levels would not be so high without these crises having preceded Budget 2021.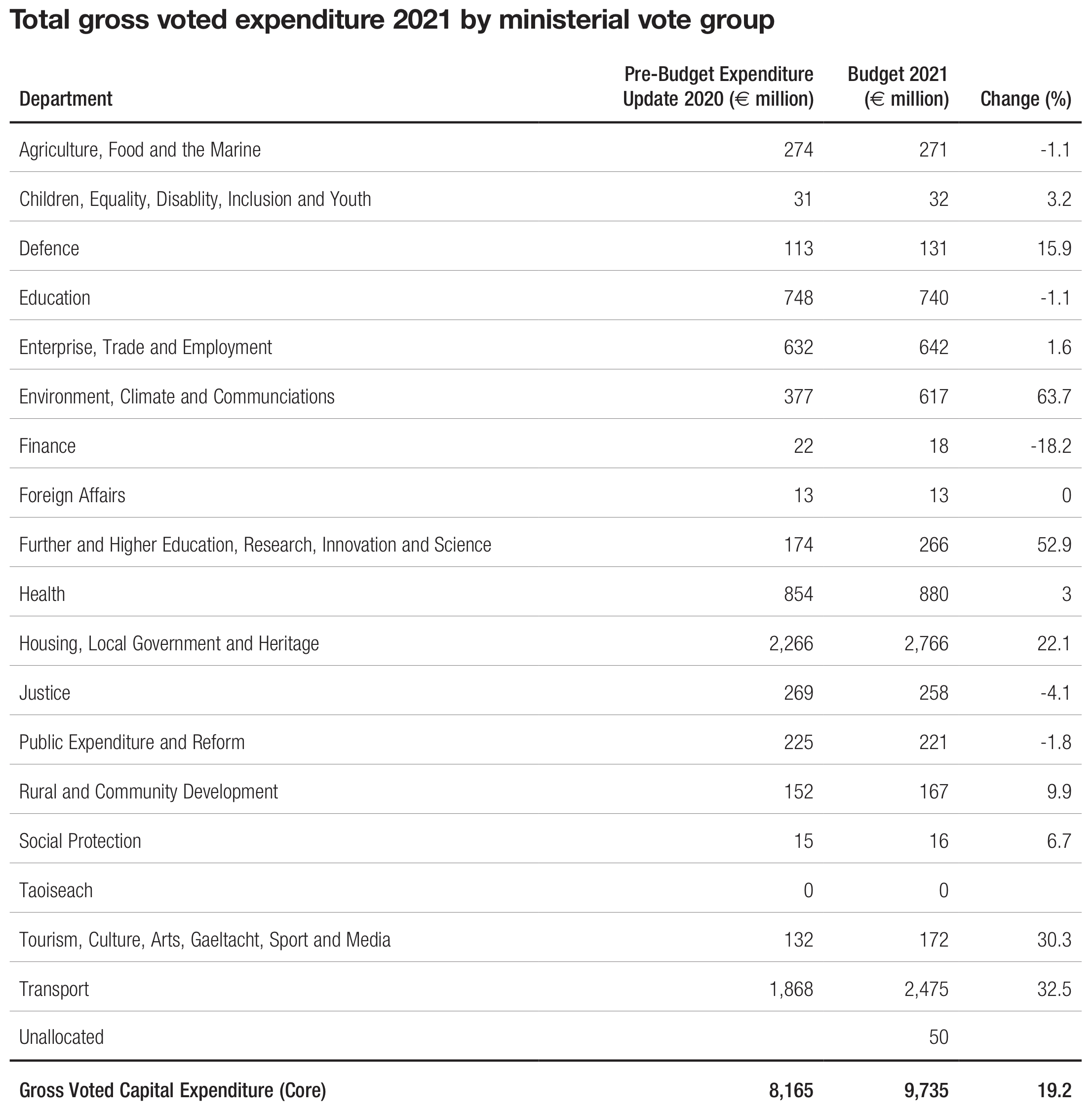 Departments that will enjoy significant increases in their spending include Environment, Climate and Communications (63.7 per cent increase), Further and Higher Education, Research, Innovation and Science (52.9 per cent), Transport (32.5 per cent), Tourism, Culture, Arts, Gaeltacht, Sports and Media (30.3 per cent) and Housing, Local Government and Heritage (22.1 per cent). Departments due to incur a reduction in allocation include Finance (18.2 per cent decrease, though emergency 2020 figures must again be considered here), Agriculture, Food and the Marine (1.1 per cent), Public Expenditure and Reform (1.8 per cent), and Justice (4.1 per cent).
Notable planned projects due to be funded in 2021 include:
the purchase of 41 additional InterCity Railcar carriages a part of fleet expansion for DART+, with the potential for up to 600 electric carriages;
the continuation of construction of major road projects, especially in the west of the country, such as the N56 in Donegal, the N4 in Sligo, the N5 in Mayo and the Dunkettle Interchange in Cork;
the investment of over €270 million to support up to 20 higher education building projects across campuses in Technological University Dublin (Blanchardstown and Tallaght), the Institute of Art, Design and Technology, Dún Laoghaire and Athlone Institute of Technology, and the creation of Munster Technology University through work on the Cork and Tralee IT campuses;
the support of circa 145 school building projects under the Large Scale and Additional Scheme;
the allocation of €132 million in capital expenditure on the National Broadband Plan, which "will help to connect thousands of homes and businesses to high-speed fibre in 2021";
the funding of over 100 projects through the Rural Regeneration and Development Fund, including the Kinsale Library Project and the Great Southern Greenway Project in Limerick;
the addition of 26 critical care beds and 546 acute hospital beds; and
the allocation of €131 million for defence spending to "facilitate a programme of sustained equipment replacement and renewal and infrastructure development across the Army, Air Corps and Naval Service which reflects the policy approach outlined in the White Paper on Defence".
The 63.7 per cent increase in capital funding for the Department of Environment, Climate and Communications is expected to cover the costs of a National Home Retrofit Scheme, although details of such a scheme or Renewable Energy Support Scheme (RESS) auctions are not forthcoming in the Budget plans. Commitments are however included to meet the demands of the Climate Action Plan, which includes home retrofits, grants for the provision of electric vehicles and grants for the construction of both public and private charging infrastructure for those vehicles.
In terms of housing, capital funding of €2.4 billion has been allocated as the Government seeks to recover in its performance in this area after the Covid-caused setbacks and missed targets for 2020. 2021's target is the building and acquisition of 12,750 social homes, to which €2.8 billion of capital expenditure has been pledged.
This figure also incorporates the delivery of an additional 15,000 HAP tenancies and 800 RAS tenancies, with HAP expenditure expected to reach €558 million to support over 67,000 tenancies. RAS expenditure is projected to be €130 million for 18,000 tenancies and SHCEP expenditure to be €250 million for 21,000 tenancies.
Lastly, local authorities will directly build 2,900 houses on public land and regenerate a further 550 homes, while AHBs and PPPs will deliver a further 3,950 homes combined.