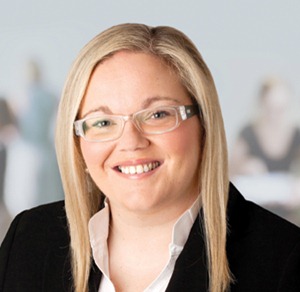 Former social worker Ciara Conway is one of the 19 new Labour TDs elected to the Dáil. First attracted to Labour through her grandfather who was influential in the trade union movement, she now juggles motherhood and her job as a TD. Here, she tells eolas about how local politics should influence national policy and calls for more jobs for Waterford.
How did you get involved in politics? Why Labour?
My mother is a community psychiatric health nurse and my dad is a teacher, so politics was always discussed round the table when I was growing up.
At the age of 16 I became involved in the National Youth Parliament and that really got me actively involved in politics for the first time. I began to scrutinise each party to see which of them fitted in with my opinions. Myself and another girl even went along to a Fíanna Fáil árd fhéis once, but I quickly decided it wasn't the party for me!
Growing up in Tramore, Brian O'Shea was the local Labour TD so Labour was already a strong and respected party in my mind.
My maternal grandfather, grandad Noonan had died before I was born, but I'd always heard about how active he was in the union.
He'd worked in the Tannery – then a local leather factory in Dungarvan – and the saying: "Paddy Noonan says join the union" – was something I'd heard a lot of growing up! Given the importance of the trade union movement to the Labour Party, it seemed the perfect choice for me.
Social justice is at the core of the Labour Party and it's something that's very important to me and my view of the world.
As a single parent I strongly feel that we need lots of different people to represent different viewpoints in the Dáil, and Labour embraces that.
What are your main political interests?
Job creation in Waterford and advancing the case for a Technological University.
Nationally speaking, I'm excited about the opportunities we have for change in relation to the education system as a result of Minister Ruairí Quinn's Forum on Patronage and Pluralism.
I'm anxious to see the establishment of a standalone Child Protection Agency as soon as possible, and child protection is one of my key interest areas.
We also need to look at how economic policy will develop over the next few years.
What are the three main issues affecting Waterford?
Jobs, a university and equality of access to healthcare.
The whole country has been shocked by the massive job losses at Talk Talk, and sadly the news is just the latest in a string of bad announcements for Waterford in the past few years.
A few months ago we heard that GlaxoSmithKline is to cut 130 jobs from its plant in Dungarvan. Add those to a list that features Waterford Crystal, Teva, Bausch and Lomb (I could go on), but it's certainly at the level of a jobs crises.
Given the unemployment context, there's a huge focus on getting a technological university for the South East. It's felt this could be a big asset when searching for international companies to locate here, as well as the impact it might have in terms of spin-off industries and generating jobs locally.
Equality of access to healthcare is also a big issue in Waterford, as it is elsewhere. Minister Róisín Shorthall (whose husband is from Waterford) is working on a primary care model that prioritises need over ability to pay.
Should a TD concentrate on national policy or local constituency issues?
Local issues need to drive national policy.
The South East is an area that has been neglected in terms of job creation for too long now. We've been promised that the IDA will focus on getting 50 percent of new companies to locate outside of Dublin. It's vital to make sure that Waterford and the South East is given priority.
The HSE needs to be accountable. Money needs to be spent on much-needed frontline services. We have great people on the frontline of the HSE (doctors, nurses, social workers etc.) who are completely committed to doing the best they can, but we need to look at how money is being spent by the HSE to make sure these great people can do their jobs and deliver the best services possible. There's an urgent need to look at outcomes as opposed to just slashing spending. This will allow us to plan for the future
What is the most challenging and rewarding aspect of being a new TD?
Time – there's just not enough of it!
It's quite a challenge balancing everything; constituency work, driving up and down to Dublin, being in the Dáil, attending Health Committee meetings, dealing with Parliamentary Labour Party matters, answering correspondence and doing advice centres. All this has to be balanced with being a mother and doing housework.
The most rewarding aspects are being able to help people in whatever form that takes. I'm a great believer in politics as a means of change. Yes, it can be slow and frustrating, but it is effective.
What political figures do you admire and why?
Michael D: I remember when I started NUI Galway he spoke to people interested in Labour Youth, telling us that "those who think social, vote Labour." I think he'd be a great President.
Constance Markievicz: One the first women in the world to hold a Cabinet position, a suffragette and socialist, and a hugely inspiring figure for me.
Dr Noel Browne: His progressive mother and child scheme proved that he was a visionary.
Garret Fitzgerald: A great man with huge intellect and a clear vision for Irish society.
Mary Robinson: Our first woman President and human rights campaigner who totally transformed the office of the President and what it could achieve.
Barack Obama: He's a particularly relevant figure in our house as my daughter is of mixed parentage. The morning he was elected she asked me: "Mam, will Ireland ever have a brown President?" Watch this space!
How do you spend your spare time?
When I'm not working I'm usually with my daughter, Aeva May and my family. We have a huge interest in GAA and the whole family is passionate about the Waterford hurlers, so every Waterford match is a big event.
Thanks to my digibox I can always look forward to 'The Good Wife'. And, one of my annual highlights is Electric Picnic, where I know there'll always be great company, craic and even a bit of music!
Tags: Political Platform