People
Winning against the world's best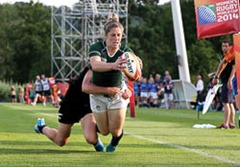 Ireland rugby players Alison Miller and Grace Davitt talk to Peter Cheney about victory over New Zealand in this summer's World Cup and the satisfaction of seeing women's sport recognised.
While rugby was not the first love for Alison Miller or Grace Davitt, their sporty upbringings – especially in Gaelic games – gave them skills that naturally crossed over and have taken them to the highest level.
Both women starred in Ireland's winning match over New Zealand this summer – the first of its kind in 23 years – with Miller's try clinching victory in the 63rd minute.
Miller's father played Gaelic football for Laois and her mother was a PE teacher.
"I was mainly involved in athletics and gymnastics but also with hockey, volleyball, basketball. I participated in nearly every sport growing up," she tells eolas.
Indeed, she nearly took up rugby at the age of 14. Two classmates at St Leo's College, Carlow, had brothers who played rugby and tried to set up a team: "I don't know how serious they were but I was interested in it then."
Hailing from Stamullen, County Meath, Davitt had friends whose brothers and boyfriends had started to play rugby.
They eventually persuaded her to join them for a training session in her last year of school (2001). "I went one night on a Thursday and they told me they were short for numbers on a Sunday, so I played that Sunday in Drogheda and I've been playing ever since," she recalls.
Miller's own move into the game came after a sudden trauma then made her pause and take stock of life. Her father died from heart attack when she was 21, in the summer of 2006: "It makes you think. Life is short and you should try new things." Two friends, Andy McBrien and Shane O'Rourke, had said that she would make a very good rugby player – an idea that Miller initially laughed off but her perspective soon changed.
"I took it up in college that year and I didn't play it very seriously," she recalls. "I hadn't a clue about the rules or anything like that but I was good enough at the start to score tries because I was quick and had good ball-handling skills." The idea of playing rugby came back a year after graduating. She joined Portlaoise RFC, for whom she still plays, before being selected for Connaught.
After playing for Boyne and Blackrock, Davitt was selected for Leinster. The 2004 European Championship was her first international tournament. Back then, there was a smaller pool of players "but at the same time it was still hard to get on to the squad."
Ireland finished eighth in her first World Cup in Canada – also in 2004 – and then seventh in the 2010 contest in England. Miller was called up for the Six Nations squad that year but an injury kept her out of the World Cup.
This summer, she was delighted that the team was getting through the group so well. The clear highlight was beating New Zealand but so too was a 23-17 win over a "very physical" USA.
"If we didn't beat the USA, there was no point in going on," Davitt adds. Once that hurdle was crossed, playing New Zealand as an inside centre "was the highlight of all my sporting career."
On the back of their coaches' analysis, it was "going to be brilliant to get to play them but then, on top of that, we had this huge belief that we were going to beat them." She took a few "big hits" in the first half and went off after the break. Finally hearing the whistle (on a 17-14 winning score-line) was a "just unbelievable" experience – second only to winning the Grand Slam.
With the full noise and support of the Irish crowd, it was like a home game. The players were "in our own little cocoon" and didn't realise the frenzy of media attention gathering back home – only realising it when the press officer's phone "went nuts".
Irish women's rugby was now on the world stage and Miller welcomes the attention it has received as a result: "Being a woman in sport, there's not a lot of coverage. It was great to have the coverage. It did a lot for women's sport in general and for women across Ireland who are involved in sport."
She remembers an eerie calm before the game because there was no pressure on Ireland: "We knew we could win but I suppose outside influences didn't expect us to win." As for that try: "I know when I get a bit of space, I can be dangerous and try to expose the other team's weakness."
Everyone had a chance to play in the next game against Kazakhstan (Ireland won 40-5), leading into a semi against England. "We just didn't play well that day and the more time we gave England on the ball, the more confident they got," Davitt says. The final result was 40-7. In the play-off against France, Ireland lost 25-18 but came home fourth in the world.
Davitt – a maintenance technician at Belfast Harbour – has been with Ulster for the last five years and, now aged 31, is coming towards the end of her playing career. "We do it before and after work. We fit it in around our personal lives." For her, it feels like life's been "on hold" for last 10 years but she wants to keep her options open for another year and see how her current club (Cooke) performs. In the longer term, she would be interested in coaching and encouraging more girls into the sport.
Miller is currently training as a PE and history teacher at University College Cork. Her playing age is quite young, having been capped at 25, and she's looking forward to the next World Cup in 2017. This year, she plans to play sevens.
"A big problem in sport is that people put a 'cap' on you because of your age and I kind of feel like going on," she surmises. "I'm not going to put any limits on how far I go."