People
Winner all right: AP McCoy interview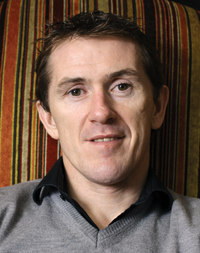 Champion jockey AP McCoy talks to Stephen Dineen about winning over 3,700 races, changes to the sport, and life after racing.
It's been a long, successful day for AP McCoy. Up at 6.30am, he rode a few horses in the morning that he will race in the coming weeks, then had a hot bath for an hour to lose weight for afternoon racing. The journey to Wetherby took three hours, two-and-a-half of which he slept. Before the first race he had to go to the sauna for half an hour to lose more weight.
At Weatherby, he won in two of three races. Afterwards he ate some chicken, his first food all day. The three-hour journey home will probably involve some sleep. He will be home by 8.30, with an early start tomorrow again. For over 3,700 wins, unparalleled in jump racing, he has retained this determination.
Despite being the National Hunt champion jockey for 17 years in a row, AP McCoy's appetite for success has never waned. "The more you're lucky enough to win then the more you really want," he tells eolas. His philosophy is simple: "I'm very lucky that I enjoy what I do, but I want to try and get better, and I want to win more than anyone else." 
When asked if there is one thing that defines his approach, he states: "I always try and convince myself that I'm going to win. I always believe that I've got a good chance of winning."
Success has its drawbacks. McCoy spends "a lot of time in the car travelling," while "not eating a lot is probably the worst of all." The 5ft 10 jockey (tall by jockeys' standards) must be constantly vigilant of his weight.
McCoy's interest in racing stems from childhood. His father bred a few horses and when a Cullybackey trainer, Billy Rock, came to buy a horse from McCoy senior, the two men became friendly. "Billy was the one that got me really into racing and sort of taught me from a very young age," he recalls.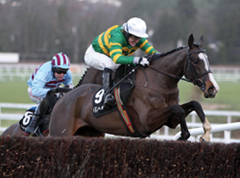 Since his days with Rock, McCoy has been a stable jockey for trainers Jim Bolger, Toby Balding and Martin Pipe before teaming up with Jonjo O'Neill and horse owner JP McManus, with whom he has won Cheltenham's Champion Hurdle and Gold Cup, and the Grand National.
Winning the National "was probably the greatest day of my racing life because it was the Grand National, but from a jockey's point of view we all want to win the Gold Cup," he states. "Winning the Gold Cup this year was an amazing feeling," he says of his second such feat, 15 years after his first.
The horse that brought him this second success, Synchronised, was one of two horses that died in April's Grand National. After unseating McCoy and straying before the race started, the agitated horse was checked by vets, and McCoy by a doctor, before both were allowed race. The nine year-old fell at the sixth fence of 30, but continued to gallop and jump fences riderless before fracturing his hind leg; it was then put down.
Critics argue that the sport's most famous race is not safe enough. "The Grand National is the greatest race in the world and it's watched by 10 or 11 million people," counters McCoy, "so if they didn't want to watch it then there's plenty of other things on TV that they can watch. That's my take on it." The authorities are "always trying to make things better so hopefully they can continue to do that."
The 38 year-old has seen much change in the sport. "Everything is more professional, you know; jockeys now have physios at all the race meetings, which we never had before." They also have good catering, while races are now "very well-policed," through "so many cameras." For the general public, "there's more things to do at the races."
The revised whip rules that came into effect in October 2011 drew jockeys' ire. McCoy was among those critical, saying that they were too stringent. The rules were subsequently eased twice, in November and in March. Jockeys can now use the whip eight times in a race, with stewards' discretion over punishment for excessive use. "Everyone involved in the sport wants what's best for it so I think everyone's happy with the way it is," the man from Moneyglass reflects.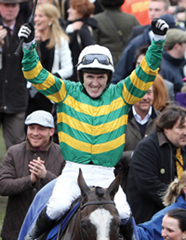 Prize money is one aspect of racing in Britain of which the champion jockey remains critical. The cost of living "is much more expensive now than it was ten years ago, yet the levels of prize money you win [has] probably gone down." He is concerned for "some of the other jockeys that are maybe not as lucky as I am to be riding every day and riding winners every day."
The next obvious prize for McCoy would be a 4,000th winner. "You get a lot of injuries and you need a lot of luck to stay in one piece so it's day by day." Yet such an achievement "would be great," he admits. "I live in the future, I look ahead so I'm hoping that the best day is still to come." 
Day by day may be the tactic right now, but McCoy is certain that "I'm never going to get the buzz in life of what I get from the job I do now, and hopefully I'll be able to accept that when it happens."