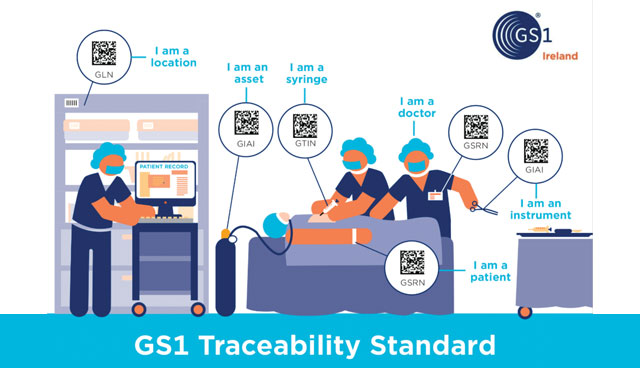 Firstly, we at GS1 Ireland would like to give our thanks and send best wishes to all frontline staff working hard to keep us safe during this crisis. In such challenging times the need for traceability, and good track and trace processes, is even more evident. Siobhain Duggan, Director of Innovation and Healthcare with GS1 Ireland, writes.
It is widely accepted that more needs to be done to improve traceability processes across the healthcare system. As we move through the successive phases of this pandemic, these same processes will be critical to ensure the visibility of product supply and the interactions between people. This will reduce the need for manual processes, giving time back to patient care.
Scan4Safety
Risk can be designed out of systems using standardised identification and scanning technologies. This means that the incidence of wrong treatment, implant, or device is greatly reduced and helps to ensure that the right product, is in the right place, at the right time and is linked to the right patient.
Removing paper-based systems and processes and using 'a simple scan' of GS1 standard barcodes to cross check and capture patient data reduces; the risk of medical error; the time to carry out administrative tasks; and returns time to front line staff to concentrate on patient care. Furthermore, the tracking of assets and people across the hospital setting means that staff know where devices are and can follow patient care pathways, freeing up time for patient care and improving patient safety.
Several hospitals in Ireland are looking at implementing Scan4Safety in their operating theatres, where scanning replaces the manual transcription or entry of data. Using GS1 Standards to scan products to patients also provides tighter inventory control, with some systems facilitating the auto replenishment of stock. Clinical staff at Tallaght University Hospital (TUH) were spending a large proportion of their time per week managing inventory. The introduction of Scan4Safety in two theatres has meant that scanning a product used in theatre, creates an order for its replacement.
The opportunities for traceability extend across the hospital in both clinical and non-clinical areas, including catering and asset management, as well as in community healthcare, such as chronic disease management.
The potential of Unique Device Identification
With patient safety as the driver, medical device manufacturers are being required to use a regulatory system (the start date for the EU regulation has been postponed by a year until May 2021 due to Covid-19) called Unique Device Identification (UDI) to mark and identify their products. The International Medical Device Regulator Forum (IMDRF), the United States Food and Drug Administration (FDA) and the European Commission (EC) are aiming to optimise patient care by proposing a globally harmonised and consistent approach to UDI through legislation and global standards. Industry is working with GS1 to achieve compliance. The Global Trade Item Number (GTIN) encoded in a GS1 compliant barcode is the foundation of this.
If the entire healthcare supply chain, from the manufacturer, to the distributor and to the healthcare provider, continues to adopt GS1 as the industry standard identifier it will be easier to track products from manufacturer to patient. This increases supply chain visibility, traceability and patient safety.
For more information on Scan4Safety or GS1 standards:
Please contact Siobhain Duggan, Director of Innovation and Healthcare
T: 01 208 0660
E: healthcare@gs1ie.org
W: www.gs1ie.org/healthcare