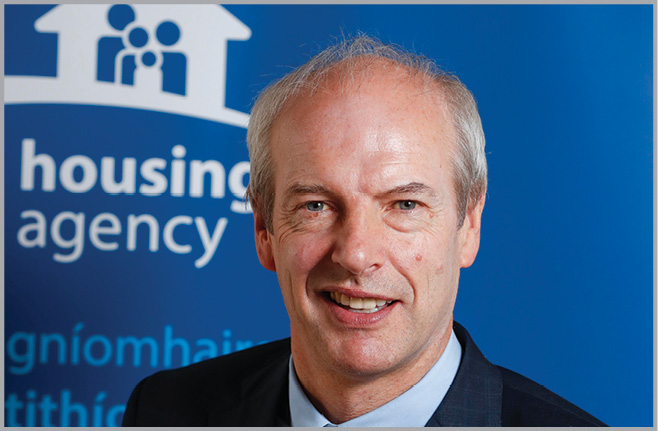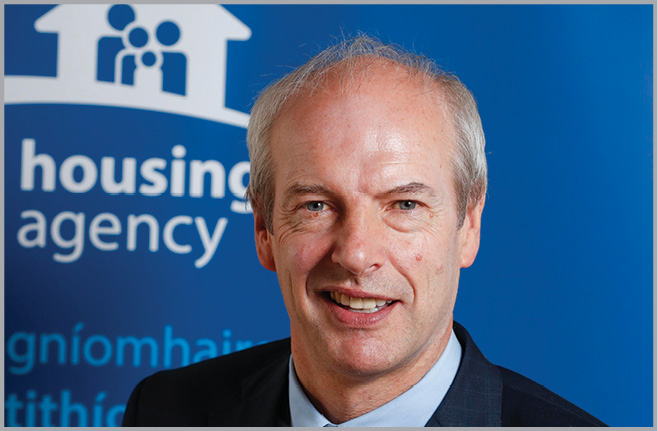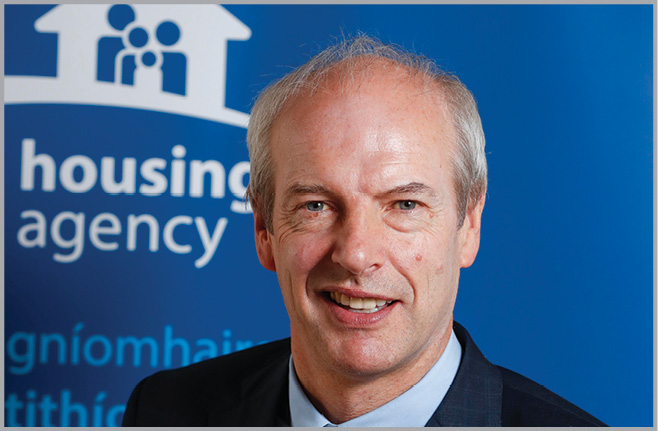 The Housing Agency is committed to supporting the Rebuilding Ireland Action Plan. Chief Executive John O'Connor writes.
Our biggest challenge is to provide homes that are affordable. Whether for rental or ownership, we need to fully utilise our existing housing stock and we must return to a stable and adequate supply of new housing.
One of the major legacy and most serious issues facing home owners is the high level of mortgage arrears. Over 100,000 households are in serious mortgage arrears or have restructured mortgages that may not be sustainable.
The Housing Agency is very much focussed on the implementation of the Rebuilding Ireland: Action Plan for Housing and Homelessness. The plan is based on five pillars:
• address homelessness;
• accelerate social housing;
• build more homes;
• improve the rental sector; and
• utilise existing housing.
We want to bring vacant houses into use to the greatest extent possible. According to the 2016 Census, there are nearly 200,000 vacant homes in Ireland, excluding holiday homes. Of course, we also need more house building, delivering houses that are affordable and built in the locations where they are needed. As a country we need to achieve a sustainable balance between owned and rented homes. About 30 per cent of homes throughout the country are rented and within our cities this figure rises to 50 per cent.
Role of the Housing Agency
Our overarching role is to facilitate housing provision. The Housing Agency has a broad remit, supporting the Department of Housing, Planning, Community and Local Government. We support local authorities and Approved Housing Bodies (AHBs) in many ways, including the delivery and management of houses, advising on building opportunities, financing, procurement and acquisition of vacant properties. We are involved in research in all aspects of housing. We are presently researching housing supply and demand to identify the general needs required. We have just completed a detailed report on housing for older people, thinking ahead on Ireland's future needs. In the past ten years, there has been a 40 per cent increase in our population of people aged 75 years and over. We have just published, in collaboration with the HSE a very important publication, Design for Mental Health – Housing Design Guidelines, the first publication dealing specifically with mental health in the housing sector that has been produced worldwide. This area needs immediate action and support to promote independent living in the mental-health recovery process.
Housing acquisition
The Rebuilding Ireland Action Plan put in place a rolling fund of €70 million, which we are using to acquire properties from banks and other financial organisations. Our role is to channel these properties to local authorities and AHBs who will bring them back into use as quickly as possible for social housing. We have just completed the acquisition of almost 2,400 properties from NAMA's portfolio across the country. We have invested in purchasing properties and in delivering house completions to a high standard. A key driver of our success has been our tenacity in sticking with projects once we become engaged, even when faced with legacy issues, barriers and sometimes objections.
Rental market
More and more people choose to follow a continental model with an increasing share of rented homes. We need to be mindful of the need for market conditions that support choice with appropriate safeguards for tenants and owners in the private and social housing sectors. State support is very important, whether delivered through rent supplements or Housing Assistant Payments (HAP). The HAP scheme is supportive of housing needs in today's market and may eventually replace the rent supplement scheme for many people. About 15,000 households currently avail of the HAP scheme and we expect this number to grow to 100,000 over the next few years. Whether renting or buying, we believe that it is very important for the housing sector to pay particular attention to affordability.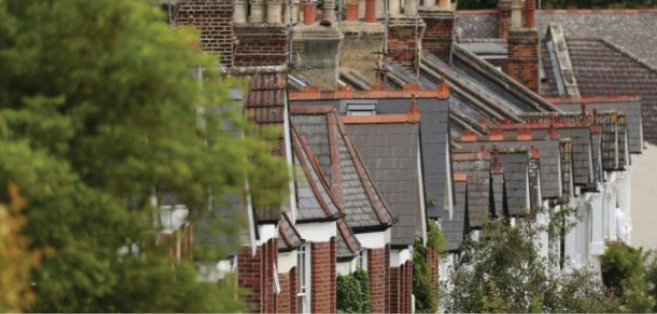 Mortgage arrears
Mortgage arrears remains one of the major challenges for Ireland following the economic crash. We implemented the 'Mortgage to Rent Scheme', which we coordinate nationally. This area needs greater attention and has had a suffocating impact on the lives of many of those affected. Mortgage arrears customers must be dealt with a lot more quickly, where a level of debt write off could be reached without delay. Our advice to people in mortgage arrears is to engage with their lender or, if they find this difficult to do, engage with the local Money Advice and Budgeting Service (MABS) immediately. The problem is difficult for people on an emotional as well as a financial level but ignoring it will not produce a resolution.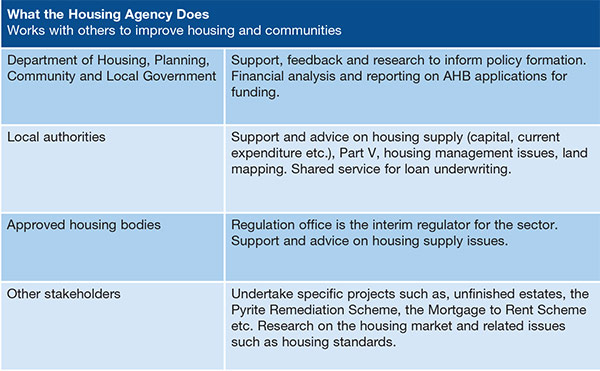 Pyrite Remediation
The Pyrite Remediation Scheme was set up to remediate dwellings that have been significantly damaged as a result of pyritic heave caused by the swelling of hard-core under ground floor slabs. The problem has afflicted homes in the counties of Dublin, Meath and surrounding areas. The Pyrite Resolution Board (PRB) admits home owners into the scheme subject to damage assessment. Acting on behalf of the PRB, the Housing Agency has completed remediation of over 500 houses to date with another 1,000 currently in the programme.
Pyrite standards are currently under review. Our view is that a particular focus should be on the needs of affected home owners. The home owner needs to be our first priority in terms of minimising the cost of surveying and testing for pyritic heave. We believe that home owners would also value a simpler and clearer structure for the categorisation of pyrite damage.
Overview
Our vision is for a housing sector that supports the needs of everyone with affordable houses in sustainable communities. Communities should offer inclusivity for people of all ages, incomes and abilities. Older people and people with disabilities, sensory, physical, mental health and intellectual, should fit comfortably into mixed tenure communities that are resourced to meet their particular needs and provide naturally supportive social infrastructures.
Affordability needs to be at the forefront of housing policy, whether people are renting or buying, and to make sure they have good homes to live in. We need to increase availability, whether through building new homes or bringing vacant houses back into use, to meet the needs of a growing population. The market needs to evolve to ensure that renting is a viable option for people. We must also recognise the importance of the provision of homes for people with disabilities and the growing issue of providing housing appropriate for older people, ensuring that it is not a segregated but an inclusive part of normal housing developments.
John O'Connor

Chief Executive Officer

Housing Agency

Tel: 01 656 4100

Email: info@housingagency.ie

Web: www.housingagency.ie

Twitter: @HousingAgencyIE